In a bid to strengthen the domestic security of the country, the Modi government has permitted 10 investigation agencies to access 'any computer'. The 10 agencies which are allowed to intercept, monitor, and decrypt any information generated, received or stored in any computer are Intelligence Bureau, Narcotics Control Bureau, Enforcement Directorate, Central Board of Direct Taxes, Directorate of Revenue Intelligence, Central Bureau of Investigation, National Investigation Agency Cabinet Secretariat (RAW), Directorate of Signal Intelligence (For service areas of Jammu & Kashmir, North-East and Assam only), and Commissioner of Police, Delhi.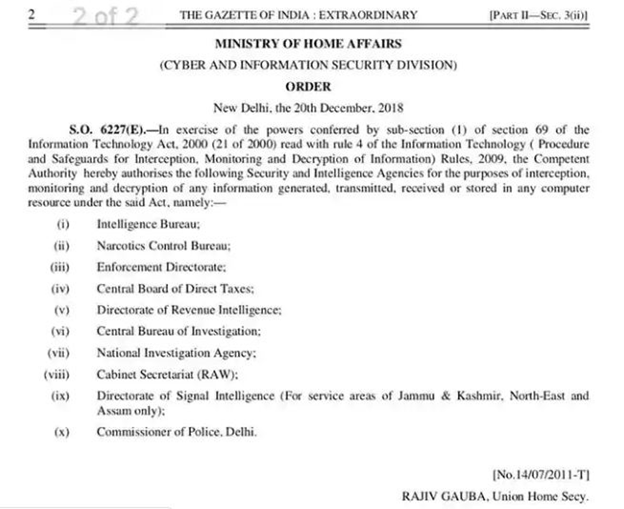 As computers play an increasingly important role in our daily life, it is very important to provide the premier intelligence and investigation agencies access to computers to protect the citizens of the country.  Section 69 of the Information Technology Act, 2000 provides that Central Government or a State Government or any of its officers can direct any agency to intercept or decrypt any information for the purpose of national security. The IT (Procedure and Safeguards for Interception, Monitoring, and Decryption of Information) Rules 2009 also say that 'The competent authority may authorize an agency of the Government to intercept or decrypt information'.
The opposition has started creating havoc against the order of the government and mainstream media is assisting them in it. The opposition called it infringement in the privacy of a common citizen. However, this is not the first time when the opposition parties are doing so. They created the same havoc around privacy on Aadhar and called it unconstitutional. But the Supreme Court of India cleared biometric identification and said that there is nothing unconstitutional in it.
Modi has used a simple Government Order to permit our national agencies to snoop on our communications.

Who knew that this is what they meant when they said 'ghar ghar Modi'.

George Orwell's Big Brother is here & welcome to 1984. pic.twitter.com/DrjQkdkBKh

— Asaduddin Owaisi (@asadowaisi) December 20, 2018
The UPA Government brought the Information Technology (Procedure and Safeguards for Interception, Monitoring, and Decryption of Information) Rules, which says that 'No person shall carry out the interception or decryption of any information except by an order issued by the competent authority'. The UPA Government in 2009 made it compulsory that only authorized agencies can carry out surveillance, it did not select the authorized agencies which left enough scope for unlawful and illegal surveillance.
The surveillance will help in the prevention of illegal and unlawful activities by terrorist and criminal organizations. There have been many cases like Nira Radia tapes and Essar leaks where it was found that private organizations were snooping in e-mails, office memos, telephone conversations of top government officials including ministers and private citizens. The empowerment of government agencies will ensure that any interception, monitoring or decryption of any information through any computer resource is done as per the due process of law. It will help the agencies to look after any illegal activity by private organizations and will help them in quick clamp down of any such attempt. The surveillance for the purpose of national security justified and governments across the world do this to protect its citizens against the criminal elements of the society.
There are many cases of posting of unlawful material on social media platforms to incite violence, crimes and even threats to senior functionaries, including the Chief Justice of India. The authorization of the government agencies will help in a quick solution to any such case. The mayhem created by the opposition is unnecessary and a compromise of national security interests. While these parties were in government and the responsibility of the country's security was in their hands, they adhered to the same measures with little transparency. Now when the Modi government is doing the same thing and in a transparent way, they are busy creating mayhem to reap electoral benefits.