Recently, the cabinet portfolios were distributed in the state of Chhattisgarh with CM Bhupesh Baghel leading the cabinet. However, the most striking aspect of the newly appointed cabinet is that all the 12 ministers are crorepatis, while two of them are facing criminal charges as well; one of them being the newly appointed CM himself.
According to the report by Association for Democratic Reforms (ADR) released on Thursday, all the cabinet ministers are multimillionaires, with their average assets pegged at Rs 47.13 crore.
The richest Minister is T. S. Singh Deo, who possesses assets in excess of Rs 500 crore, followed by Chief Minister Baghel with properties worth over Rs 23 crore. As regards to criminal background, two of the leaders of the newly elected cabinet have cases pending against them. One of them is Jaisingh Agrawal, MLA from Korba facing the charges related to keeping lottery office (IPC Section-294A), omission to assist public servant when bound by law to give assistance (IPC Section-187) and criminal intimidation by an anonymous communication (IPC Section-507).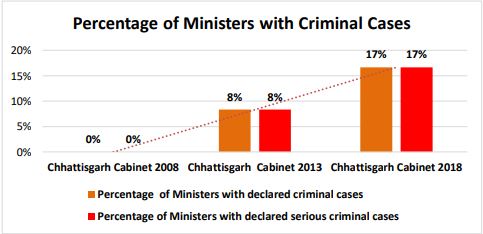 The other one is the MLA from Patan and Chief Minister Bhupesh Baghel himself. He received the attention of the national media when his close relative and senior journalist Vinod Verma was arrested by the Chhattisgarh Police in an alleged sex CD case in connection with the state PWD Minister Rajesh Munat. Vinod Verma was arrested from his residence in Ghaziabad over blackmailing and extortion. CBI, after an investigation for more than a year, filed a charge sheet in the court of special CBI judge Sumit Kapoor, who remanded the then state Congress chief Bhupesh Baghel to 14 days of judicial custody.
In another instance, the State Economic Offenses Investigation Bureau registered a case against Congress chief Bhupesh Baghel under the Prevention of Corruption Act. His wife Mukteshwari and mother Bindeshwari were also accused in this case. He is accused of incorrectly allotting 6 plots each to his wife and mother. In 2014, the nephew of Baghel and BJP leader Vijay Baghel gave the complaint to EOW (Economic Offences Wing). It was pending in EOW for nearly 3 years. SP Arvind Kuzur told that a case has been registered against Baghel and his family under sections 420, 120 B and corruption Act of the IPC. Besides these two, 9 cases have been filed against the CM elect of Chhattisgarh. These cases are related to voluntarily causing hurt to deter public servant from his duty (IPC Section-332), using forged document or electronic record (IPC Section-471), and armed with deadly weapon (IPC Section-148).
Given the rather 'illustrious' career of the MLA from Patan constituency, it seems rather odd that Congress has chosen him to succeed the popular BJP CM Raman Singh. Also, according to a report in Patrika, around 25 newly elected MLAs of the Congress party are not satisfied with the apparent choice of Chief Minister in Chhattisgarh. Not to forget the fact that Chhattisgarh is one of the poorest states of the nation. The big question here is how a cabinet comprised of all crorepati ministers will be able to match up with the expectations of the weaker sections of the state?