Chhattisgarh became one of the fastest growing states of India under Raman Singh government in the last 15 years. But the recent assembly election in the state gave a mandate in favor of the Congress party. After a long gap of 15 years, Congress is going to form its government in the state. Four Congress leaders were in the race to become the CM of the state. These leaders include state Chattisgarh Congress Chief Bhupesh Baghel 'Dau', leader of opposition in the outgoing state Assembly TS Singhdeo, Lok Sabha MP Tamradhwaj Sahu and Charan Das Mahant. After a meeting of the Congress Legislature Party (CLP) in Raipur, Bhupesh Baghel 'Dau' got the top post and will be crowned as the new CM of the state.
Bhupesh Baghel won the election from Patan constituency (Durg) in this election. He will be the third CM of Chhattisgarh and will hold the office from tomorrow onwards. Baghel is an OBC leader of the state and belongs to Kurmi caste. He first became an MLA in 1993 from Patan seat defeating BJP's Motilal Sahu by a margin of 27,477 votes. He served as a Minister of Revenue, Public Health Engineering in the cabinet of Chhattisgarh's first CM Ajit Jogi. He served as the deputy opposition leader from 2003 to 2008, when Congress was defeated by a great margin and Raman's era started in Chhattisgarh. In 2008, Baghel also lost his Patan assembly elections.
Celebrations are in order in Chhattisgarh as @Bhupesh_Baghel is appointed CM. We wish him the best as he forms a govt. of equality, transparency & integrity starting off with farm loan waiver for farmers as we promised. pic.twitter.com/7OqGcPi2eh

— Congress (@INCIndia) December 16, 2018
He again won the assembly elections 2013. He is said to have restructured the Congress party after the 2013 Naxal attack on the Congress convoy during a rally in Sukhma. It had left 27 dead, including many veteran leaders of Chhattisgarh Congress.
When Antagarh Bypoll Tapes surfaced in January 2016, and Ajit Jogi's son Amit Jogi was expelled from the party, Bhupesh Baghel with the help of the then leader of opposition TS Singhdeo, helped the party to sustain Ajit Jogi's efforts of breaking the party. As a result, Baghel rose to a stature of a leader of masses in Chhattisgarh state.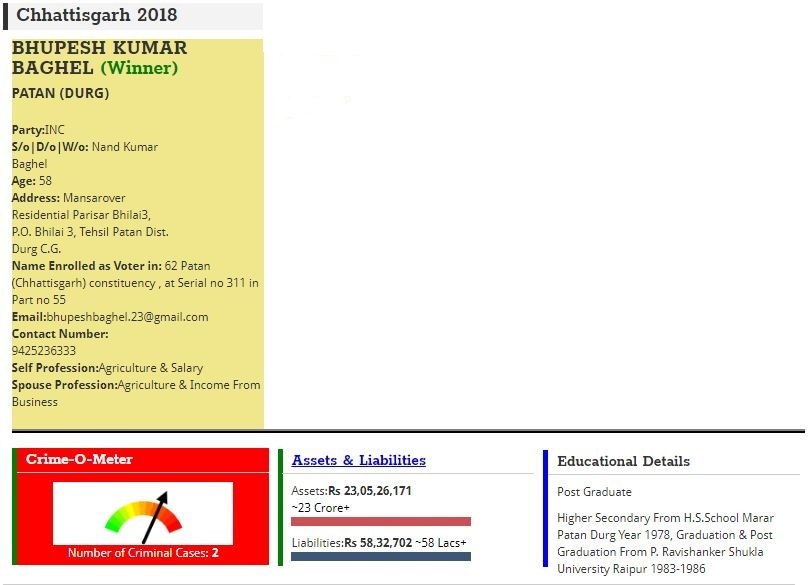 Bhupesh Baghel got the attention of the national media when his close relative and senior journalist Vinod Verma was arrested by the Chhattisgarh Police in an alleged sex CD case in connection with the state Public Works Department (PWD) Minister Rajesh Munat. Vinod Verma was arrested from his residence in Ghaziabad over blackmailing and extortion. CBI, after an investigation for more than a year, filed a charge sheet in the court of special CBI judge Sumit Kapoor, who remanded the then state Congress chief Bhupesh Baghel to 14 days of judicial custody.
In another instance, the State Economic Offenses Investigation Bureau registered a case against Congress chief Bhupesh Baghel under the Prevention of Corruption Act. His wife Mukteshwari and mother Bindeshwari were also accused in this case. Baghel is accused of having misused his position while being a member of SADA (Special Area Development Authority) and also in the Mansarovar scheme of Bhilai-3. He is accused of incorrectly allotting 6 plots each to his wife and mother. In 2014, the nephew of Baghel and BJP leader Vijay Baghel gave the complaint to EOW (Economic Offences Wing). It was pending in EOW for nearly 3 years. SP Arvind Kuzur told that a case has been registered against Baghel and his family of under sections 420, 120 B and corruption Act of the IPC.
Besides these two, 9 cases have been filed against the CM elect of Chhattisgarh. These cases are related to voluntarily causing hurt to deter public servant from his duty (IPC Section-332), using forged document or electronic record (IPC Section-471), and armed with deadly weapon (IPC Section-148).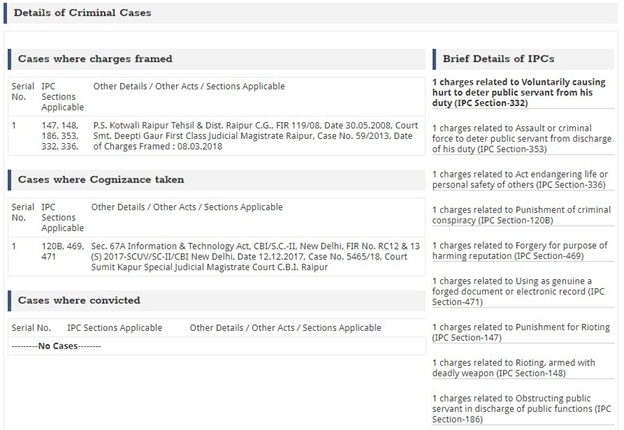 Given the rather 'illustrious' career of the MLA from Patan constituency, it seems rather odd that Congress has chosen him to succeed the popular BJP CM Raman Singh. Also, according to a report in Patrika, around 25 newly elected MLAs of the Congress party are not satisfied with the apparent choice of Chief Minister in Chhattisgarh. The choice of Baghel not only shows the willingness of the high command to elevate one of the most tainted 'netas' to the CM post but it also shows their absolute disregard for the mandate of the people.