According to media reports, few Aam Aadmi Party (AAP) workers have been arrested by the Haryana police for allegedly circulating "fake news". The workers falsely claimed that Haryana CM Manohar Lal Khattar had said that he is a Chief Minister "only for Punjabis". The news went viral and became an issue of contradiction between the Haryana government and the Aam Aadmi Party leaders.
Earlier, on December 28, 2018, AAP social media in-charge of Hisar unit, Harpal Kranti retweeted a post of MK Balyan, another AAP worker. In the tweet, MK Balyan had criticized Haryana CM for allegedly calling himself "only a chief minister for Punjabis". He also showed an image that looks like a newspaper report to substantiate the claim.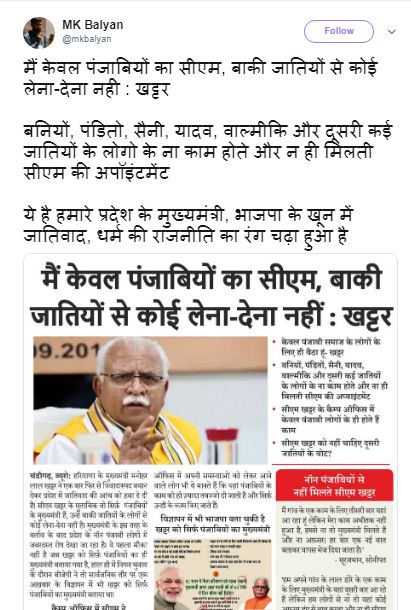 However, India Today had done a detailed fact check and found the story to be a fake one. In its report India Today mentioned, "At a glance, the "newspaper report" looks fictitious. The post neither mentions the name of the newspaper nor any byline. The report also doesn't clearly say when the Haryana CM made this comment and where. Going through local and national media reports, we could not find any credible news reports that confirmed Haryana CM ML Khattar ever said this on any occasion."
Lately, the IT cell of the BJP had filed a police complaint against a member of Indian National Students Organization (the student wing of the INLD) and others for allegedly spreading fake news connected to the CM of Haryana. After that, Hansi police arrested Harpal Kranti and another AAP leader Anoop Chanot under sections 153 (provocation with intent to cause riot), 153-A (promoting enmity between different groups and doing acts prejudicial to maintenance of harmony) of the IPC, and section 66 of the IT Act. The former was released after the interrogation.
Head of BJP's state IT cell Arun Yadav said, "I saw this news item while scouting the social media as part of my job and was shocked to find it," reads the complaint. He further added, "This piece of news can spark a major row between communities and create social tension. This needs to be dealt with seriously".
While Naveen Jaihind, Haryana AAP president alleged, "It's not a democracy, but jungle rule. BJP had given an advertisement that for the first time the state had got a Punjabi chief minister and the opportunity should not be squandered. The AAP workers only put the post on social media."
Various AAP leaders are making comments on the issue and the most vocal one is the head of the "fake news generator" party, Arvind Kejriwal himself. The "flag bearer of truth" retweeted a tweet of AAP worker in Amit Mishra saying, "What kind of dictatorship is this? On Friday night 70 youths were detained for calling Khattar a CM of Punjabis."
खट्टर साहब कुछ भी कर लो, चाहे जितनी गिरफ्तारी कर लो, हरयाणा के कार्यकर्ता आपकी तानाशाही से डरने वाले नहीं हैं"- नवीन जय हिंद pic.twitter.com/pySreo8NIB

— Amit Mishra (@Amitjanhit) December 29, 2018
These "sweet talks" of dictatorship, coming from someone who made an amendment in the constitution of his party, to retain his position as the chief of AAP is just a thing to laugh off.