The upcoming MP elections have been termed as the litmus test for BJP's popularity ahead of the Lok Sabha polls early next year. Of the five states slated for state elections, Madhya Pradesh, with its 29 Lok Sabha seats is crucial. With three consecutive victories and fifteen years in power, the state under Shivaraj Singh has been a BJP stronghold. With just a month left for elections, let's take a look at how the numbers stack up as far as development goes and examine whether or not Shivraj Singh can sustain his dominance in MP.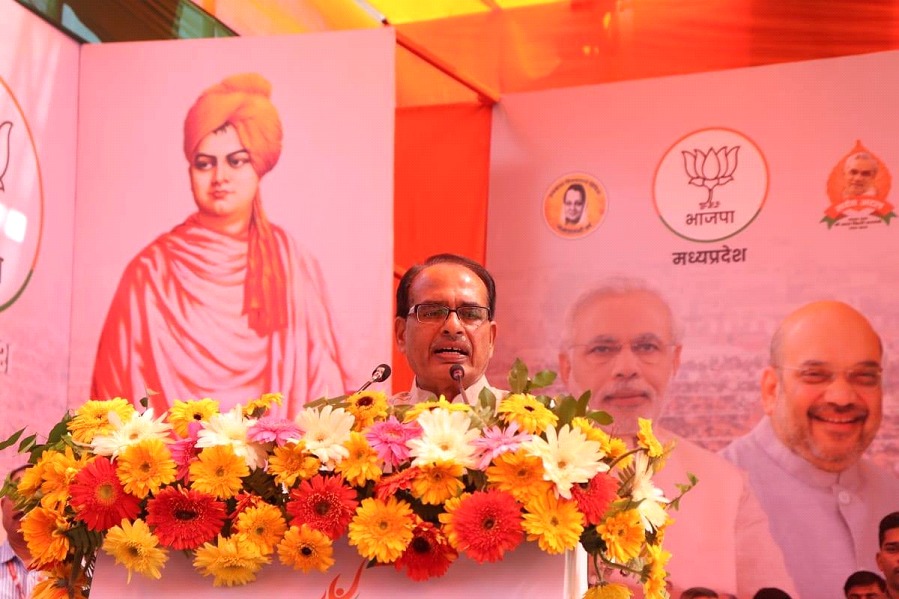 After a decade of Congress rule (between 1993 and 2003), Shivraj Singh led BJP has dominated the state politics, securing an average of 70% of assembly seats, over the past three state elections. In 2013, BJP improved its own performance by winning 165 seats and around 45% share of votes (as compared to 37.64% votes in 2008). INC with 58 seats and 36% votes and BSP with 4 seats (6% votes) were distant losers. In the Lok Sabha elections held 4 months later, BJP made a near clean sweep winning 27 of the 29 seats and securing 54% votes. The remaining 2 seats went to Congress which got 35% of the votes. With such glaring statistics, let's analyze the impact on the state's economy and if are they enough to give Shivraj Singh a fourth term on the trot.
Increase in Madhya Pradesh's economic growth rate (GDP) :
Madhya Pradesh has recorded the second-fastest gross domestic product (GDP) growth in India, after Gujarat, in the last five years (2013-2017), growing at 8.1% against India's growth of 6.9%. Also, with CPI at 6.6%, inflation in MP was below the national average of 6.8%. According to the Department of Industrial Policy & Promotion (DIPP), FDI inflows in Madhya Pradesh, from April 2000 to June 2018, totalled to US$ 1,407 million.
Between 2011-12 and 2017-18, Gross State Domestic Product (GSDP) expanded at a Compound Annual Growth Rate (CAGR) of 14.39% (in rupee terms) to US$ 109.70 Bn, whereas the Net State Domestic Product (NSDP) expanded at a CAGR of 14.57% to US$ 99.11 Bn.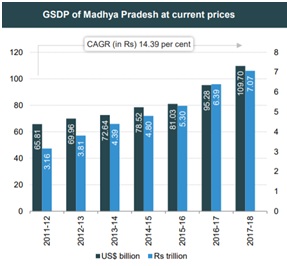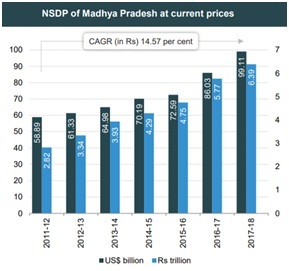 The state's per capita GSDP in 2017-18 was Rs 88,452 (US$ 1,372.41) in comparison to Rs 43,082 (US$ 898.48) in 2011- 12. Per capita GSDP in the state increased at a CAGR of 12.74 % between FY12 and FY18. The state's per capita NSDP in 2017-18 was Rs 79,907 (US$ 1,239.83) comparison with Rs 38,551.00 (US$ 803.98) in 2011-12. Per capita GSDP of the state increased at a CAGR of 12.92% between FY12 and FY18.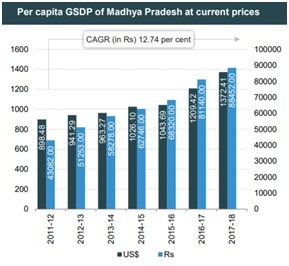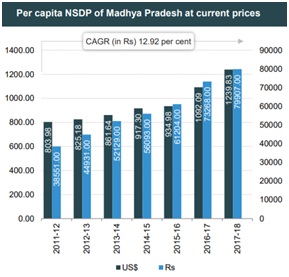 Enhanced Irrigation has helped in developing the Agricultural sector :
Being an agrarian state with 70% of population employed in the agricultural sector, this sector has performed exceptionally well under Shivraj Singh Chouhan. Overall agricultural growth rate has increased by 9.7% between 2006 and 2015, while increase has been around 14.2% in the last five years. Agricultural Exports grew from $93.03 Mn in FY17 to $141.36 Mn in FY18.
In the last ten years; Irrigation ratio has increased by 35%, seed replacement rates increased for wheat, soybean, gram and paddy. These factors led Madhya Pradesh to become the largest producer of certified seeds in the country, at 4.4 million quintals for the above mentioned crops.
The success of Madhya Pradesh's agriculture GDP can be attributed to the state's emphasis on enhancing irrigation facilities for farmers. In 2017, around 40 lakh hectares land was irrigated using canals as compared to 7.5 lakh hectares during Congress rule in 2013. The state also provided a subsidy of Rs. 26000 on five horse power water pumps for farmers.
About 5.5 lakh hectares have already been provided with irrigation facilities through the Narmada River, in the last 11 years, potable water to 16 districts in MP and the Lift Irrigation Scheme was set up to provide water to areas situated at a higher altitude, areas that cannot be irrigated via canals. More than 60000 people from 92 villages will benefit from this scheme.
Growing production of food grains, milk and focus on food processing sectors :
In 2017-18, the state produced 42.14 million metric tonnes of food grains. An amount of US$ 1,433.26 million was allocated to farmer welfare and agriculture development in state budget 2018-19. The production of milk saw a 75% increase from 5.5 metric tonnes in 2004-05 to 9.7 metric tonnes in 2013-14. Madhya Pradesh became the third largest producer of milk as of 2017, from being at number 7 in 2004-05 (12 years ago).
Two mega food parks have been sanctioned by Government of India in Madhya Pradesh. One of the mega food parks – Indus Mega Food Park, Khargone – is already operational and has a leasable area of 24 acres, while the other – Avantee Mega Food Park – is currently being constructed in Dewas and will be home to 25.47 acres of leasable area.
Empowering Farmers :
This Bhavantar Bhutan Yojana was introduced in October 2017, with an aim to support farmers in case of sales gone bad in Mandi, which fetches them less than the Minimum Support Prices (MSP). If the market prices are lower than the MSP, the farmers have the option to sell their crops to the government at the MSP. NDA Govt at centre bumped MSP by 1.5 to 2 times in various crop categories, both for Rabi and Kharif crops. In FY17, about INR 7,079.95 Crore claim amount has been paid to around 26.17 lakh farmers of MP through Pradhan Mantri Fasal Bima Yojana.
Growing Tourism Sector :
With a vision of "Making the state a world class tourist destination and promoting religious, adventure and heritage tourism by attracting private investment". Madhya Pradesh is working towards a robust growth in tourism. Madhya Pradesh saw an increase in tourism, particularly after implementing the State Tourism Policy, 2016. The State Tourism Policy enabled foreign companies to invest in the sector and set up shops across Madhya Pradesh, as opposed to previously being allowed to invest only in 13 special tourism zones. As per budget 2018-19, the state government proposed an allocation of US$ 36.84 million for the development of the state's tourism department. The number of tourists in MP increased from 7.5 crores in 2016 to 15.05 crore tourists in 2017, 3.63 Lakhs of which were foreigners.
Women Empowerment :
Shivraj Singh Chouhan was the first CM to enact a law for death sentence to rapists of minor girls aged 12 years or below. Rajasthan followed MP and finally the Centre amended the POCSO act. This zero-tolerance attitude of CM Shivraj Singh towards child sexual abuse crimes has been widely appreciated by all strata of the society.
Shivraj Singh Chouhan has introduced other schemes like LADLI LAXMI YOJANA and KANYA VIVAH YOJANA, which have been a success in improving the sex ratio in the state and providing financial security to the girl child. Similarly, GAON KI BETI YOJANA supports talented rural girls for higher education by providing financial assistance and PRATIBHA KIRAN YOJANA provides financial support to girls belonging to urban BPL families for pursuing higher education.
Power Sector :
From a BIMARU state, MP has leaped miles ahead in power sector with a 64% growth in power supply since 2011. As of September 2018, Madhya Pradesh had total installed power generation capacity of 20,338.33 MW, comprising 5,867.62 MW under state utilities, 5,144.41 MW under central utilities and 9,326.30 MW under private sector.
Of the total installed power generation capacity, 12,805.41 MW was contributed by thermal power, 3,223.66 MW by hydropower, 273.00 MW by nuclear power and renewable power contributed 4,036.26 MW. In December 2017, foundation stone was laid for the world's largest ultra mega solar power plant at Gurh in Madhya Pradesh. The project will entail an investment of Rs 4,500 crore (US$ 695.09 million), be spread across 1,600 hectares of land and generate 750 MW of electricity.
On 30th Oct, 2018, MP achieved another bigger milestone as quoted by Shri Raj K Singh, Minister of State (IC) Power and New & Renewable Energy, Government of India.
Completing its target way ahead of the deadline, Madhya Pradesh becomes the 1st state to declare 100% household electrification under 'SAUBHAGYA'. Congratulations to the State Government & its Power Distribution Companies on successfully completing the target. @ChouhanShivraj pic.twitter.com/2ZT90Tw1xz

— Office of R.K. Singh (@OfficeOfRKSingh) October 30, 2018
"Madhya Pradesh becomes the 1st state to declare 100% household electrification under 'SAUBHAGYA'"
Infrastructure Development :
Shivraj Singh Chouhan's State Govt has laid out a clear vision for developing overall Roads, Transport, etc.
Connecting all villages through world class highways.
Develop the transportation network to enhance rural connectivity.
Reform the institutional machinery for creating public transport facilities.
3000 houses are being constructed in the state for the homeless poor and needy people per day under the Pradhan Mantri Awas Yojana. Construction of over 10 lakh houses has been completed till now. The Urban Water Supply and Environmental Improvement project will address deficiencies in basic urban services in Bhopal, Indore, Gwalior and Jabalpur.
Apart from this many social sector schemes like 'Medhavi Vidyarthi Yojana' (financial support of students for higher studies), Mukhyamantri Annapurna Yojana (providing food grains on economical rates to BPL families), Mukhyamantri Payejal Yojana (providing drinking water facility in the villages having more than 500 and less than 1000 population, Mukhya Mantri Kanyadan Yojana (providing financial assistance to poor, needy, destitute families for marrying off their daughters/widows/divorcees), Mukhya Mantri Kanya Vivah & Nikah Yojana (spreading communal harmony) etc have been creating a very positive good will for the BJP Government in MP.
Adding to the developmental charge are swift and transparent implementation of Central Govt's development schemes like Mudra Yojana, Rural Electrification, LPG Distribution, Ayushman Bharat, Jan Dhan Yojana, Gramin Sadak Yojana, Crop Insurance, etc
The economic and development indices foretell favorable outcomes for the BJP, but there are enduring challenges beyond the development agenda which decide elections in India. Shivraj Singh with his mass appeal and charisma, has enough sagacity and realpolitik in him to emerge victorious, despite the anti-incumbency factor.