Mahabharat and Ramayan are the pillars of our cultural heritage and have been subjected to immense scrutiny, oft times twisting the very meaning of the shlokas. Having been an ardent reader of Hindu scriptures, I have come to regard only a few writers from our ancient history as the ultimate authority on the concerned subjects. There are only two experts for Mahabharat and Ramayan and those are Krishna Dwaipayana Vyas and Valmiki respectively, simply because they are the authors of the two massive books. But sometimes self-proclaimed experts go a step ahead and provide their alternate version of the two books. The vilification of Shri Krishna as an eve teaser, the glorification of Ravan as a scholar, the misogynist image of Bhagwan Shri Ram are some of the horrible twisting of the epics.
I stumbled upon an article from Congress propaganda factory 'The National Herald' which summarised ancient Indian history in one line – Mahabharat and Ramayan are replete with incidents of #MeToo. For the uninitiated, #MeToo was an online movement where women came out and narrated tales of sexual harassment that they had to endure at their workplaces.
In order to prove its claim, The National Herald presented many 'facts'. In this article, I will demolish every single claim of theirs by quoting the only experts that one should quote – i.e. Vyas and Valmiki.
Claim# 1: Janak decided Sita's fate and Shri Ram forced him to go to forest with him
Survival of the fittest is the natural order of all living species. Marriages weren't a fancy jamboree back then, it was a carefully planned alliance. The rules of Swayamvar were set in order to favour the bravest, the most intelligent and the most valorous among the suitors. So, when King Janak set the rules for Sita's swayamvar, it was simply the act of a father who wanted the best and the bravest to win Sita as his bride. The gamble clearly worked as there was none in the world who could lift the heavy Ajgav (Shiv Dhanush), let alone stringing it.
The National Herald's take on Maa Sita's exile along with Shri Ram and Lakshman could be considered as a classic case of limited understanding of a semi-literate fool. Shri Ram NEVER pressurized Maa Sita to come along with him, he in fact strongly objected against her going to the forest. Here is how Valmiki puts it.
Shri Ram says:

"Oh, Sita! Let your thought made about forest be given up. It is indeed said that forest with its wilderness is fraught with many dangers."
But Maa Sita was adamant:

"Oh, Ram! If you set forth now itself to the forest, which is difficult to be travelled, I shall come before you, by trampling down thorns and grass with long pointed stalks."
It's not patriarchy, it's love, silly!
Claim#2: Draupadi's Swayamvar and her subsequent humiliation
I already clarified the concept of Swayamvar above so there's no point repeating it all over again. When Draupadi was married to 5 husbands, she was only fulfilling an ancient prophesy. But to understand this, one needs to understand the concept of Purva Janma and debts from the past. Here's how Vyas puts it: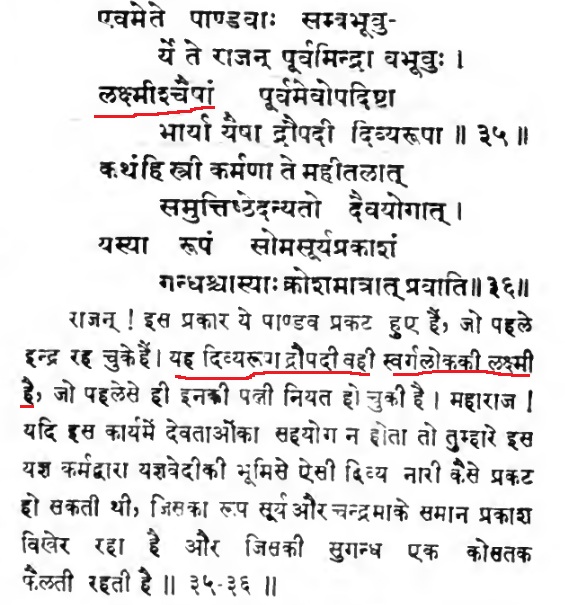 That's right. The five sons of Pandu were none other than five instances of a single Indra whose wife was already decided. Remember Drauapdi was born out of sacrificial fire for this very act. Kunti just became a reason for this divine fulfilment. And Pandavas simply obeyed their mother. And again, defying one's mother's words was not an acceptable practice among people of that era.
Yuddhisthir was not entitled to stake her at the game of dice and this has been well documented in Mahabharat. Vyas dedicates good 3 pages after the Anudyoot parva explaining why it was idiotic on the part of Yuddhishthir to stake her at the game. Bhim himself was capable of slaying every single warrior present in the court singlehandedly but he had to tolerate the injustices meted out to Draupadi because he, along with his brothers, wife and king had been lost at the game. Unfair but morally reasonable.
And after the Dyoot Parva, Pandavas never spared anyone who so much as looked at Draupadi with lustful eyes.
Kirmira was killed.
Kichak was killed.
Jaydrath was roughed up and left with a shaven head save 5 tufts of hair each denoting a husband of her. He was not killed because he was their Jamaata (Sister's husband). Jaydrath was married to Duryodhan's sister Duhshala.
Bhim ripped Dushshasan's chest and drank his blood.
And Draupadi was the reason why Mahabharat took place. Period.
Claim#3: King Yayati turned his daughter Madhvi into a sex object
While 'The National Herald' hasn't spun anything out of proportion here, it is safe to assume that they have done selective quoting of the scriptures. It was not just Madhvi who bore the brunt of a careless father but her brother Puru was a victim too. Yayati wasn't particularly very respectful of his sons too, he famously robbed his son Puru of his youth just because he wanted to enjoy the fruits of youth which he had lost prematurely because of a sage's curse. His son Puru meekly accepted his father's old age and ruled the kingdom in his stead as his father romanced with various Apsaras in the meantime. However, the King finally realized that material pleasures are insatiable. Hence, he takes back his old age from his son and anoints him as the monarch.
And to judge an ancient incident from the yardsticks of modern times is always an exercise in futility. Puru and Madhvi were doing a service to their father, denying a father's demand was a sin in ancient India. Ramayan could have been over in Ayodhya kand itself. Shri Ram could have simply said no to King Dasrath's 'unfair' demands but he chose to obey his father.
Claim#4: Shurpnakha was treated unfairly
Okay picture this. An old and ugly woman dresses up as a desirable woman, storms to your hut and expresses the heartfelt desire of killing your wife and brother and marrying you? What will you do? Shri Ram was faced with the same question. But he was a nice guy and hence referred the matter to Lakshman. Shurpnakha repeated the same desire, only this time she flirted with Lakshman while being adamant about killing Sita. Lakshman carved her up nicely. How very nice? Ravan should have chastised his sister for flirting with unknown men and threatening to kill their wives but he kidnapped Shri Ram's wife instead. Shri Ram killed him and reclaimed Mata Sita. If you find injustice in this, you are either blind or a complete moron.
Bonus: Bhagwan Surya raped Kunti (The National Herald didn't claim this but many scholars in the past have, so here's me rebutting all of them.)
Scholars claim that Bhagwan Surya raped Kunti despite her protests. Let's first understand the background.
Kunti was the foster daughter of Raja Kuntibhoj. She was hailed as the most beautiful and virtuous maiden of that time. Rishi Durvasa, infamous for his temper, once visited the kingdom and Kunti attended to him. She was very receptive of the sage's complaints and made sure that he received an excellent hospitality. Durvasa was very pleased and he granted Kunti a boon that she can summon any god and ask for anything that she desired.
Kunti, who was roughly sixteen around that time, decided to test the boon and summoned Bhagwan Surya. Bhagwan Surya came to Kunti's room in his resplendent form and asked her to ask for anything she desired. Kunti, though mesmerized, was clueless and told him to go without granting any boon. Surya explained to her that not granting a boon after being summoned will be a disrespect of sage Durvasa. Surya then said that he will give her a son but Kunti squarely denied. A long argument ensued. Vyas beautifully presents Kunti's dilemma with the following shloka.

The virtuous Kunti was ashamed about the fact that she may be subjected to infamy and was ashamed too as she was a maiden.
Surya then goes on to describe the son she would give birth too and also tells her that she will regain her virginity after the birth of the child, here is how Vyas puts it.

Your son will be as resplendent as me and will be blessed with a divine armour and ear rings. His valour will be second to none and he will donate anything to Brahmins if they so much as ask for it. He will also be immensely proud.
Upon hearing this, Kunti agrees to conjugate with Bhagwan Surya.

Hence Kunti conjugated with the causer of heat and light and a valorous son was born immediately as a result of that who was the foremost among all bearers of arms. He donned a divine armour ear rings from his birth.
As is evident from the perusal of original sources, the myth of misogyny in Indian epics has endured not because there is any veracity in the claims but because of the perpetuation of selective distortion of these epics.