The India Railways manages the fourth largest network in the world, carrying 8.26 billion passengers and transports 1.16 billion tons of freight yearly as of the fiscal year 2018. The operations of the railways have changed significantly, moving from operating on coal at the time of independence to petroleum, and now almost half of the trains run on electricity. India was the first country in Asia to have railway connectivity, and now we are so dependent on it that we cannot imagine living in the country without the convenience of a vast network of railways. In a country that is so vast and diverse, Indian Railways unites us by making it easier for us to travel through the length and breadth of the country. However, safety has been a major problem with Indian railways for decades.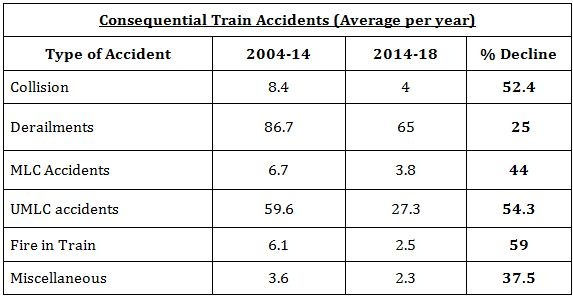 There are two main reasons behind railway accidents- Unmanned railway crossings (UMLC) and derailments due to defect in the tracks. Track defect was responsible for 44 percent of rail accidents 2012-13 to 2016-17.  When Piyush Goyal assumed the charge as railways minister after the resignation of Suresh Prabhu on railway safety matters, he made safety as the top priority.  Piyush Goyal became railway minister in September 2017 and at that time there were more than 4,000 unmanned railway crossings (UMLC). In less than a year and a half, the number of UMLCs has gone down to zero. In September 2018, alone 1,703 UMLCs were eliminated. The number of accidents has already come down to a double-digit from the three digit numbers in the previous year. In 2013-14, railways witnessed 118 accidents and the figure reduced to 73 in 2017-18.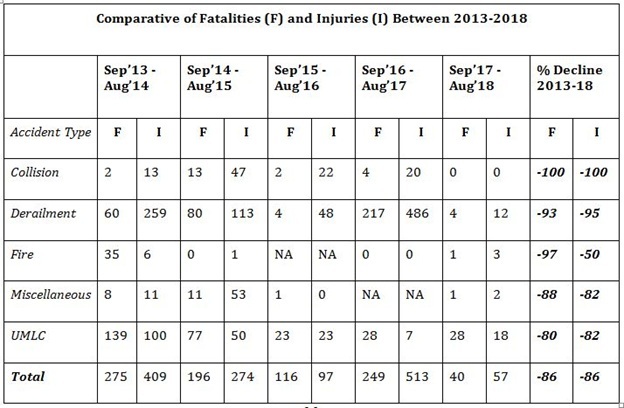 The main issue in enhancement of safety and security was lack of funds. After Piyush Goyal became the railway minister, he flooded the safety and security department with money. Investment on safety increased to 30,661 crore rupees in 2009-10 to 73,065 in 2018-19. The expenditure on security has more than doubled in the last nine years, 2,107 crore rupees in 2009-10 to 4,904 crore in 2018-19. Track derailment was one of the major reasons behind accidents and the budget for track maintenance and renewal increased exponentially in the last four years of Modi government. The 2,597 km of railway track was renewed in 2016-17 and the number increased to 4,405 km in 2017-18. Another major security concern is the lack of enough Foot Over Bridges was a major problem on the stations with high foot fall density. The construction of FOBs increased by 221 percent under Modi government, 23 FOBs was constructed in the second term of UPA while Modi government built 74 FOBs in the last four years. The service of Army was utilized to fast track the construction to FOBs in accident prone areas.The construction of Road over bridge/ Road under Bridge/ Subways increased by 3 times from 415 on average per year to 1220 per year. To monitor safety and maintenance, audit of bridges was started and bridge management software was developed for data consolidation, maintenance and monitoring. 
The ministry is also planning to completely shift to Linke Hofmann Busch (LHB) coaches which are relatively safer. The production of LHB coaches increased exponentially in the last few years. In 2016-17, 1,469 LHB coaches were produced, the number increased to 2,385 in 2016-17 and 4,410 in 2018-19. The ministry is also installing CCTV cameras in railway coaches for safety of women and general passengers. By March 2019, 10,000 coaches will be covered with CCTV cameras. The Indian Railways has also offered work under MGNREGA to better utilize the government scheme.  
The ministry set up Rashtriya Rail Sanraksha Kosh' (RRSK) with fund of 1 lakh crore to spend in the period of five years to ensure safety in railways. There were more than 1.3 lakh vacancies for security and safety posts which are being filled through recruitment. For decades railway was an overtly bureaucratic regime, only a person from outside the Lutyens structure could solve the problems the railways faced. Piyush Goyal is known for thinking 'out of box' and providing innovative solutions to complex problems. He could be entrusted for complete overhaul of Indian railways. His ministry was at the forefront of bringing 'corporate work ethics' in government jobs. He has had a long tenure as corporate executive and he was opposed to the lackadaisical and what is infamous as the 'bureaucratic attitude' of the railway employees. Under his leadership, the 'achhe din' of railways has become a reality.