Recently, CM Yogi made a statement regarding the difference between the attitude of UPA and NDA when it comes to dealing with terrorists (vo biryani khilate the, ham goliyan khilate hain). CM Yogi's statement is not without merit. During the Modi era, terrorism on Indian soil has significantly reduced.
Since 2005, there has been an average of 757 civilian deaths per year under UPA and 241 per year under the present government. The most striking fact is that in 4.5 years of this regime, there has been an average of only 4 civilian deaths in the rest of India when disturbed regions of Jammu & Kashmir, Red Corridor and Northeast are not considered. In nine years of the UPA regime, the number was an average of 101 per year. It was significantly higher at an average of about 203 deaths per year in the first four years of UPA-I when "Vastra Purush" Shivraj Patil was in office as Home Minister until the end of 2008 after the 26/11 attack when he finally had to resign for his apparent negligence and casual behavior during a series of blasts in Mumbai and then the 26/11 attacks.
The curb on terrorism in Modi era are result of a combination of factors including comprehensive anti-terror policy, sound implementation of the same and willingness of the political leadership to take strict measures. But one of the less talked about and perhaps the most successful aspects of India's counter terror policy in Modi era is its relentless assault on terror financing.
Security forces faced 1,261 incidents of stone pelting in Jammu and Kashmir, in 2017, against 2,808 incidents in 2016 and 730 in 2015. A sharp rise in stone pelting in 2016 was after the death of Hizbul Mujahideen Commander at the hands of the army. In July 2018, the then Police chief S P Vaid said that the number of stone pelting incidents have dropped by about 90 per cent. The consistent reduction in incidents since 2017 could be owed to a number of factors, one of them being demonetization and the other being the Enforcement Directorate and NIA'a crackdown on separatists in Kashmir and their links with Pakistan.
Demonetization swept the ground beneath the ISI backed cabal of counterfeit currency operating across the border. Hawala networks took a hit and so did terror financiers in Pakistan and associated separatists in Kashmir. But demonetization not being enough on its own, the emboldened role of the Enforcement Directorate is an active testimony of the imminent downfall of militant sympathizers and militancy itself in J&K as it launches an offensive against terror financing in India.
The link between Hurriyat leaders and Pakistan's darling 26/11 attacks mastermind Hafiz Saeed needs to be undisputedly acknowledged. In 2015, ED had filed a charge-sheet against Firdous Ahmed Shah, member of Syed ali Geelani's Hurriyat Conference for having received. through his "friend", money from "Madina Traders" in Brescia, Italy through a sender named Javed Iqbal, via Western Union Money Transfer. The same name of Madina Traders and Javed Iqbal was involved with 26/11 attack when a money transfer was made for activating Voice Over Internet Protocol (VOIP) used during the Mumbai terror strikes. Similar remittances were received by a woman in Kashmir from a Pakistani national. After Burhan Wani's death in July 2016, he was hailed as a martyr at Jamaat-ud-Dawa's camps in Pakistan and intelligence agencies caught up a wave of donation demands made to people in Pakistan to "help" the people of Kashmir. According to a report in 2012, an amount of 7.8 crore in Pakistani Rupees were collected for funding terrorism in Kashmir. In 2017 attached around Rs. 17 lakh received by three Hizbul Mujahideen members who were to distribute the money among "people" at a 5% commission. A Hawala dealer caught with Rs. 63 lakh in 2005 spilled the beans for separatist leader Shabir Shah when he revealed that from the amount of 63 lakhs he was to give 50 to Shah, 10 to a Jaish-e-Mohammed area commander in Srinagar, Abu Baqar. In 2017, after a separatist leader Nayeem Khan was seen on a sting operation confessing that money is received from Pakistan based terror groups, NIA raids on Hurriyat leaders caused an outcry among militant sympathizers. Indeed the kith and kin of Hurriyat leaders have amassed vast amounts of wealth while they echo Pakistan's interests on Indian soil. NIA has named Hurriyat Conference, Hizbul Mujahideen, Lashker-e-Taiba, HM and Hafiz Saeed in an FIR after which the ED registered a money laundering case against them. Recently, jailed businessman Zahoor Watali had been quizzed and now in custody, UAE based businessman, Naval Kishore Kapoor is being sought by the ED for interrogation over terror funding through Watali to the tune of Rs. 5.579 Crore from 2013 to 2016.
In 2018, Kerala based Popular Front of India, PFI an Islamist extremist outfit, was booked under Prevention of Money Laundering Act by ED for its links with terror activities and financing. The NIA has reported to MHA how the group is involved in the radicalization of youth, is running terror training camps, making bombs and is fit to be banned under Unlawful Activities (Prevention) Act. Despite PFI's alleged plans to carry out attacks across South India with another outfit Islamic State Al-Hindi, chopping off a professor's hand in Idukki, running training Camp in Kannur, killing RSS leader Rudresh in Bengaluru, making big bombs and IEDs the Kerala CPI (M) government is not interested in banning the outfit that received huge funds from organisations in the Gulf countries.
The ED has been relentlessly pursuing money laundering elements in the country and has been projecting good numbers in terms of cases registered and value assets attached since India became a full member in 2011, of the Financial Action Task Force, an intergovernmental organisation that aims to check money laundering and terror financing in the world. In 2016-17, Rs. 11032.28 crores of value assets were attached and Rs. 9188 crore was confirmed by the adjudicating authority. This has been the highest amount seized by the ED in a year under the PMLA, second being Rs. 5086.23 Crore confirmed in 2017-18.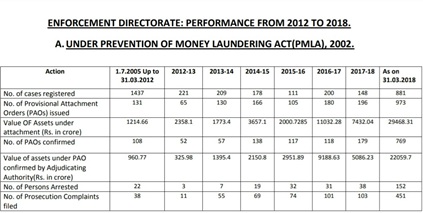 India's keenness to curb money laundering and to break the back of terror financing has given it edge in the decision making process of the FATF. PM Narendra Modi has been very vocal in order to get the world community to wake up and acknowledge Pakistan's state sponsored terrorism. An offensive on Pakistan launched by PM Modi in international fora has come to bore fruit, with President Trump cancelling aid to Pakistan and shaming the country for its deliberate failure to curb terrorist groups working on its soil and FATF grey listing Pakistan for the same this year. Pakistan has earlier been on the list from 2012-15. This is bad timing for the nation with a crippling economy and these events mark only the beginning of immense pressure on Pakistan to act against UN banned terror groups like Taliban, Haqqani Network, Jaish-e-Mohammed, Lashker-e-Taiba, Jamaat-ud-Dawa besides terrorists like Hafiz Saeed and Mashood Azhar. It has avoided being black listed by complying with a 26-point action. Pakistan recognizes these terror groups as the key players in helping it achieve its strategic goals, so international shame alone cannot sabotage its operations. The grey listing skewers its chances at obtaining IMF, ADB loans, besides causing an exit of whatever foreign capital remains in its economy.
With this strengthened AML/CFT (Anti Money Laundering and Countering Financing Terrorism) policy and the strengthened role of ED to counter terror finance, Modi government has struck the right chords in dealing with terror groups. While cutting their funding at the source invites great unease among these groups and their sympathisers, tactically outpacing them while they attempt to adapt and resist a cash crunch is paramount to India's war on terror.