In 2014, Narendra Modi won the Lok Sabha election with great mandate and it is not a secret that the Hindutva forces played a great role in that history-making event. With due time, Congress' anti-Hindu stances got exposed and now, the whole political world of India has realized how strong the combined forces of Hindutva are.
That's why we see a great change in Rahul Gandhi, who is now regularly visiting temples for prayers and his supporters like calling him a Janeudhari Brahmin (it is another fact that we have never seen an image where he underwent mundan after his father's unfortunate demise).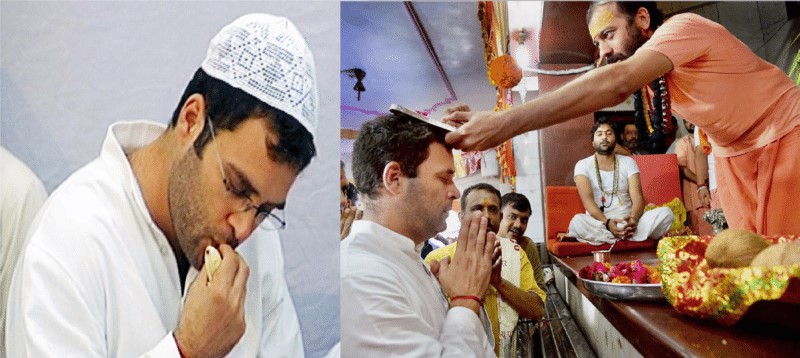 Image Source: Postcard News.
During the Gujarat Assembly Election Campaign, Rahul Gandhi visited more than ten temples including Dwarkadhish temple.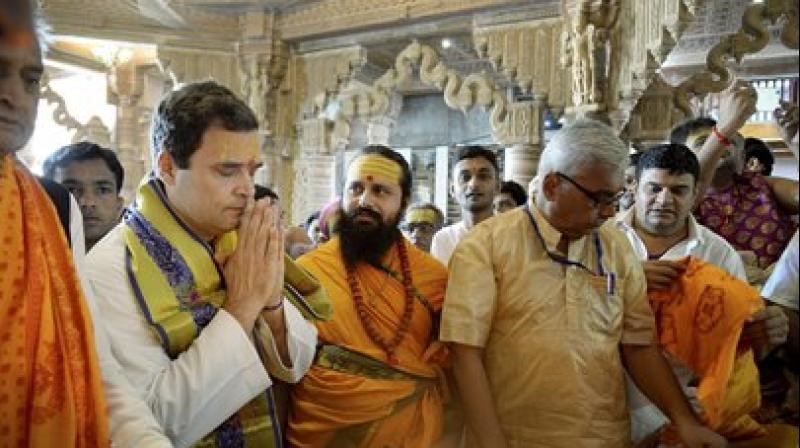 Image Courtesy: Asianage.
During the Karnataka Assembly Election campaign, Rahul Gandhi visited Narayana Guru Temple Udupi,  Dodda Ganapati Temple Basavanagudi, Kurudamale Ganesha Temple in Kolar, Shringeri Sharadamba Temple, etc.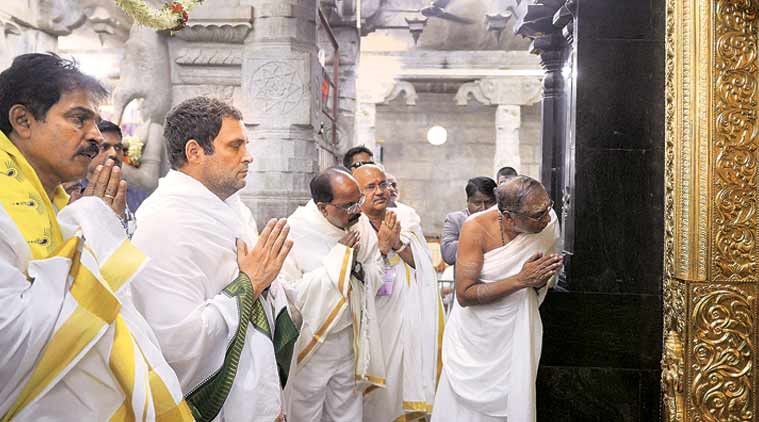 Image Courtesy: Indian Express
Similarly, during his current Madhya Pradesh Assembly Election campaign, Rahul Gandhi has visited Maa Peetambara Pith Temple in Datia. Congress spokesperson Pankaj Chaturvedi told PTI that visiting this temple has been a family tradition in Gandhi family- Indira Gandhi, visited the shrine in 1979, before polls in 1980 and later after becoming the Prime Minister. Rajiv Gandhi also paid a visit to the Shakti-peeth after becoming PM in 1984-85.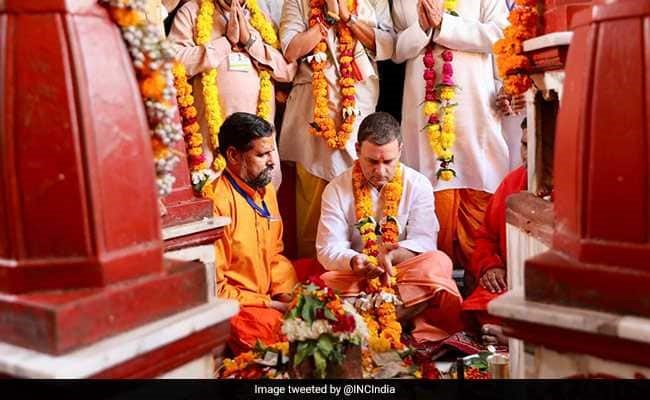 Image Courtesy: NDTV
However, Rahul Gandhi's new found love for Hinduism is again in question now and the only person responsible for this is Rahul Gandhi himself. Don't get fooled, Rahul Gandhi's Temple Run is just an election gimmick and it has been confirmed by Rahul Gandhi and a senior Congress leader themselves.
Mamata Banerjee is the prime face of inaugurating Kolkata Durga Puja Pandals. She starts from Mahalaya and by the time of Panchami, she completes more than 50 inaugurations every year. In any case, she is the first choice for these inaugurations rather than any Bengali celebrity. It is believed that BJP is slowly making deep progress in West Bengal. To counter that progress, Congress too wants to create stir in the Bengal politics by using this festive season. Recently, Soumendra Nath Mitra (aka Soumen Mitra) had been made the new West Bengal Congress President. Also, after his fortune took a bright turn, he returned to the old position of being College Square Puja Committee President. To make an impact among the Bengali community and bring enthusiasm among the Bengal Congress party workers during the biggest religious festival in the state, Soumen Mitra invited Rahul Gandhi to visit Kolkata for College Square Durga Puja celebration. Initially, a local Bengali news portal reported that Rahul Gandhi would inaugurate the College Square Durga Puja. But later due to time schedule, it was reported that the Congress President would visit the Durga Puja on Ashtami (October 17th) and participate in Anjali. However, having a tight time schedule for the ongoing Madhya Pradesh Election campaign, Rahul Gandhi cancelled the program and refused to visit Kolkata during the Durga Puja.
In simple words, since there is no election in West Bengal, Rahul Gandhi refused to visit Kolkata and participate in Durga Puja, because he will be busy for requesting votes in Madhya Pradesh by visiting temples there. Rahul Gandhi has no time for Maa Durga because to him, Maa Durga is not important than votes. If a person gives more priority to votes than a prime Hindu Devi, that person can be anything but not a devout Hindu. Let's hope that Hindus, especially the Bengali Hindus, realize the true face of Rahul Gandhi.
Last but not least, people of Kolkata must be upset for missing a great comedy show during the biggest festival in the state- and that too without paying any money to the artist.