Following severe criticism from all corners, ex journalist and Minister of State for External Affairs of the current NDA government, MJ Akbar, has officially resigned from his post, until the allegations of sexual harassment leveled against him are either proved or written off.
MJ Akbar was at the centre of a huge controversy when journalist Priya Ramani, along with a few others including foreign journalists Ruth David and Puy Kamp and another Indian journalist cum socialite, Ghazla Wahab, accused him of sexually harassing them and trying to suppress the matter. Being an issue of prestige, BJP looked apparently reluctant to take some strict action, and this was enough for the opposition as well as the left liberal media to go hammer and tongs after the BJP government.
Even though MJ Akbar has hotly denied the accusations against himself, he has stepped down for the time until things clear out. With that, the pro woman image that BJP led NDA government wishes to portray itself for stands out clear.
As of now, MJ Akbar's defamation case, filed against the alleged victims will be heard on 18 October at the Patiala House Court, as reported by the court officials to the press. Reports have come up that Priya Ramani has denied any type of crowd funding for the defamation case imposed on her by MJ Akbar.
Needless to say, the left liberal media tried to rob credit for the same, labeling the stepping down of MJ Akbar as a sort of their own victory. Beginning with Priya Ramani's own vindication on hearing this, the usual attention seekers, including the All India Congress Committee, tried to usurp credit for the decision of M J Akbar by posting the following:-
As women we feel vindicated by MJ Akbar's resignation.
I look forward to the day when I will also get justice in court #metoo

— Priya Ramani (@priyaramani) October 17, 2018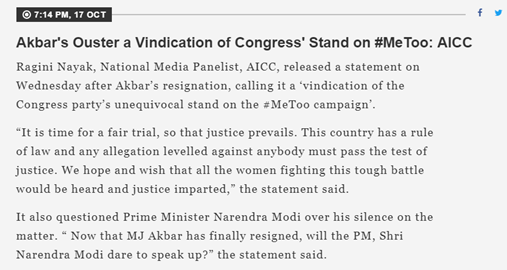 Finally MJ Akbar has resigned. Shame on him for having delayed it for so long. The credit for the resignation goes not to the Centre or MJ Akbar but directly to the #MeToo campaign. Esp to those brave women who reported the assault & those women and men who stood by them.

— Swati Maliwal (@SwatiJaiHind) October 17, 2018
To all the women who stood testimony to the gross violations of human rights by MJ Akbar, to all the women Ministers who stood their ground and demanded his resignation, in the face of opposition from their Cabinet colleagues, I salute you.

— indira jaising (@IJaising) October 17, 2018
So glad that Minister MJ Akbar has resigned his post. His continuation was untenable and indefensible. A big shoutout to all the brave women journalists who called him out for his alleged, sickening and exploitative behaviour towards them. #Metoo #LetTheWomenBeHeard

— Nirupama Menon Rao (@NMenonRao) October 17, 2018
On #MahaAshtami Devi Durga slays the demon…#MJAkbar gone….

— Saba Naqvi (@_sabanaqvi) October 17, 2018
But was it Akbar's conscience that forced him to step down or was it a nudge from the PMO? Turns out it's the latter. We tried getting in touch with some insider sources in the BJP and we finally found one. The source on conditions of anonymity told us categorically that it was the PMO who asked Akbar to step down following which Akbar tendered his resignation.
But now that M J Akbar has resigned, this also shifts the onus of being responsible for their deeds on the shoulders of the left liberal media now. According to them, the resignation of M J Akbar is a victory for women rights. So can we expect the likes of Vinod Dua and Siddharth Bhatia, who are accused of sexually harassing and insulting their fellow colleagues to step down from their posts at The Wire?
Can we expect the likes of Jatin Das and Varun Grover, who have been accused of the same, to come out clean with ample evidences as in the case of Chetan Bhagat?  This seems a bit unlikely, since the very people who won't waste a moment in literally bulldozing the other accused would suddenly and predictably go very soft when someone of their own league is accused of the same. Take a look at this:-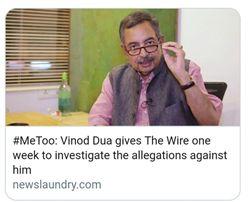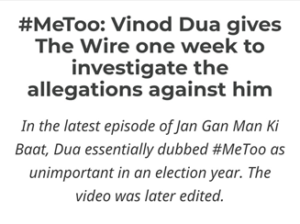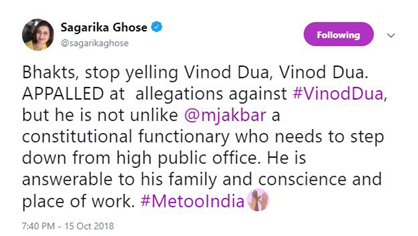 Need we remind you how Mallika Dua vociferously defended her father (Vinod Dua) when he was accused of the same? We don't need to be experts to know how the likes of Utsav Chakraborty, Richa Singh etc. tried to pass the buck on right wingers for being assertive on these issues.
With the resignation of M J Akbar, it would now be interesting to see if the Indian intelligentsia is as enthusiastic in denouncing their own kind accused of such offences as they were in the case of M J Akbar. If not, they're merely shameless hypocrites, nothing else.