In what yet again shows the ulterior motives of the Congress party, active ads from the official Facebook page of the Indian National Congress are being advertised in Pakistan. This once again shows that the Congress can go to any extent in order to settle scores with Prime Minister Modi even if that means taking support of enemy nations. It seems that after the Congress party realised that this would turn out be a blunder and invite widespread public anger, it took down these advertisements. However, if one goes through the official page of the Indian National Congress, Pakistan still appears in the country drop down list of active ads from the concerned page. As compared to this, the official page of the Bhartiya Janta Party has no country drop down list. It is made clear therein that the official Facebook page of the BJP runs ads only in the selected location, i.e. India. And it does not run active ads on any other location.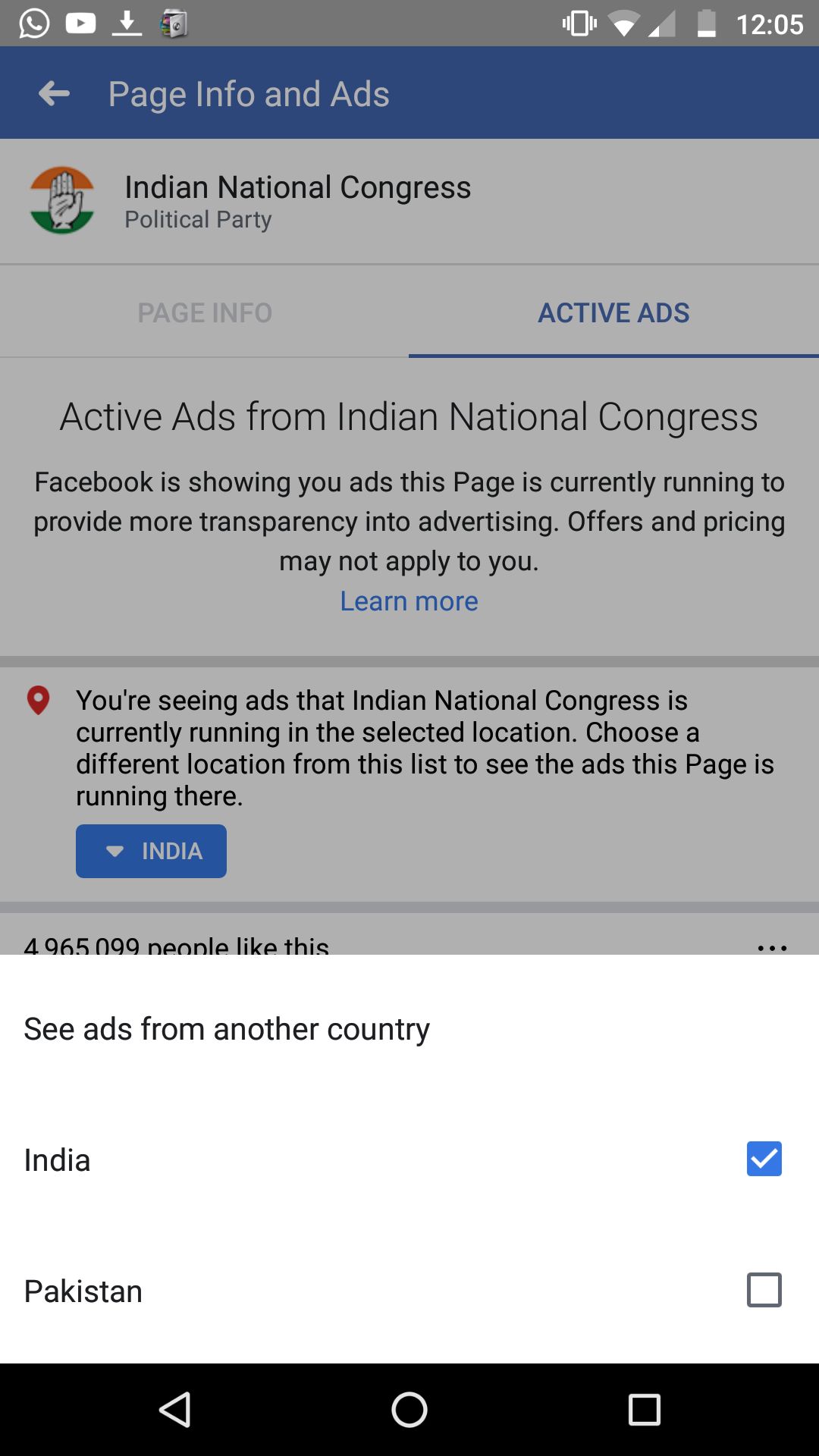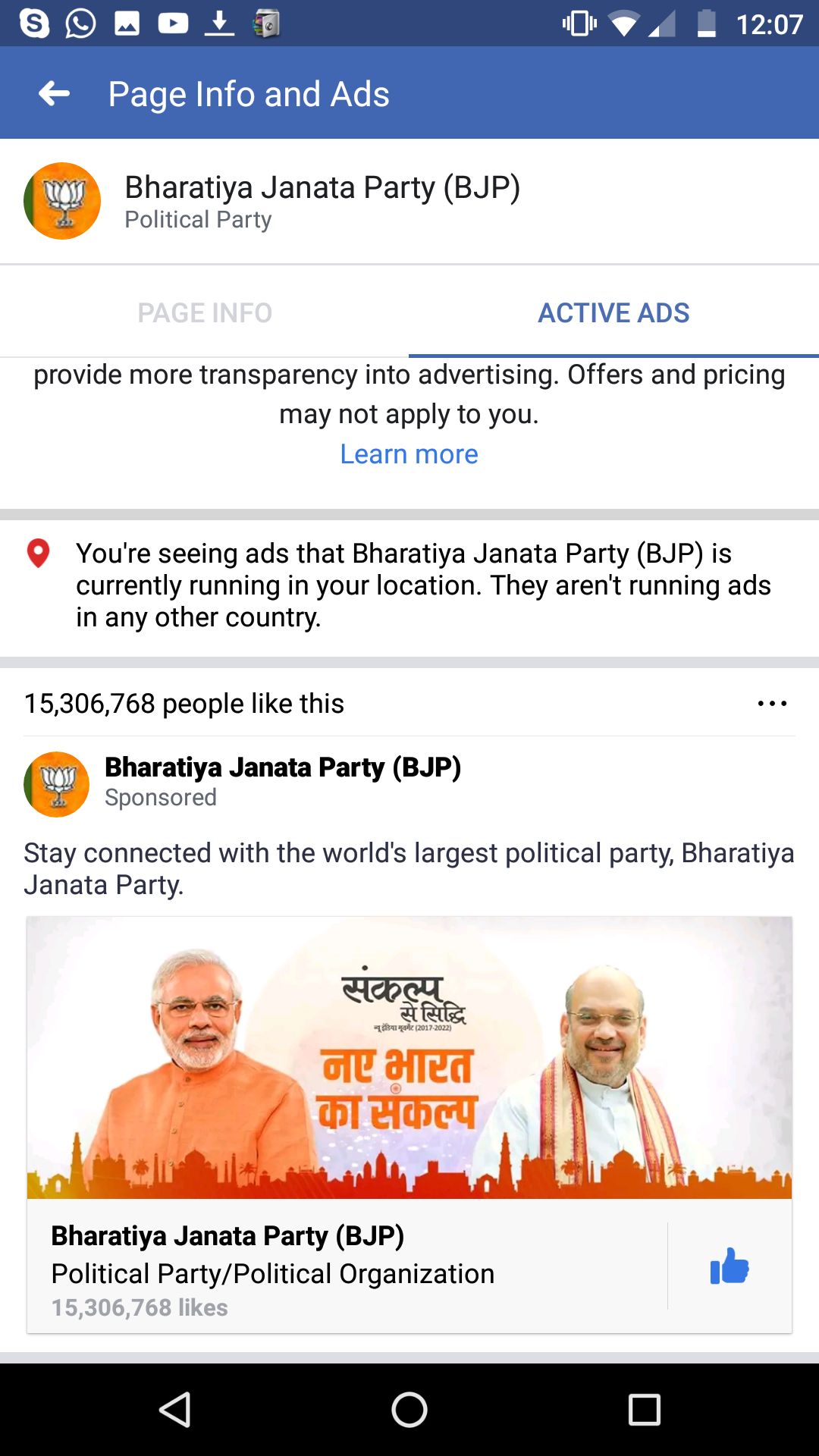 This raises certain pertinent questions. The most significant question that arises here is why would a political party run its active ads and promote its posts in another country and that too when that other country is a hostile terrorist neighbour. This squarely gives rise to the suspicion that the Congress party might be getting some kind of support from Pakistan. The follow up question that now arises is what kind of support the Congress is getting from across the border. It is indeed condemnable that the Congress is trying to involve Pakistan in India's internal matters. The Congress has no right to internationalise India's domestic and political matters. And involving a country like Pakistan is petty politics on Congress' part which cannot be tolerated.
 The apprehension that the Congress party might be taking support from Pakistan also arises because the Congress does not have a very good track record in the recent past as far as its interests in Pakistan are concerned. One cannot help but recollect at this stage how Mani Shankar Aiyar, a senior Congress party leader had requested the Pakistani establishment to dislodge the Modi government from power. Thereafter, details of a suspicious meeting between senior Congress leaders and a Pakistani envoy without taking the ministry of external affairs into loop had again raised suspicions of a mysteriously close relationship between Pakistan and the Indian National Congress. What made this meeting even more suspicious is that Prime Minister Modi alleged that guests at Aiyar's house, including Singh and Ansari, discussed the Gujarat election with Pakistan's High Commissioner to India and a former Pakistani Foreign Minister among others. This went on to suggest that the Congress party was compromising India's national interests and security in order to remove the Modi government.
 It is no longer a matter of surprise that the Congress shares bonhomie with Pakistan. The Rahul Gandhi led party has been decimated from most parts of the country and no longer enjoys much popularity. It is desperate to make a comeback in the Indian political landscape and in its greed to regain political power, it no longer cares even a bit about national interests. It is fighting tooth and nail to survive in the current political scenario. The way Congress party is trying to promote itself in Pakistan, it is clear that it might try to persuade Pakistan into influencing India's political atmosphere. The authorities must remain alert and nip any such attempt in its bud.