The left-leaning Indian mainstream media and other popular websites have become proficient in pushing their leftist agenda quite subtly. Time and again they have manipulated their headlines and the article to downplay the acts of terrorists and have instead chosen to present them through humanitarian lenses, leaving their despicable acts to fade away in the dark. There are multiple examples of this, leading daily The Indian Express published an article with the title "And they hanged Yakub Memon", the title might give an uninitiated man the doubt that Yakub Memon who was an accused in the Bombay blasts case was a victim of the Indian judicial system.
Lashkar has legitimate workers now, in few years they will be employees, a CFO, CEO, Chairman in another couple of years for sure.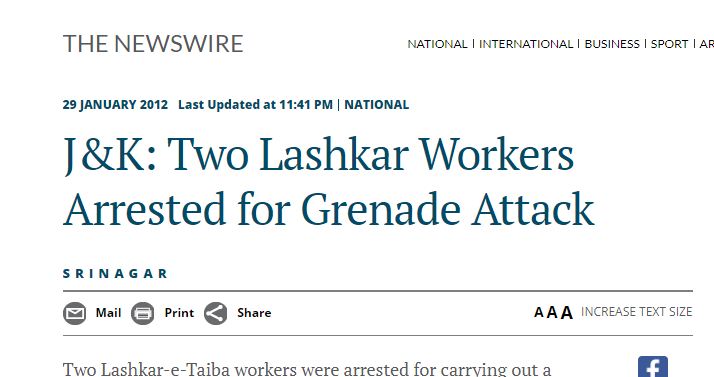 Journalists who masquerade as liberal and freedom warriors such as Barkha Dutt have tried to humanize terrorists such as Burhan Wani.
What one needs to understand is that these mouthpieces of the leftist cabal are trying to push an agenda, any anti-India, anti-government act gives them an opportunity to solidify their stance as leaders of freedom of press and speech. Barkha Dutt lost no time in putting out a tweet which read, "Burhan Wani Hizbul commander, son of school headmaster who used social media as weapon of war, killed in Anantag. BIG STORY." Why was it so important for her to mention that Burhan Wani was the son of a school headmaster? Especially when Burhan's father had gone on record to state that he supported his son's terrorist and anti-India acts. It was simply an attempt to mitigate his terrorist status and blame his acts of terror as a reaction to the Indian government's policies.
Breaking: Burhan Wani hizbul commander, son of school headmaster who used social media as weapon of war, killed in Anantag. BIG STORY

— barkha dutt (@BDUTT) July 8, 2016
The Quint, a media outlet which Barkha Dutt had joined earlier too did the same a little while ago when it commemorated Osama Bin Laden's death anniversary with an article highlighting his role as a husband and a father. On the death anniversary of probably the most well-known Islamic terrorist the world has ever known, The Quint's article not only did not mention the atrocities his organisation carried out on people of Afghanistan but the acts of terror it inflicted on populations around the globe also went unreported. Instead the article showed his humanitarian side of how he was an excellent husband to his many wives and a benevolent father to many children. So what if he pushed countries to war and left millions of people dead, he was a good father and that is what the liberal cabal wants you to remember over the course of many years.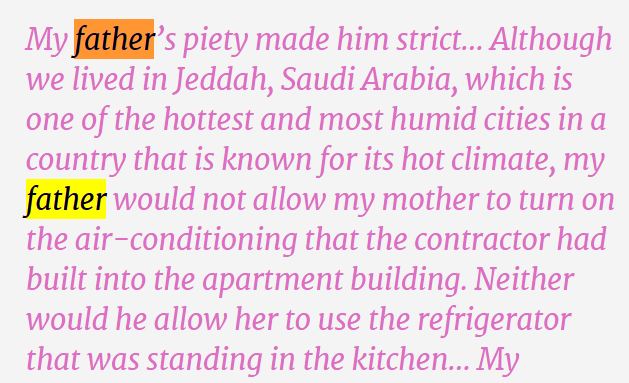 There are hundreds of children who come from families of martyrs from the Indian Army and other armed security agencies, children who grew up without a father or a mother so that we as Indian citizens can get on with our lives comfortably. But what left biased media outlets like The Quint chose to report was, "Afzal Guru's son, Burhan's Brother pass class XII with a Distinction". Pathetic attempt aren't they, but they have sadly become the norm these days with more and more of such outlets cropping up and in a very subtle way attracting the population of India with news which might not seem is outrightly against the establishment but chips away at it slowly. Their credibility might be at an all time low but they keep pushing the agenda, and this sends a negative message to the world.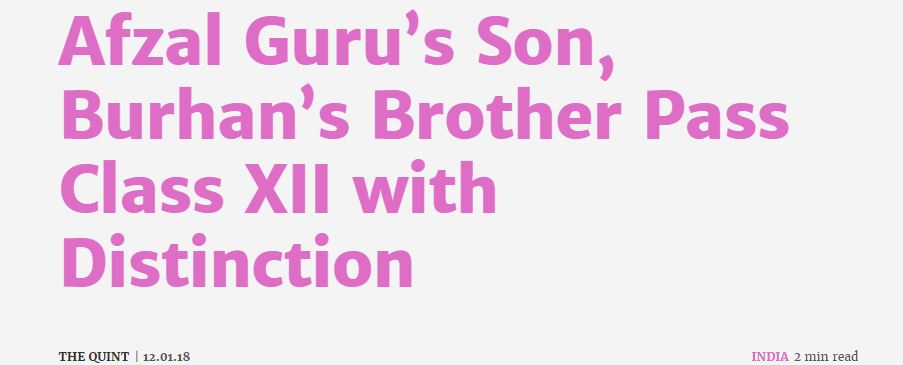 Quint doesn't stop at that, it's garish neon pink headline was back with this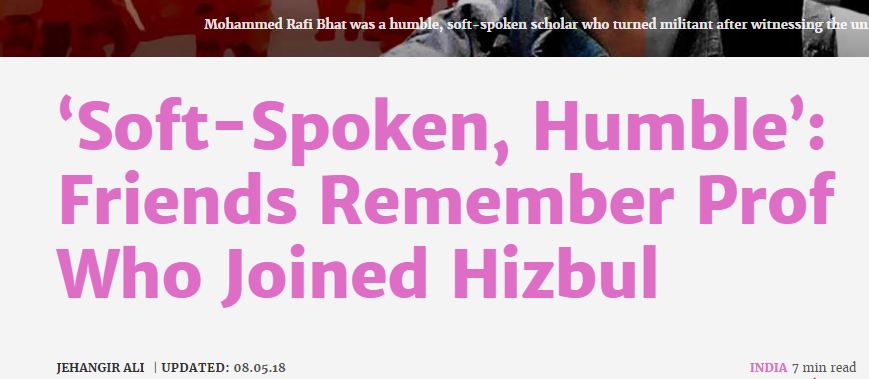 Just for once, if these liberal, leftist and free speech warriors would agree to call a spade a spade they could be deemed as unbiased. Sadly, that is not the case, they detest from terming Islamic terrorism and are known to present terrorists belonging to a certain community as 'misguided youth'. Their efforts harm India and its citizens and will in no way help the country. It is upto the Indian people to ostracize them in order to render them and their meaningless work, failing which they will continue to do ill to the country through their acts of terror carried out in ink.