One thing the Modi government is most serious about is establishing rule of law in the corporate sector. The previous governments, despite having socialist outlook have allowed the corporate to laugh over the rule of law in the country. So, tax evasion, money laundering, illegal transactions and shady crony-capitalist deals were norm for some corporate houses. Modi government established rule of law and continuously attacked 'black money' and 'shell companies' is the last four years. The latest blow to shell companies comes by geo-tagging registered companies of the offices.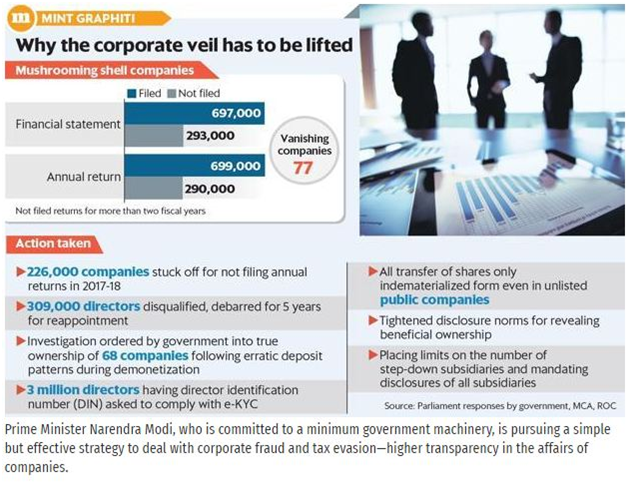 In upcoming months, companies many have to geo-tag their registered offices in the statutory filings with the Registrar of Companies (RoC). This will allow government officials if too many offices are registered at the same address, trend investigation agencies noticed in cases of shell companies. "This will help us identify instances of one building being used by hundreds of shell companies as their registered office or of companies citing vacant plots as their registered office address. It will serve as an early warning system for detecting mushrooming of shell companies," minister of state for corporate affairs P.P. Chaudhary said in an interview. 
Recent investigations have found that shell companies are largest medium of turning black money into white. These companies are also used by fraudsters to inflate their sales, show bogus exports and imports soon and so forth. The 2 billion dollars PNB scam in which Nirav Modi and his family members are being investigated involved almost 150 shell companies. Investigation agencies found that 25 employees were running 114 companies in the case of Satyam scam. Kolkata is notorious for shell companies, investigators found in 1,410 companies were registered in different blocks of the 9/12 Lal Bazar Street area with 84 of them based in Room No. 10 in one block. A little over 11,281 firms were registered at 148 addresses, an average of 76 each. So, crackdown on shell companies became a necessity to clean up the system.
Accountants lauded the geo-tagging concept proposed by the government. "Over a period of time, the disclosure and transparency requirements for companies have increased. Geo-tagging will certainly help in identifying clusters of companies with the same address," said Amit Maheshwari, partner at accounting firm Ashok Maheshwary & Associates LLP. However, having common address is not illegal and government need to take care of situation where having common address for companies is necessary. "Geo-tagging will certainly help in identifying a cluster of businesses, but one has to keep in mind that some start-ups, too, opt to work in clusters. Having a common address is not illegal," said a corporate law expert.
The crackdown on shell companies is a long process continuing till date. In February, 2017 the government appointed a task force headed by Finance Secretary Hasmukh Adhia and Corporate Affairs Secretary Injeti Srinivas for clean-up of shell companies. The committee has done a great job, in the last financial year '18, the Registrar of Companies (RoC) removed the names of 2.26 lakh companies from its register and disqualified 3.09 lakh directors. The task force has identified another 2.25 lakh shell firms to de-register this financial year. These companies were deregistered because they did not filed financial statements in last two or three years. The committee is also expected to come with a new definition of shell companies very soon because till now there was no 'proper criteria' to tag some company as shell company. Another step is making a database of all electronic payment transactions on which RBI and government has started the discussion. The crackdown on shell companies has helped the country to broaden tax base and now government collects more money for development expenditure.