A particular section of media strongly believes that there is an undeclared emergency like situation in the country where journalists are not allowed to speak their mind, write against the government, and are also not allowed to write whatever they wish to write. The irony is that they say all these things through long nonsense editorials in newspaper, in senseless television debates, and by writing long blogs. Since the government has come to power a particular fraudulent channel accused of tax fraud, enthusiastically and without any shame, peddled the narrative that freedom of the press is in danger.
Recently, a post written by former journalist of NDTV, Samarendra Singh, has revealed that in 2005 during the Congress led-UPA government in 2005, NDTV removed a story under the pressure of the then Prime Minister Manmohan Singh.
Samarendra Singh says that these days' two big journalists-Ravish Kumar and Punya Prasun Bajpai- often say that the media owners and editors get calls from the Prime Minister's Office (PMO) and there is an undeclared censorship in the country. But then the way news against the government are coming from the media, proves that the claims of undeclared censorship are bogus at all the levels.
He further says that it is not like that you can say anything against the Prime Minister and expect no reaction from the supporters of the ruling party. But is this 'reaction to the news' something new? Is it really true that under the previous regime, PMO never intervened and they exercised unlimited freedom to print whatever they wished to? Were channels allowed to deliver anti-government speeches on channels? Was there absolute freedom to run an anti-government agenda?
Samarendra Singh in his post narrated an incident of 2005 when he was an employee of NDTV:
"Here I tell you about a thirteen-year-old incident. This incident is related to the same organization where Ravish Kumar works. In those days I used to be in NDTV India. And those days the country was run by the most "liberal and weak" Prime Minister- Manmohan Singh. Manmohan Singh was running the coalition government with full generosity while sitting on a chair which he got in charity. In that "Golden Age" of politics and journalism, NDTV's revolutionary journalists suddenly thought of preparing the report card of ministers of the Manmohan Singh government and mark them as good and bad ministers. NDTV implemented this revolutionary idea. A list of good and bad ministers was broadcasted at NDTV India at 9 pm Bulletin.
After that responsibility of the bulletin was entrusted on my shoulders, then the managing editor Dibang called me and asked me to drop the list of bad performing ministers. I said then the list of the good ministers should also be dropped otherwise it will give the impression that we are doing boot-licking of the incumbent government. Dibang agreed and said let me talk to Prannoy Roy (owner of NDTV) and then I will tell you what do to…… After some time, Dibang called me and said that he (Roy) is asking to air the list of good ministers and complied with the instructions.
About nine years later in 2014, Manmohan Singh's media advisor Sanjay Baru's authored book "The Accidental Prime Minister" revealed why Prannoy did what he did. On page number 97 of the book, Baru reveals that the most liberal and weak Prime Minister, Manmohan Singh, has called up the powerful owner of the NDTV and a powerful journalist, Prannoy Roy, and scolded him such that he was stripped of all his journalistic integrity. Prannoy Roy himself admitted that Manmohan Singh had scolded him like a teacher scolds his/her student. The list of good ministers was executed to placate Prime Minister Manmohan Singh. You can call it compulsion of a journalist turned businessman-Prannoy Roy. You can also call it boot-licking of the government or whatever you want to call it but it cannot be called journalism from any standards. 
The incident narrated by Samarendra Singh is indeed found mention in Sanjaya Baru's book on- The Accidental Prime Minister- on page number 97.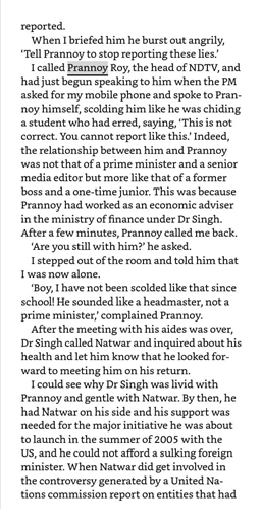 Read the full post of former journalist of NDTV, Samarendra Singh here.