Wealth creation is growing at an unprecedented rate in the country. Many fortunate and hardworking Indians get their name registered in the elite list of richest people every year. Barclays Hurun India Rich List 2018 was released in Mumbai on Tuesday, the number of 1000 crore plus wealthy Indians doubled from 339 in 2016 to 831 in 2018. "Wealth creation in India is growing at an unprecedented pace, and the time it takes to accumulate wealth is shorter than ever before," said Satya Narayan Bansal, chief executive officer of Barclays Private Clients. 214 new individuals entered in the list including Ritesh Agarwal, promoter of Oravel Stays which owns OYO rooms, the largest hospitality website. Entry of 24 year old Ritesh Agrawal who became a billionaire in less than 5 years epitomizes the opportunity country presents for hardworking people today.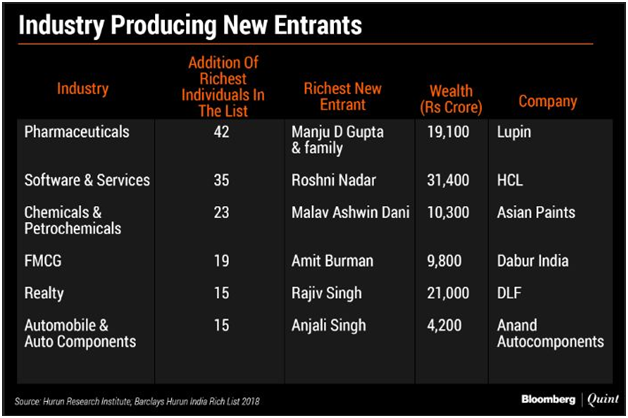 75 people exited from the list including fugitive Nirav Modi who is facing extradition in Rs 13,500 crore Punjab National Bank fraud case. The rule based capitalist economy has made sure that hardworking people get rewarded and people who were taking benefits from crony capitalism gets punished. According to the Hurun report, Mumbai has emerged as the top city for the rich and famous with 233 individuals named in the list. The report said that 59 per cent of the new additions to the rich list in 2018 reside in Mumbai, New Delhi and Bangalore.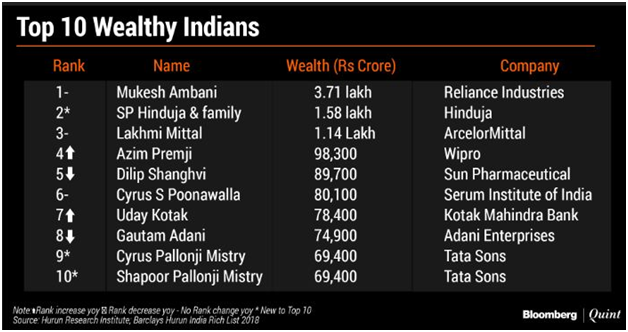 Mukesh Ambani emerged as the richest individual in the country with total wealth of Rs 3.71 lakh crore. He was followed by two London based Indian businessmen, SP Hinduja and family with a wealth of Rs 1.59 and LN Mittal and family with wealth of Rs 1.14 lakh crore. Commenting on the report, Anas Rahman Junaid, managing director and chief researcher, Hurun Report India, said, "Amidst the huge political debate around India's current economic scenario, Barclays Hurun India Rich List 2018 depicts that Indian businesses are booming. In fact, the number of Rs 1,000 crore wealthy Indians have nearly doubled in the past two years – from 339 in 2016 edition to 831 presently."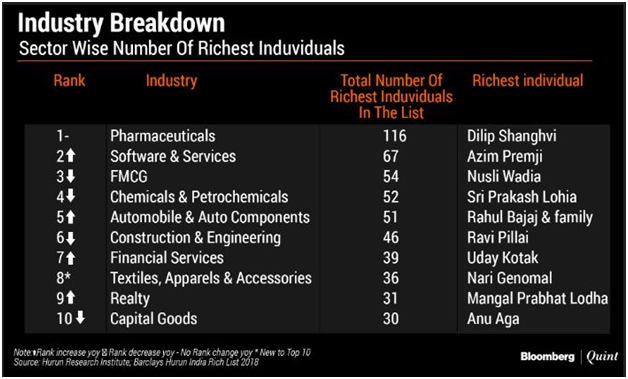 Pharmaceutical industry has maximum number of richest individuals in the country with total of 116 people. This industry has grown exponentially in the last two decades and is hugely profitable. Pharmaceutical products are major exports of India along softwares. The industries dependent on export are very profitable and this was visible in the rich list.  Sun Pharmaceutical fame Dilip Shanghvi is the richest person in pharmaceutical industry while Azim Premji is richest in software industry which has a total of 67 people.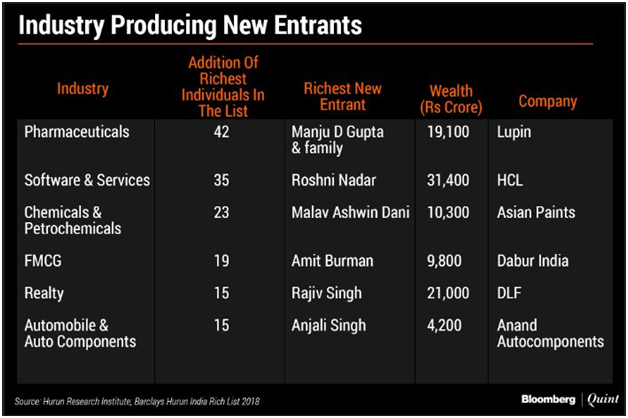 Among the new entrants, pharmaceutical industry added maximum 42 people and software industry added 35 people. Roshni Nadar, wife of HCL promoter Shiv Nadar made in the list with wealth of 31,400 crore. Graphite India's chairman Krishna Kumar Bangur was the biggest gainer this year with a rise of 430 percent compared to last year. Crackdown in China on its polluting industries helped Bangur's company to grow exponentially this year. Byju's founder, Byju Raveendran is the second largest gainer with 230 percent rise in his wealth. His education app raised capital from many companies and is very popular among urban students.