Government has asked RBI to prepare a plan for merger among 21 public sector banks. The public sector banks are losing market share to private banks because their service is bad and they are struggling with Non Performing Assets (NPAs). The big depositors no longer trust public sector banks due to their inefficiency. In the last fiscal year private sector banks accounted for 70 percent of total deposits. The public sector banks are also losing their edge in providing loans due to constraints by RBI on new lendings. Private Banks are expected to corner 80 percent of incremental loans by 2020.
With the government taking the merger route to increase efficiency of public sector banks, PSBs will be able to effectively challenge the private banks.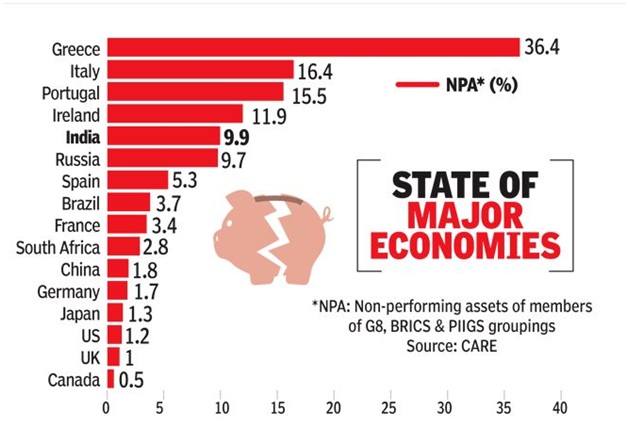 The balance sheet of public sector banks is in very bad condition due to NPA problem and they are dependent on government for fresh capital to start lending. 11 of the 21 public sector banks are operating under emergency program under the supervision of RBI due to huge NPAs. India has second largest NPAs after Italy in top 10 economies of the world. 16.4 percent of total lending in Italy is categorized as NPAs while 9.9 percent of Indian loans are categorized as NPAs. But the reason behind NPA problem in India and Italy are very much different. The NPA problem in Italy is due to sluggish economic growth in recent decades. In some years of last decade GDP growth of Italy has been negative. So, huge NPAs in Italy make sense. The Indian scenario is completely different. We have NPA problems due to corrupt lending practices in public sector banks. The employees of public sector banks provided loans to some businesses despite being aware of their viability. Corrupt businessmen bribe the public officials or come with 'sifaarish' from someone in government to get loans. Private Banks generally do not develop bad debts because if their management lent to a client who is a potential defaulter, then the liability would be on their shoulders, not the government's.
The most infamous scandals in recent years have been in public sector lending, be it Vijay Mallya case or Nirva Modi. In the Bhushan steel case, the executive of Syndicate Bank, S K Jain was caught red handed in bribery from Neeraj Singal.   The government has taken some strong steps to end the corrupt lending practices in public banks and solve NPA crisis. Last week, finance Ministry told the CEOs of public sector banks in no uncertain terms that they would face penal action if not able to check frauds in Non Performing Assets (NPA) cases. To solve the NPA problem it brought Insolvency and Bankruptcy Code which is proving very helpful in bringing back money to public sector banks.
The merger of public sector banks is another step to solve banking crisis in the country. But all banks could not be privatized because some public banks are required to maintain healthy public finances and rural lending. So, steps like these are necessary to keep public sector banks but an efficient one. If there will be fewer banks they will be able to operate with more efficiency. Fewer employees will be required because many executives with similar tasks will no longer be required. Government will find it easy to supervise if there are fewer public sector banks.