The No Confidence Motion moved by Telugu Desam Party (TDP) is going to be a futile one and everyone in opposition is well aware of that. It is often said that making any move purely on the basis of emotions without crunching numbers in advance is always harmful. If say the Swiss Army starts dreaming about defeating the mighty American armed forces just because they don't agree with Donald Trump's policies, it will suicidal for them. But, TDP along with other opposition parties went ahead with their intuition and probably counting on some divine luck went ahead with the same. If we do some number crunching, it becomes clear that the No Confidence Motion which TDP presented to the house with supreme confidence is bound to fail. Here is the simple arithmetic on the house strength which reveals that No Confidence Motion was a pathologically inane idea.
The strength of the NDA, UPA and other parties is as follows: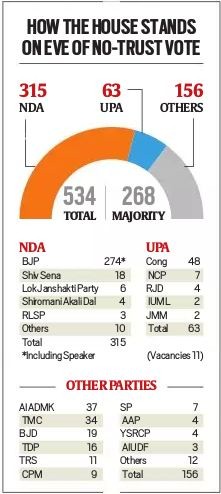 Now the Shiv Sena (SS) and Biju Janata Dal (BJD) have decided to abstain from voting in the house because they neither support No Confidence Motion nor do they oppose it. So if we reduce the 19 seats of Shiv Sena and 18 of the BJD from the total house strength of 534 then there will be only 497 members in the house.
Now BJP requires the support of 249 legislators to prove their majority in the lower house of the parliament. And the fact of the matter is that BJP alone has 274 seats including the speaker. NDA allies like Akali Dal, JD (U), LJP, AIADMK are against the motion which takes the number of legislators against the motion well above 300 mark.
Even if we add up all the parties like Congress, TDP, RJD, NCP, AIMIM, TRS, and the Communists they do not even reach the 200 mark. So, as expected the opposition will face a humiliating defeat on their ambitious No Confidence Motion with a difference of over 100 seats.
Had the opposition asked a class 7th school student before going for it, even the kid would have stopped them from doing so. But it seems that the elderly leaders of the opposition were possessed by this irresistible urge of bringing PM Modi down. And it will result into a major loss of face for them.