At a time when the political spectrum all over India is in a "Modi is to all" proportion and all possibilities to contain the BJP on the back-foot are being tried on by the opposition parties, there is good news for the country. While interacting with the beneficiaries of Digital India, Prime Minister Narendra Modi took to interacting with some youths of Noida through video conferencing. A girl, Ms. Garima, who was employed in a mobile manufacturing unit, hailed the Make in India mission setup by the Government of India and also acknowledged the success of Make in India by showing a mobile phone in her hand which had 'Made in India' written on its cover. This was less a compliment and more of an answer to Congress President Rahul Gandhi, who in a rally, had mocked the Make in India mission by showing his mobile and asking the crowd, "Kahan likha hai Made in India?" With more than an acknowledgement from Indians, the Modi government has got another reason to cheer as the news of "June manufacturing growth PMI records fastest growth in 2018" breaks. Yes, you read that right! The Nikkei Manufacturing Purchasing Managers Index (PMI) rose to 53.1 in June this year from 51.2 recorded in May.
Moreover, this is the 11th consecutive month that the manufacturing PMI remained above the 50-point mark. According to the survey, the sector's activity grew at the strongest pace since last December, supported by rise in domestic and export orders. For a country to be performing above the 50-point mark is a sign of expansion, a fact to be cheerful about. Furthermore, the rate of expansion accelerated to the fastest pace since February this year.
"India's manufacturing economy closed the quarter on a solid footing against a backdrop of robust demand conditions, highlighted by the sharpest gains in output and new orders since last December," said Aashna Dodhia, economist at IHS Markit, which compiles the survey, and author of the report. The report also said that demand conditions are likely to improve over the next year.
Adding another feather in the cap, new orders from International markets rose for the 8th consecutive month.
Dodhia went on to add, "On the jobs front, the latest survey data pointed to a healthy labour market, with job creation accelerating to the sharpest since December 2017." When the Opposition is continuously bombarding the BJP with allegations of having failed to generate employment, there is good news in the employment sector too. With increasing demand and orders, the manufacturing companies were encouraged to engage in purchasing activity and expand their staff. Adding more to the news, the report said that the firms have increased the output charges at the fastest pace since February due to increasing input inflation. According to the Hindu Business Line, this index is based on a survey conducted among purchasing executives in over 400 companies, which are divided into eight broad categories: Basic Metals, Chemicals & Plastics, Electrical & Optical, Food & Drink, Mechanical Engineering, Textiles & Clothing, Timber & Paper and Transport.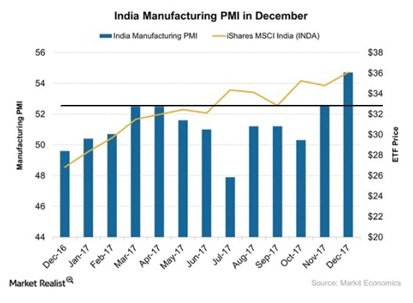 "An expansion of nearly 2 points indicates strong rise in both output and input orders", tweeted Shri Subhash Chandra Garg, Secretary, Department of Economic Affairs, Govt. of India.
India Manufacturing PMI increases to 53.1 in June. This is strongest expansion since December 2017. An expansion of nearly 2 points (from 51.2 in May) indicates strong rise in both output and new orders.

— Subhash Chandra Garg (@SecretaryDEA) July 2, 2018
Not only this, the country's largest car maker Maruti Suzuki India reported a 36.3% increase in total sales from 1,06,394 units in June 2017 to 1,44,981 units in June this year. Besides that, the domestic sales shot up by 44.04% in comparison to the June 2017 sales. Apart from Maruti Suzuki, Tata Motors stated a jump of 62.97% in domestic sales, Mahindra and Mahindra reported a jump of 26% in total sales. Ford India recorded an increase of 37% in domestic sales whereas Honda also saw an increase of 37.5% in its domestic sales in comparison to their sales this month in the previous year.
Toyota recorded the highest growth of 563.36% in its sales.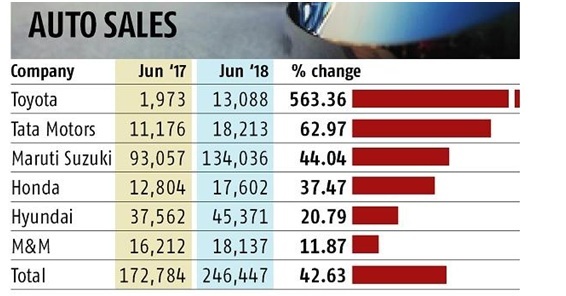 Also, Tata Motors registered a strong growth of 64% in its domestic sales for the April-June quarter of FY2019 at 164,579 units as compared with 1,00,141 units in the same quarter a year earlier, helped by continued strong month-on-month sales performance of its commercial and passenger vehicles business in the domestic market, the company said.
With car-makers making profits and their sales on the rise, the overall automobile sales in attributed to a 42.63% increase and growing economy. The Ease of doing business India has certainly shown its versatility with the new figures popping up in the wake of India emerging as the world's fastest growing major economy. The automobile companies have expressed their desire to increase their sales by providing better facilities in the cars to their buyers.
Congress President Rahul Gandhi had alleged the government of putting the economy into an ICU. The facts and figures are serious and an ultimate reply to Mr. Gandhi's claims. The efforts on the government's front are also commendable.
On a very important note, the Reuters Foundation India, which recently published a report claiming India to be the most dangerous country for women, had, on the 31st of May 2018 and on 30th of November 2015, tweeted on the PMI growth slowing down in the month of May 2018 and November 2015 respectively.
FLASH: Indian manufacturing growth at 25-month low in November – Nikkei/Markit PMI

— Reuters India (@ReutersIndia) December 1, 2015
But, today, there is no mention of any commendation by the verified twitter handle of Reuters on account of a cheerful atmosphere for the stakeholders of the economy. This is an instinct approach to defame India and it's legacies by hiding its growth which has proven to be a declension of trustworthy and neutral surveys from such organizations.
Expecting optimistic gains in the coming years, India is growing at an exemplary pace, as evidenced by the recent PMI  with the combined efforts of all stakeholders who deserve to be complimented.