Air tickets in India are the cheapest in the world if booked sometimes prior to the day of journey. So, the operators have to look at other means like ancillary revenue from meal, baggage and comfortable seats to earn profits. Another means for airline companies to earn profits is to charge on demand basis for seats in last hour flight bookings. Now, some opposition leaders want to turn the burgeoning air travel sector of India in a socialist mess by a 'cap' on last hour flight charge and 'first come first serve bases on the allocation of seats. "At the time of departure, the fares are increased by 400 per cent. You can allow them to increase fares as per the demand, but not abnormally. There should be a ceiling. People who are in a hurry and distress face a lot of problems." said DMK Rajya Sabha MP Tiruchi Siva.
Earlier in an attempt to make air tickets more affordable, the airfare for a 1-hour journey of approximately 500 km on a fixed-wing aircraft or for a 30-minute journey on a helicopter has been capped at Rs. 2,500. If we regulate every means to earn profit of airline companies then they will be no longer able to operate and their business will be no longer sustainable. Congress MP Chhaya Varma said she was once asked by airlines to pay extra for front row seats, despite her holding a business class ticket. So, she wants that the seats should be served on 'first come first serve' basis. Minister of State for Civil Aviation Jayant Sinha said "flight services are provided on the basis of terms of conditions in a commercial contract between a passenger and an airline. The lowest airfare is for the middle seat. But if you want a window/aisle seat, or if you want more comfort, you will have to pay extra." Air India, the largest loss making government unit, has started the global commercial practice of selling aisle and window seats at higher rates to make the company profitable. The MPs objected to this too. On this Mr. Sinha replied that "This is a commercial practice. It is done across the globe. If we have to run Air India properly, then we have to do this." The opposition leaders must understand that any unreasonable cap on airfare will only compound the problems of Air India and also negatively affect other Airlines.
The air travel industry has gotten a significant boost under the Modi government. The Regional Connectivity Scheme (RCS) launched in April 2017 has made air travel affordable and increased the connectivity in tier two and tier three cities of the country. As many as 43 cities are expected to get regular connectivity under this new scheme and a dozen airports where limited but irregular flights operate will be connected. 31 destinations which were not connected earlier despite having airports will now become active. The airfares dropped by 18 percent in 2017 over average airfare in 2015, making air travel more affordable for everyone in the country. It must be noted that this development is against the rising fuel prices over the last two years. The government gives various concessions to airlines having flights to smaller cities under this new scheme, therefore, places such as Shillong, Shimla, Bhatinda, Ludhiana, Bhuntar, Pathankot, Mysore and Salem among others, saw a good number of passenger traffic movement in April as opposed to the corresponding period last year. Shimla, where PM Modi flagged off the UDAN scheme saw a whopping 549.4 percent growth with 1,117 in April as against only 172 during the same period last year.
Indian airlines carried more than 12 crore passengers in the fiscal year 2017-18 against 6.1 crore passengers in the fiscal year of 2013-14. The compound annual growth rate (CAGR) in the number of passengers is a whopping 19 percent. There was a rise of 18.1% over the corresponding month from the previous year. Growth in international and domestic air traffic over India for the month of April 2018 was 5.8% and 21.1% respectively.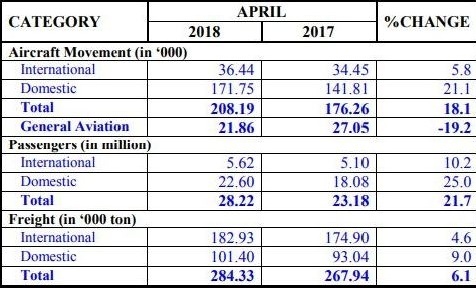 The government is working on another version of the UDAN for connecting tourist destinations to other cities in India. This will help the country to boost the tourism infrastructure which has enormous potential. The tourist locations like Ayodhya, Ladakh are not well connected to metro cities leading to under exploitation of resources. The ministry's plan to connect these tourist destinations is definitely a welcome step.