Debating is an art, where deflecting the opponent's claim, morphing it and then ridiculing the morphed version is one of the best ways to win the debate. This is basically what is popularly referred to as 'putting words in one's mouth'. This is widely practiced, however, and admittedly by people from across the political spectrum.  What's really difficult to deal with while having a 'civilised' discussion, is the practice of labelling and launching personal attacks, something the Left-liberal ecosystem specializes in. This weapon used by left-liberals is none other than political correctness. 
These people attempt a character assassination of the individual to negate their argument, thus rendering the discussion futile. Character assassination is a classic trick from the liberal archives, where they bait the individual into stooping down to their level, and then cry victim when the individual gives them a taste of their own medicine. Modern feminists certainly take the cake here, as they spend quality time mudslinging on social media. But when that mud is slung back at them, they cry 'misogynist' and 'sexist'.
Modern feminism, like any other 'movement' under the sun, deserves reasonable criticism. Unfortunately, it also happens to be one of those 'holier than thou' theories that are seemingly exempt from criticism, as speaking out against its outrageous aspects somehow implies that you are inherently sexist in your outlook. For these people, you're either with them or against them. For instance, how do "slutwalks" achieve anything for women? Do 'slutwalks' raise awareness about the condition of rural girls who face casual discrimination by parents who refuse to send the girl child to school? No. "Slutwalks" are done by privileged and educated urban women who seek to both validate themselves and try extremely hard to prove a point which they have seemingly missed themselves. But pointing this out would probably result in a highly 'triggered' individual hurling accusations of misogyny. 
Liberals also go straight for the jugular with personal attacks, whether it be family connections or the person's past history.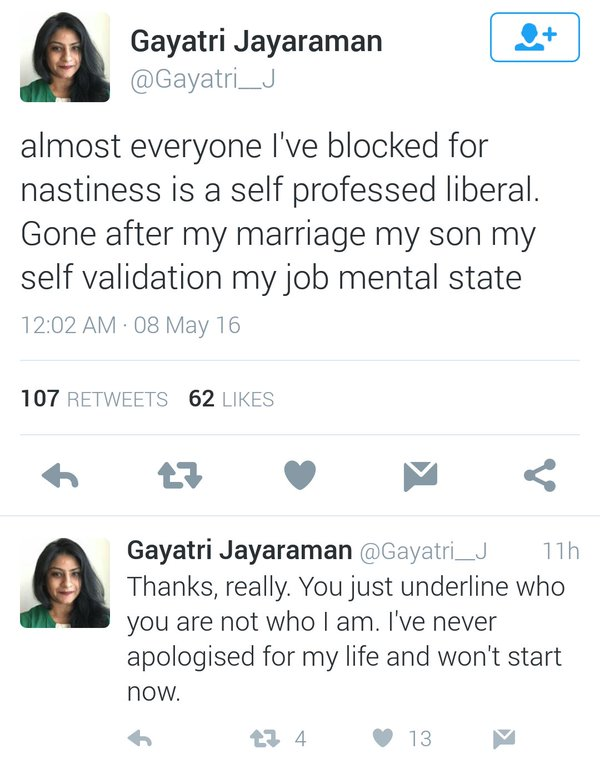 Radical Islam is yet another 'holier than thou' topic, where the argument is quashed by labelling the individual who is voicing their opinion as either an 'intolerant bigot', or a downright 'islamophobe'. There is no doubt that ideologies like Wahhabism need to be curbed from spreading their tyrannical wings, as they not only justify violence but often encourage it. Asserting that Wahhabist practices are archaic and oppressive is not a discriminatory statement, but an assertion of fact. 
#India elected an Islamophobe as a chief minister. He once condoned raping of dead Muslim women…https://t.co/X3l5jcGnzE

— DOAM (@doamuslims) March 18, 2017
The above tweet is a perfect example of the casual usage of terms like Islamophobe.
The largest intolerant group to employ the practice of labelling the opponent or crying victim when losing an argument are certainly female left-liberals, as they can turn any argument into an accusation of sexism and harassment. Mind you, most of these women are extremely rude on social media, and immediately cower behind the 'women card' when they have effectively lost the argument. 
I'm sorry did u just suggest that i go get myself raped?????????? Like seriously? You typed out this tweet Vivek… ?????
I'd say pretty low and sick even by your own abysmal standards of conduct & civility. https://t.co/d1LCCE9B5I

— Swara Bhasker (@ReallySwara) January 30, 2018
Nope. No one suggested you get yourself raped.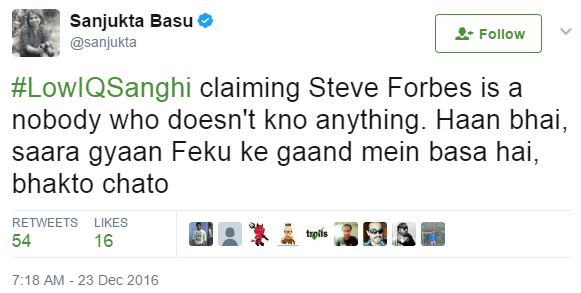 Why is anyone who actively/passively supports the government and its policies labelled a Bhakt? Is the term Bhakt meant to be derogatory?
While conservatives use facts to back their arguments, liberals and leftists bank on emotions to assert their stance. For instance, the entirety of the refugee debate from the liberal side is comprised of emotions, where facts, statistics and practicality are thrown out the window. Can a nation with a disastrous population crisis, poverty and inability to feed every mouth take in hundreds of thousands of refugees? Certainly not, but liberals think its 'inhumane' or 'xenophobic' for a nation to decide to seal its borders to illegals and refugees for its internal security and stability. Supporters of such policies are also labelled and ridiculed similarly from the left side of the political spectrum. This is another example of character assassination and the misuse of political correctness employed by the left.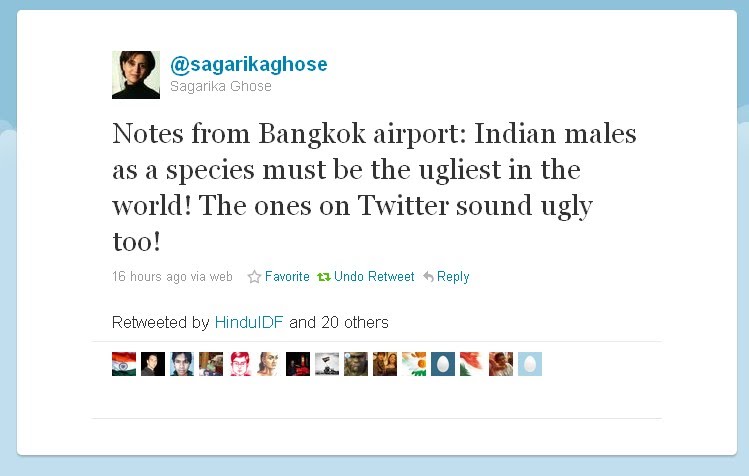 This tweet by Sagarika Ghose would have been deemed sexist and misogynist were the tables turned around, and if the same was being said about Indian women by a  man. Whatever happened to political correctness Sagarika?
Political correctness is allowing misleading concepts and ideologies in spreading, while simultaneously preventing valid criticsm. Whatever creative labels left-liberals may come up with, its clear that the Right is always right, since we depend on facts to back our arguments, and prioritize logic and rationality over emotional considerations.
Labelling by left liberals really makes one wonder- who is REALLY intolerant?