Rodrigo Duterte, the President of Philippines, is not known to mince his words. Duterte was among the 10 Heads of States of the ASEAN countries who were invited to New Delhi for this year's Republic Day parade along with the ASEAN-India Commemorative Summit in New Delhi. India and ASEAN celebrated 25 years of their Dialogue Partnership, 15 years of Summit Level interaction and 5 years of Strategic Partnership in 2017 in India and ASEAN Member States, leading to another ASEAN-India Commemorative Summit in India to 25th January 2018 at New Delhi on the theme "Shared Values, Common Destiny". In November last year, Prime Minister Narendra Modi had been to Philippines in November last year to attend ASEAN-India and East Asia summits in Manila. It was also the first time in 68 years when a Head of State of Philippines was invited to be the Chief Guest at the Republic Day parade. It was also the first time that a representative from Myanmar was invited for the Republic Day celebration. Aung San Suu Kyi who studied in Delhi, was in New Delhi this time for the Republic Day as Myanmar's State Counsellor.
Philippines has many active volcanoes. President Rodrigo Duterte's departure to India was even delayed because of the eruption of Mount Mayon, an active volcano on the largest island of Philippines, Luzon. Prime Minister Narendra Modi appreciated the fact that President Duterte attached to his visit to India and brought a large delegation of top officials to India in spite of the problems created by the volcanic eruption back in Philippines. When it comes to dealing with his opponents, Duterte's temper is no less than such volcanic eruptions. While Duterte's critics and rivals and activists continue to pan him, he enjoys huge support in his own country. He enjoys the support of around 80 recent of the people according to the latest approval ratings.  Aung San Suu Kyi too is very popular in Myanmar.
Incidentally, Narendra Modi, Rodrigo Duterte and Aung San Suu Kyi have taken strong position on the issue of terrorism. Suu Kyi has backed the actions of Myanmar's military in the troubled Arakan province against Rohingyas, in particular the Arakan Rohingya Salvation Army. This has irked many human rights groups who till recently were supportive of her.
Modi, Duterte and Suu Kyi are very popular in their home countries and the liberal cabal in these respective countries love to hate them. It is also the liberal cabal in India that has been clutching at straws to pressurize Indian Prime Minister Modi ever since 2014 for not kowtowing to their agenda.
These two photos truly reflect the mood of PM Modi. He doesn't just invite leaders shunned by the global liberal cartel, but he openly acknowledges them by shaking hands with them. By engaging with Duterte and Suu Kyi, Prime Minister Modi has given out a clear signal that he does not go by the conventional liberal worldview as espoused by the liberal cabal.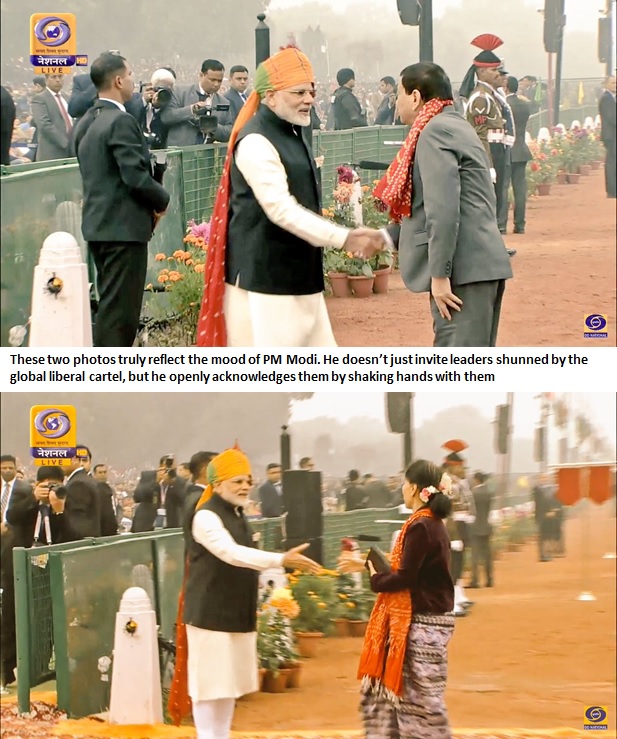 The decision to invite the ASEAN leaders was a major step in the Look-East policy. By having a strong relationship with the beleaguered Duterte and Suu Kyi, India could also be looking at strategic partnerships in trade and security. It would also increase India's influence in the South East Asian region, which China considers its own backyard. Last year, for the first time ever, India provided a financial assistance of around $500,000 to Philippines to fight the ISIS supported by other local groups such as Abu Sayyaf in Marawi, a city on Mindanao island. Duterte, too, hails from this island.
Duterte won the Presidential election in Philippines in 2016 on the plank of finishing the drug problem in the country, strengthening law and order, controlling crime, and fighting corruption in the country. He has even confronted the powerful Catholic Church for questioning his war on the drug mafia. Ever since he took over, the State is waging a war against drug cartels anti-social elements. Duterte has now asked the military to step in to contain the problem instead of the police. Many people have been killed in this war launched by Duterte's Government, but the President has not relented. Many activists allege that the State under Duterte is indulging in extra judicial killings. Former President Barack Obama had, in 2016, had cautioned Duterte to fight the war on crime and drugs "the right way". This had provoked a stinging response from Duterte. In contrast, his relationship with the current US President Donald Trump has so far been cordial. Trump has even said that Duterte is doing a "great job" to fight the drug problem.  Unsurprisingly, both Trump and Duterte are reviled by the liberal cabal for taking strong stands on issues affecting their respective countries. In the prevailing situation created in East Asia, Trump sees Duterte as a potential ally in the region in Rodrigo Duterte. On another note, both Trump and Duterte share their disdain for liberal media organizations such as the New York Times.
Like Prime Minister Narendra Modi in India, President Duterte is not an insider of Manila's ruling cliques like other politicians in his country. Like former President Corazan Aquino, who became the country's President in 1986 after the People Power Revolution overthrowing Ferdinand Marcos, Duterte wants to usher a "revolutionary government" in Philippines. Prior to becoming the country's President, Duterte was the Mayor of Davao city for 22 years and had rid the city of crime and ensured peace. His stellar performance in the aftermath of Typhoon Haiyan in 2013 earned him many supporters. Just as in India, where the liberal cabal used the Judiciary to achieve their own ends, the liberal cabal in Philippines has set the Chief Justice of the Supreme Court, Maria Lourdes Sereno on a confrontationist course with the President. While in India, the liberal cabal whose fountainhead is the Congress party, plans to bring an impeachment motion against the Chief Justice of India, in Philippines it is President Duterte's ruling coalition PDP-Laban that has initiated impeachment proceedings against Sereno who had termed the situation in Philippines as a "threat to democracy".
India has taken effective strides in building its relationship with Myanmar, Philippines and other countries in South-East Asia. Under Prime Minister Modi, the Look-East policy is not merely the Look-East Policy but an Act-East Policy. By inviting the ASEAN Heads of States and forging strong relationships with Myanmar and Philippines in particular in the fields of security, pharmaceutical sector providing affordable generic medicines to Philippines and fighting corruption. Such relationships with these countries along with a robust relationship with Japan will ensure that China's policy of strategically encircling India will be met with an equally formidable response from India under Prime Minister Modi.