2019 general election is approaching. It is indispensable to analyze the electoral potential of the political parties, especially BJP and Congress. India witnessed Modi wave in 2014 election and riding high on that, BJP formed government at center with complete majority. However, there is a general trend of diminishing popularity of leaders in office in a democracy. The more expectation people have with the leader, the more it is difficult for the leader to keep the momentum going. I would like to quantify the acceptance of BJP and influence of PM Modi after 3.5 years in office among voters. From bigger states like Uttar Pradesh to smaller states like Manipur, 18 assembly elections were held after 2014 general election. I do not take Puducherry (1 Lok Sabha seat) into consideration as BJP did not contest the 2014 election there.
I use the Assembly and Lok Sabha elections vote share of BJP for all these target states (17) to analyze the mood swing of the voters over the period. We should be conscious of the fact that Lok Sabha election was about Narendra Modi, but in state assembly elections even when he was the face of the campaign for the BJP, it was about someone else who was to become the Chief Minister. Also, there are cases of coalition restructuring in the two subsequent elections in some states.  Shiv Sena contested 2014 general election in coalition with BJP but they could not reach an agreement in assembly election, 2014 and contested Maharashtra election separately. On contrary, Asom Gana Parishad (AGP) did not contest 2014 election in coalition with BJP but as they drew a blank in that election, secured a deal with BJP in 2016 Assam assembly election. These contrasting developments have opposite effect on vote share of BJP in assembly elections in the corresponding states after general election.
There are four aberrations, where the change in vote share between the two consecutive elections (Lok Sabha and Assembly) for that state for BJP is more than 10 % in absolute terms.
In Goa, vote share of BJP has gone down by 22 percentage point (pp) from Lok Sabha election to Goa Assembly election, 2017. Maharashtrawadi Gomantak (MAG) party got 11.3 % vote share in 2017 election, the same party was irrelevant in 2014 election. Other smaller parties like Aam Aadmi Party (AAP) and Goa Forward party also secured some votes, which pulled down vote shares of both BJP and Congress in the state. In Delhi, the vote share of BJP declined by 14 pp in 2015 election. AAP won 67 out of 70 seats, with 54 % vote share. BJP will need to put maximum efforts in these states. With Kejriwal's popularity on the wean and Parrikar's return to Goa, Delhi and Goa are bound to show good results to the BJP in the 2019 Elections.
In the recent election of Gujarat, the vote share of BJP has gone down by 11 pp. However, the party is not at disadvantage as compared to the previous assembly elections. In 1998, 2002, 2007 and 2012 the vote share of BJP was 44.8 %, 49.8 %, 49.1 % and 47.8 % respectively. In these respective years the vote share of Congress was 34.8 %, 39.3 %, 38.0 % and 38.9 %.  In 2017, BJP and Congress received vote share of 49.1% and 41.4% respectively. Vote share of BJP remained in its historic range, but Congress gained some vote share, and which helped it getting around 20 more seats. BJP did well in urban centers like Ahmedabad and Surat but lost some ground in Saurashtra. It got lesser seats than expected but beating 22 years of anti-incumbency is incredible. It was an intensely fought election which Modi finally conquered. It has takeaway for both the parties. Congress built strong caste equations with young leaders like Alpesh Thakore and Jignesh Mevani. It tried to exploit Patidar sentiments against BJP with the help of Hardik Patel but could not stand against Modi's stature and Shah's on ground force. Apparently, it needs strong organization on ground to convert sentiments into votes. BJP should realize that they now must address farmers distress and discontent, if any. The other extreme is Manipur, where BJP gained 24 pp in 2017 as compared to 2014 election.
In 8 states, the change in vote share for BJP between the two consecutive elections (Lok Sabha and Assembly) was lower than 5 pp. Those states are Kerala, Maharashtra (coalition restructuring effect), Punjab, Tamil Nadu, Uttar Pradesh, Himachal Pradesh, Haryana and Bihar. Taking into consideration the very intrinsic characteristics of assembly election that state elections are for choosing state government (Chief Minister) and not central government (Prime Minister), these states show encouraging trend for BJP. The next bundle consists of states (5) where the margin is in range of 5-10%. Those are Assam (coalition restructuring effect), Jharkhand, Uttarakhand, Jammu & Kashmir and West Bengal. These state's trend indicates a need for improvement, and those are not beyond reach.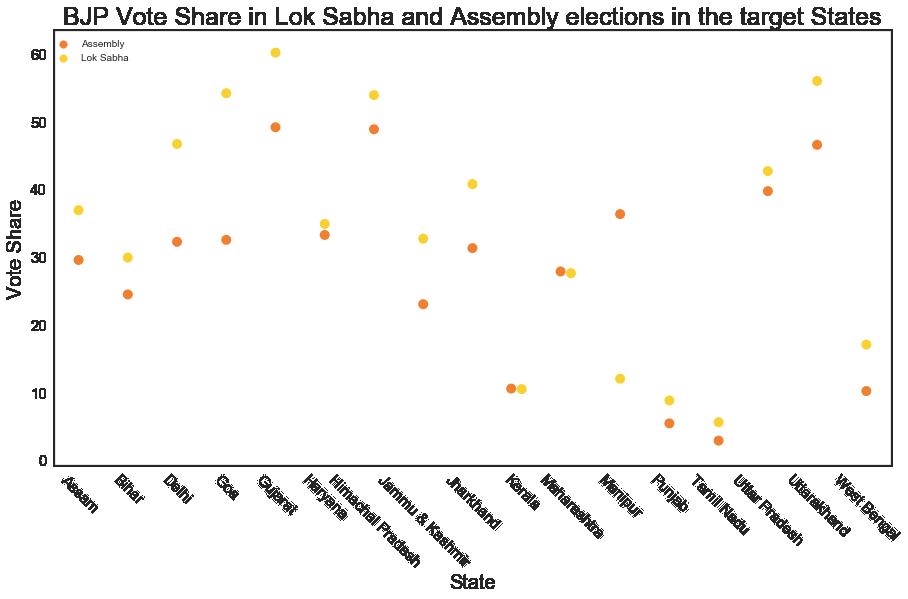 In all things look bright for the BJP. Although BJP, currently is a formidable force and Opposition has very little chance against it. But, the party has few concerns to address. It should tackle agrarian distress and incentivize middle class. Income tax cut can be a good option.