There are about 25 Million Active Twitter users in India. Almost every celebrity is on Twitter. Right from the Ward Pramukh to the Prime Minister himself, almost Every Political Party and politician is on Twitter. Being such a thriving community, Twitter also witnesses funny barbs, sarcastic jibes, heated argument, comment threads, memes and verbal duels almost every day. While it is normal to see regular users poking fun at each other, it is very rare that we see a politician leaving the twitter users in splits and that too with an impressive regularity.
Giriraj Singh is one such politically incorrect politician who uses the micro blogging platform like a Pro. His jibes have been a top favorite of Twitter users in India. The tweets of this wily MP from Nawada, Bihar are a harmonious blend of Humor, Presence of Mind, and deliberate political incorrectness.
Giriraj Singh is a senior BJP member and a minister in the current cabinet. He is the Minister of State for Micro, Small and Medium Enterprises. But that doesn't stop Giriraj Singh from rattling his critics with his tweet missiles.
Here are the 15 'thug-life' moments when Giriraj Singh completely owned BJP Critics and proved that he is the king of Twitter.
1.) Giriraj Ji explaining the nuances of India's Legal Setup to acclaimed Distorian Ramchandra Guha. Guha was finding it difficult to understand why someone in UP will file a case against Kamal Hassan for his Hindu Terror remark.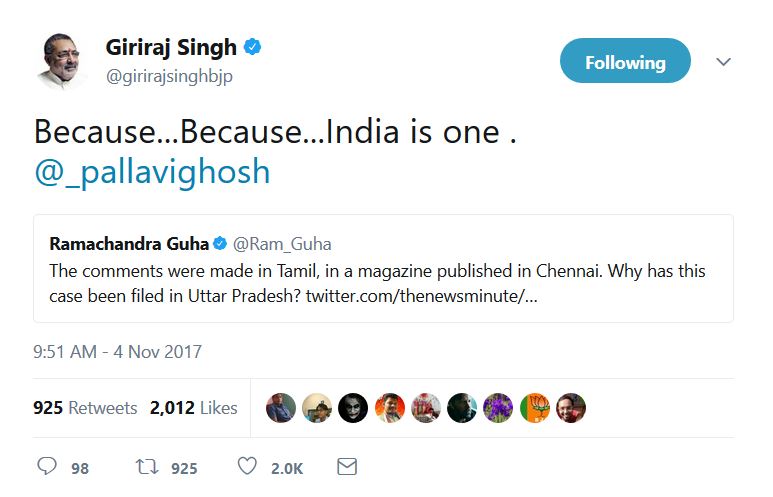 2.) While Giriraj Singh can devour virtually any foe, Sanjay Jha has been his most preferred prey. Which we will see later on. Here's the first example: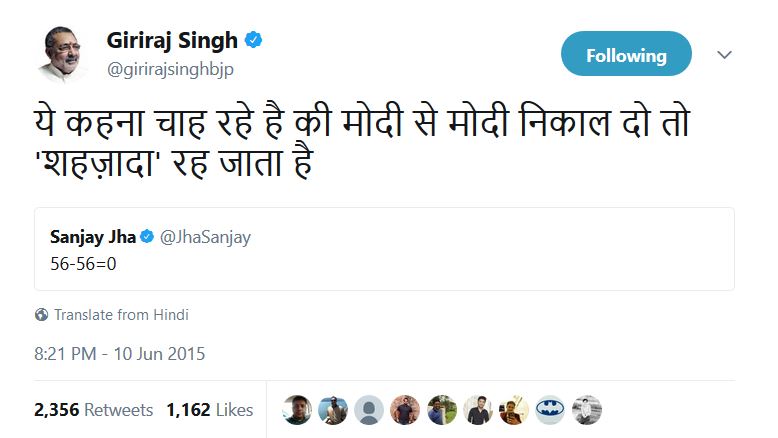 3.) A Perfect Caption Does Exist???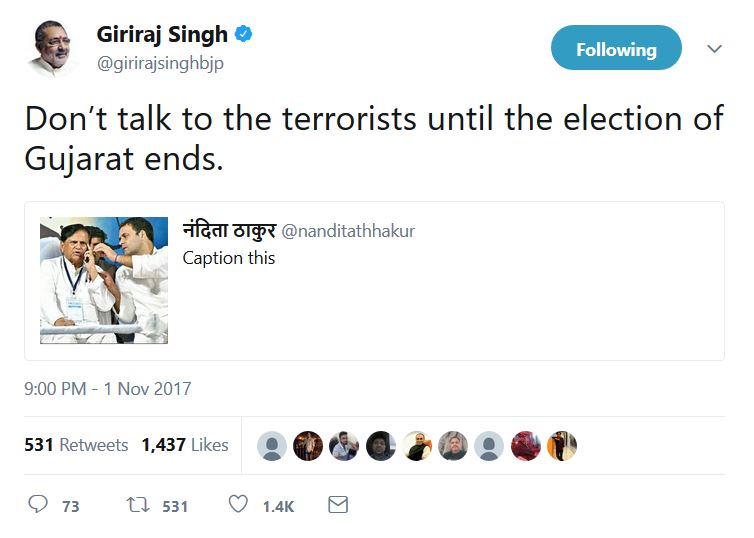 4.) Recursion is strong in this one
Terrorists are finishing , Congress is upset

Congress is finishing , terrorists are upset

— Giriraj Singh (@girirajsinghbjp) October 29, 2017
5.) While Rahul Gandhi is a Proper Noun, It can also double up as an Adjective. Giriraj Ji is illustrating the same.
The biggest difficulty of "Rahul Gandhi" is that, he feels that the people of the country are also "Rahul Gandhi"

— Giriraj Singh (@girirajsinghbjp) October 25, 2017
6.) A little Wordplay here and there doesn't hurt
Bots are the secret of Rahul Gandhi's energy.#RahulWaveInKazakh

— Giriraj Singh (@girirajsinghbjp) October 21, 2017
7.) Talk about Trolling the Chief Trolling Officer in India. Giriraj Singh: 1; Kejriwal: 0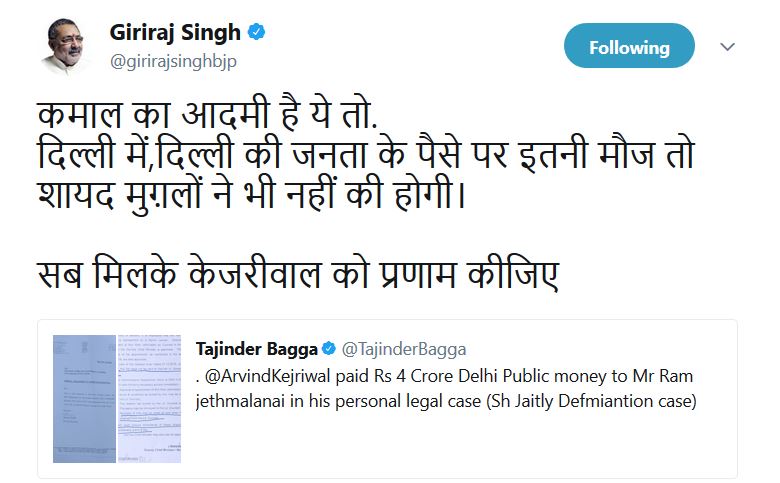 8.) Lalu Yadav's anti-BJP Rally after Nitish Kumar dumped him unceremoniously hogged a lot of media limelight precisely because it was attended by thousands of people. Or Millions. Or Billions. Or Trillions. Giriraj Singh makes it simpler for us.
Lalu ji's rally can be seen from space . pic.twitter.com/wgI1ZkVEFu

— Giriraj Singh (@girirajsinghbjp) August 27, 2017
9.) Rahul Gandhi's Pidi tweet went viral. So here's Giriraj Ji piggybacking on it AND hunting his favorite prey all along. Yes Sanjay Jha again.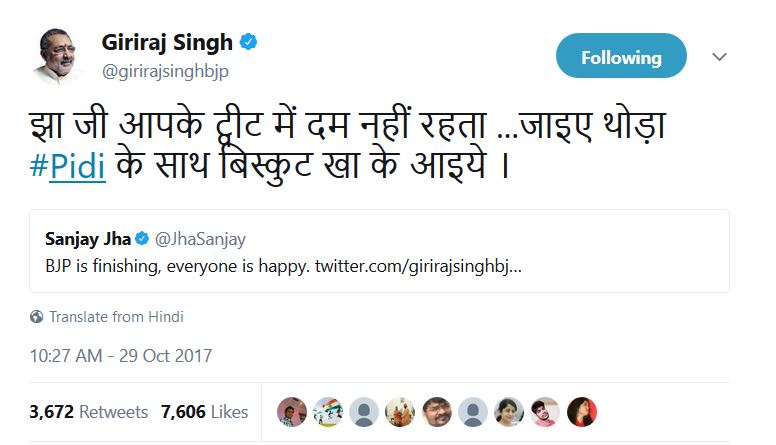 10.) Very few people can explain Rahul Gandhi in such a precise yet profound way.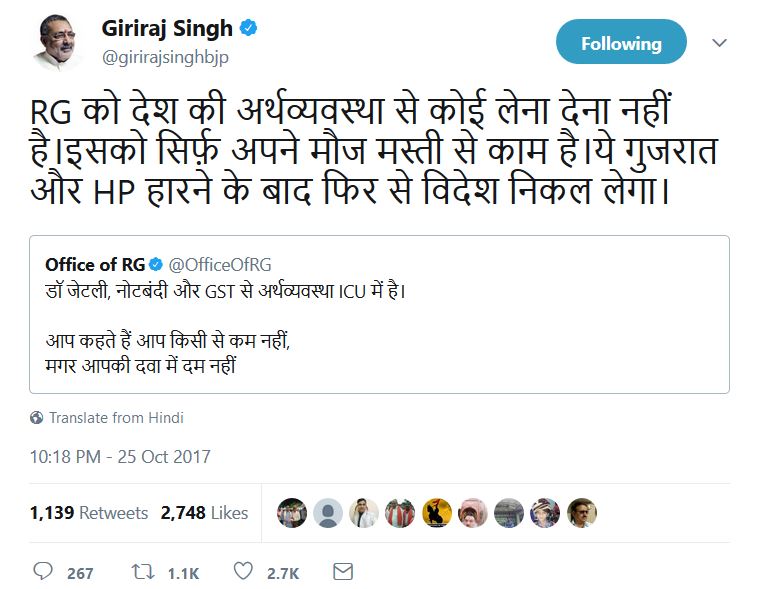 11.) Why would anyone mess with Giriraj Singh in his right senses? But AAP is a party of daredevils and legend killers. Here is a Wannabe legend killer getting slayed by the Twitter Legend.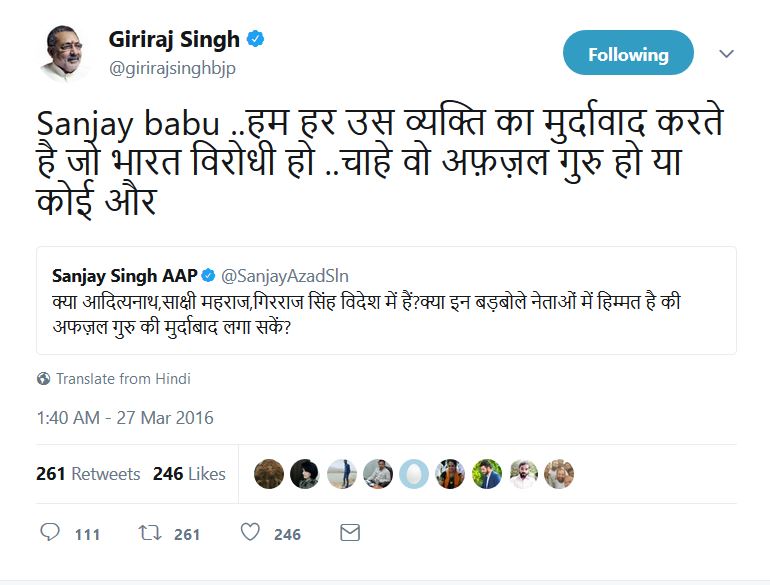 12.) Third Time Sanjay Jha. But we have to give it Jha Ji, he hasn't blocked Giriraj Ji yet.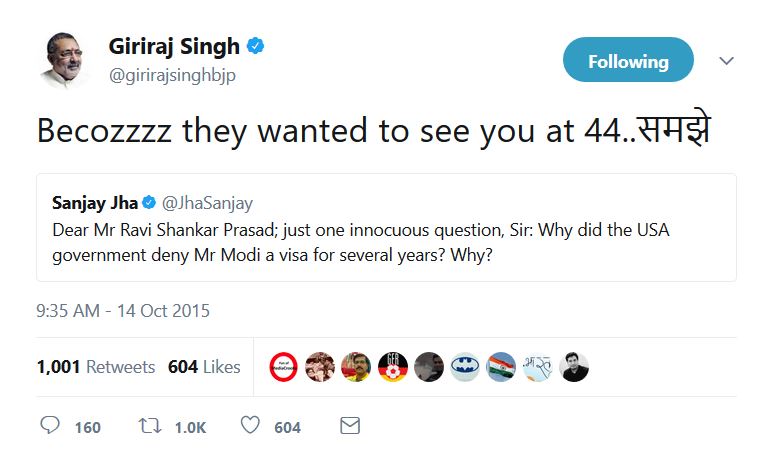 13.) Giriraj Singh ji is a largehearted person. He is clearly acknowledging RaGa's help in Boosting BJP's Fortune. RaGa has certainly proved his worth as BJP's Star Campaigner.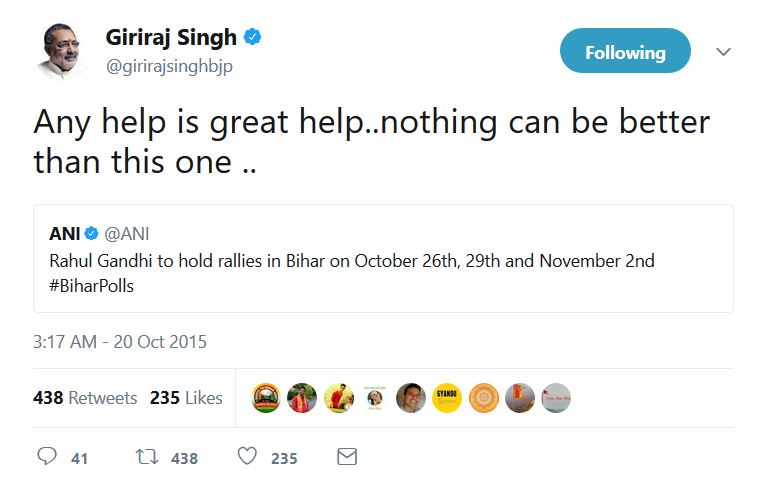 14.) Sanjay Jha again and this time poor Jha Ji got trolled even without tweeting.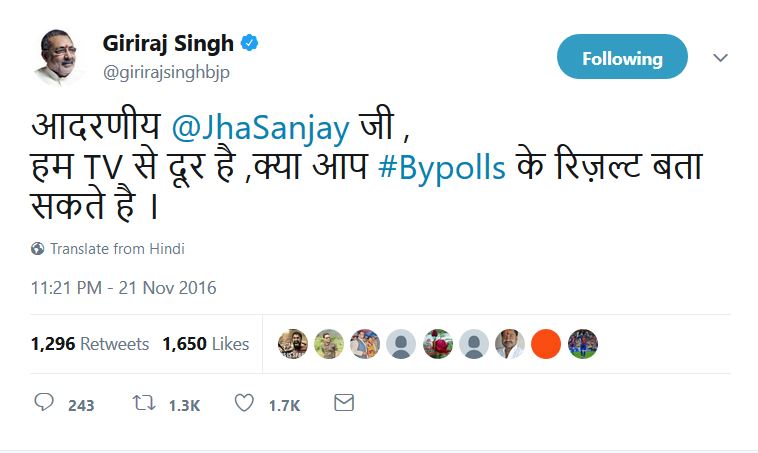 15.) This is a silent killer. Giriraj Singh has managed to Define RaGa again with 5 Emoticons.