Ravish Kumar is considered a fearless, smart and witty journalist who has the daredevil attitude to ask any damn question to any damn authority. The most iconic, and probably the most famous show/episode by Ravish Kumar was the "blackening of TV screen" amidst the JNU Row where he strongly criticized the current 'intolerant' environment of the nation. He accused people of India of becoming intolerant in the garb of nationalism, and batted strongly for Freedom of Expression. What he tried to suggest by blackening the screen is that some people, most media houses (which excludes NDTV), the current regime, the people and possibly the entire world have reduced a liberal debate into debauchery.
Ravish Kumar has been very prompt in blaming the current government for brainwashing people's minds and turning them into bigots. The most recent example was the case in which two unidentified people allegedly attacked a 17-year old Dalit and slashed his back with razors for a silly reason- sporting or twirling his moustache.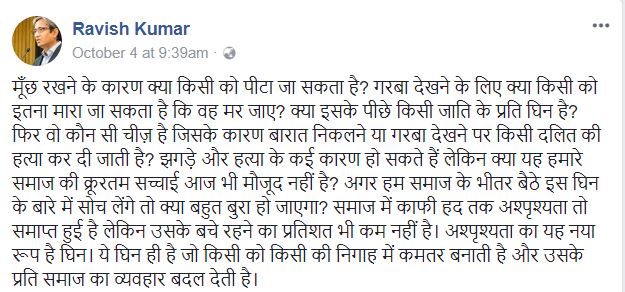 This incident sparked a huge controversy and the Social Media reacted strongly. As expected, the media houses covered the news day and night. Media houses like NDTV and news portals like "The Wire", "The Quint", etc started to make an impression in the minds of the citizens of India, that India is intolerant towards its lower caste population and Dalits are killed and manhandled for slightest reasons. Dalit activists started revolution on the Social Media against the attack on the Dalit teen for "sporting moustache".
Social Media flooded with protest messages containing a logo of a pair of moustaches with a crown underneath it, followed by the text "Mr. Dalit". People posted photos of themselves twirling their moustaches as a mark of protest.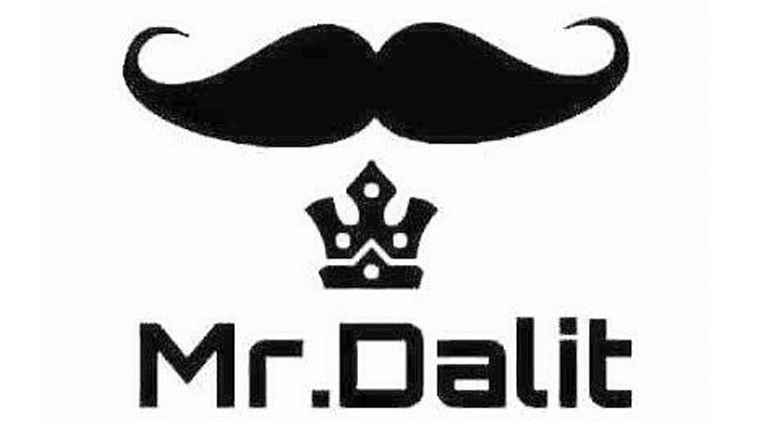 According to the news reported, the incident started on September 25 2017. The 24-year old Piyush Parmar is a resident of Limbodara village of Kalol taluk of Gandhinagar district. Three members of upper caste Darbar community allegedly abused Piyush and his cousin Digant Maheria by hurling Casteist comments when they were returning to their homes after watching Garba in their village. The boys avoided the group and returned to their home. According to Piyush, the group later came to their house and started assaulting them for "sporting a moustache despite being from a lower caste community".
"As it was dark, we could not see them. When we went near the place from where the voice was coming, we found three members of the darbar community there. Just to avoid any scuffle, we ignored them. As we reached our house, the darbars came to our house and started abusing us again. They first assaulted my cousin Digant and then started beating me, repeatedly asking me how can you sport a moustache despite coming from a lower caste community," Parmar told Times of India.
Digant Maheria, the cousin of Piyush was also allegedly beaten. On September 26, the Kalol Police registered an FIR against the trio from the same village, identified as Mayursingh Vaghela, Rahul Vikramsingh Serathia and Ajitsingh Vaghela. The FIR was lodged under IPC sections 323 (voluntarily causing hurt), 504 (intentional insult with an intent to provoke breach of peace), and 114 (abetment), besides the atrocities act.
On September 29, another similar incident happened with 30-year old Dalit called Kunal Maheria from the same village. According to the reports, he too was beaten by some people from Rajput community for sporting a moustache despite being from Dalit community.
"When I was visiting my friend on Friday night, Bharatsingh Vaghela and some others intercepted me and verbally abused me. Vaghela told me that I cannot become a Rajput by just sporting a moustache. When I ignored him, Vaghela beat me up with a stick," Maheria said on Sunday. A complaint was lodged against Vaghela under IPC section 323. Vaghela was arrested soon. As with the first incident, this incident was also covered by the media, thoroughly.
The third incident took place around 5.30 PM on October 3 2017. Digant Maheria, the 17-year old cousin of Piyush Parmar, was returning from school after his exam when two unidentified person allegedly attacked him and slashed his back with razors. According to the report published by Deccan Chronicle:-
"Digant was present when Piyush was thrashed. On Tuesday, two men, who were wearing masks, intercepted Digant when he was returning home after giving his exam. The bikers told Digant that they have received Rs. 1.5 lakh to attack those who had lodged the FIR," alleged his uncle Kirit Maheria.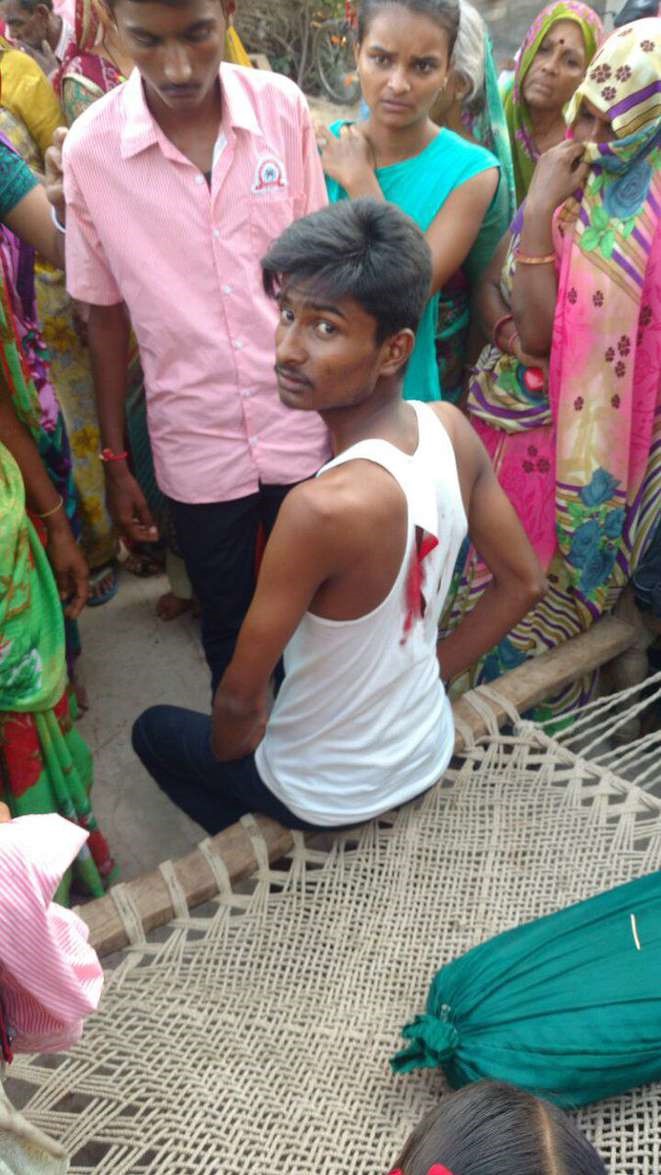 For more than one week, the media houses carried out descriptive coverage on their TV talk-shows until recently. Suddenly, they lost the zeal. The local police were investigating all the three cases and they found a strange thing.
According to the report published in Indian Express on October 4, the Gandhinagar SP Virendrasingh Yadav expressed his surprise, "The boy was attacked with a blade by two men on a bike who had covered their faces. When we investigated in the village, we were surprised that those nearest to the place of the incident did not hear any scream". That was indeed surprising. Two people slashed his back multiple times, and the boy did not shout for help. He was not a mute, after all. The police formed three teams to investigate the case. The investigation revealed these findings:-
The forensic team found no blade at the crime scene.
No blood was found during forensic reconstruction at the crime scene.
The clothes worn by the victim were not consistent with the description of the attack.
The CCTV footage could not establish the credentials of the alleged crime committed.
When interrogated, people around the area told that they saw no crime and did not hear any scream.
The owner of a local pan shop in the vicinity even denied occurrence of any such incident whatsoever.
During the interrogation, Digant Maheria broke down and confessed that he staged the attack by inflicting injuries on himself with the help of his two minor friends. They purchased a sharp blade and the friends made the injuries on his back.
Digant confessed that he registered the complaint and made the issue bigger because he wanted media coverage and publicity.
The friends of Digant admitted that they made the injuries on his back when Digant pressurized them to do so.
Digant confessed that some NGOs used to visit them and talk to them, which inspired him to do so for fame. The so-called teenaged Dalit victim confessed that he did all these things to garner publicity and sympathy under the influence of NGOs.
The Gandhinagar SP Virendrasingh Yadav said, "We also questioned his two friends and their parents who said they slashed their friend's back on his insistence". The police team made the findings public in a press conference where the father of the Dalit conspirator and so-called victim was also present. The father had also admitted his son's mistake. SP Yadav said that since the three teens are minor, they are not escalating the matter because that might ruin their career. I must say that the Gujarat administration is a compassionate one where a teenager, who made a false accusation that had the potential to instigate riot in the region, was not sent to juvenile home. In contrast, the West Bengal police was trying to send a juvenile boy to jail instead of juvenile home because his Facebook post had caused a riot at Basirhat, West Bengal.
According to Indian Express' report, Digant said- ""I am not under any pressure of anyone. I did it with the help of my friends. I do not know why". Still shocked and ashamed for his son's deed, Digant's father said, "I don't know what to say. My head is too full. I was there at the press conference and I admitted that my son was wrong. That is all I have to say. He has done it in the stupidity of his age, I guess. The boys who helped him live in front of our house".
With the truth finally coming out, it is evident that there is a much bigger conspiracy running in the background to create chaos in the nation. It is time we all need to be alert.
Why within a span of one month, three similar cases happened in the same village where the violence took place for a silly reason like twirling moustaches?
It is proved that Digant staged his attack. Are the other cases authentic or are they false, too?
Is it mere coincidence that all the victims are related to each other, directly or distantly? Krunal Maheria is also a cousin of Digant Maheria.
Why is there no witness for the alleged beating of Piyush Parmar on September 29?
Was this incident a conspiracy, which was inspired by another case that happened in December 2016? In December 2016, two Dalit brothers Naresh Parmar and Mahesh Parmar were beaten for twirling moustache. The accused in that case were also from Darbar community. Is it a mere coincidence that every time the people of Darbar community are involved in violence?
You will be surprised to know that Mahesh Parmar is the part of a political team of Dalit leader Jignesh Mevani. Other members who are a part of the team are Kaushik Parmar, Subodh Parmar, Suresh Agja, etc. In Naresh and Mahesh Parmar's case, Kaushik Parmar played a major role in bringing out protest campaign.
Jignesh Mevani was the official spokesman of the Aam Admi Party's Gujarat unit.
What role did the NGOs played in motivating Digant to stage the attack? Which NGO motivated him? Is it a conspiracy by NGO groups to take revenge regarding the cancelation of FCRA licenses of 20,000 NGOs by the Modi government?
Are the NGOs trying to create an environment of insecurity so Dalits can be terrified into voting for whatever party they want them to vote for?
What actions will the police take regarding this case?
The most important question is- "how will the media channels and Dalit activists react to this conspiracy?"
Will the Dalit activists criticize the boy for his misadventure or will they remain silent?
Will the media houses like NDTV and TV journalists like Ravish Kumar eloquently cover the news regarding the staged attack?
Will Ravish Kumar carry out his responsibility of responsible journalism by telling his audience that at least one out of three Dalit Beating cases in Gujarat was staged for publicity? And the rest are being probed.
No, Ravish Kumar does not need to apologize to the nation for covering the "attack on 17-year old Dalit teen". He was doing his duty of letting people know. How can he know whether the attack was authentic?
No, Ravish Kumar does not need to apologize for not understanding the conspiracy in this case. He is a TV anchor, not an investigating officer.
No, Ravish Kumar does not need to apologize for asking the government to deliver justice.
What must Ravish Kumar do then? Ravish Kumar needs to change his attitude of thrusting his opinions instead of presenting the facts available to him. Ravish Kumar must stop reactive journalism and wait for facts to surface before parachuting to conclusions. If Ravish Kumar covered the news of "attack on Dalit teen", then he also needs to cover the news "Dalit teen staged his attack". Ravish Kumar needs to tell the people the truth, i.e. that this case was staged and the boy did this for publicity. Ravish Kumar needs to stick to his duty and tell his audiences that if terrorizing Dalits is a crime, then framing Upper Caste people in false cases is also a crime.
To end the discussion with, let me put forward a question to Ravish Kumar. "Dear Sir, you once blackened your TV screen during the JNU-row. What will you blacken this time when the case is found to be staged?"