It is the week leading up to Deepavali (Diwali) and we see the now familiar pattern of Hindu festival bashing rearing its ugly head again. As we get closer to Deepavali the discourse of "Hindu festivals are environment unfriendly" will gain momentum and the voices will get even shriller; with celebrities dropping their precious two bit dissuading Hindus from bursting crackers as if the current deplorable environmental crisis is all a consequence of Hindus reveling in their festive spirit. The votaries of noise free Deepavali received a shot in the arm with the Supreme Court banning the sale of crackers in the Delhi-NCR region. Quick to follow suit the Bombay High Court has gone a step further and imposed a blanket ban on the sale of firecrackers in residential areas across Maharashtra. Whether it's Holi or Ganesha Puja or Durga Puja or Dusshera or Diwali, every time we Hindus are targeted falsely in the names of pollution sometimes air sometimes noise and sometimes water. While the fact remains that Hinduism has always been an environmentally sensitive philosophy and most Hindu festivals and traditions share a healthy relationship with the environment and are eco-friendly in character.
But this well coordinated and concerted machination to make Hindus feel guilty about their festivals and traditions results in many naïve young Hindus distancing themselves from our rich cultural heritage. Isn't it the goal of the forces who want to Balkanize India into pieces?
In a paper titled "Spiritual Conflict in the Indian context", a missionary identified "Unity of India" as a major roadblock to Christian Evangelisation:
"But the spirit of being Indian is the binding factor which has totally integrated the country into one. Today, displaying the 'unity in diversity', India portrays one entity. What is considered as the merits of India, are unfortunately the deterrents for evangelization"
So now the pertinent question is what binds Hindus and Indians? Answer is simple our rich Cultural Heritage and our festivals… So the whole idea of these forces is that if they can distance the Hindus from their festivals the purpose is served i.e. they can easily disintegrate the Unity in Diversity.
Now coming to Apex/Bombay High Court's verdict of banning the sale of crackers citing the reason of Pollution is flawed in itself. A study done by IIT Kanpur highlights why the whole positioning of Diwali as the culprit is totally skewed ignoring major reasons like lifestyle, construction, the burning of stubble in the adjacent states of Punjab, Haryana, and Uttar Pradesh brings with it a cloud of smog, causing numerous respiratory problems for the citizens.
Keeping away Hindus from bursting crackers was the first step and they succeeded
Origin of Crackers
Whether cracker is actually Chinese Invention or maybe it's indigenous to India?
Way before Chinese invented gunpowder, Indians have been using it. It finds mentions and references in Arthasastra "by Chanakya" and Sukra Niti "teachings of Sukra Charya"
Many writings also refer "Arabs learnt the manufacture of gunpowder from India, and that before their Indian connection they had used arrows of naptha. It is also argued that though Persia possessed saltpetre in abundance, the original home of gunpowder was India…" (Fire-Arms in Ancient India – By Jogesh Chandra Ray I.H.Q. viii. p. 586-88)
Gustav Oppert (1836-1908) in his work, Political Maxims of the Ancient Hindus, says, that ancient India was the original home of gunpowder and fire-arms. (Hindu Culture and The Modern Age – By Dewan Bahadur K.S. Ramaswami Shastri – Annamalai University 1956 p. 127)
The major constituent of firework is Gunpowder which in turn comprises of Saltpetre (Potassium Nitrate), Sulfur & Charcoal. While the Sulfur & Charcoal act as fuel to prolong the combustion, it is actually the Saltpetre which gives the characteristic purple flame due to which Fireworks are used not only for military but aesthetic (celebratory) purposes as well
Also, Chinese texts dating back to 7th century had acknowledged that Indians were aware of Saltpetre and its usage for producing purple flames implying that it might be used for aesthetic purposes apart from military. How would someone use Saltpetre for aesthetics without giving it some kind of structural form? (http://guruprasad.net/posts/fireworks-part-indian-culture/ )
Post this Chinese continued to give it different form factors like sparklers, light fountains, rockets etc (9th -10th Century onwards)
So the conclusion that crackers were invented by Chinese may be flawed and it might have been in use already in Ancient India
Now let's look at some facts which you might not be aware of how and why crackers were used by our forefathers and some unique traditions
Why Crackers were used in Ancient India by our forefathers?
Diwali is celebrated to mark the return of Bhagwan Ram and Devi Maa Sita's return to Ayodhya after their exile. Diwali also signifies beginning of AUTUMN season (early days). Each new season brings changes in climate and environmental ecosystem which our forefathers were aware of.
India is an agricultural society with rice as the staple food of most of the states. During the autumn months, growth of the 'tiny leafhopper' (an insect of the cicadellidae family) increases significantly.
These insects feed on plant sap and can transmit plant-infecting viruses and bacteria. Several species of leafhoppers and planthoppers are serious pests of rice worldwide. In many areas, they frequently occur in numbers large enough to cause complete drying of the crop, but even sparse populations reduce rice yields. In addition to direct feeding damage, leafhoppers and plant hoppers are vectors of most of the currently known rice virus diseases. The more damaging species are greenleafhoppers Nephotettix spp., thezigzag leafhopper Recilia dorsalis(Motschulsky), the brownplanthopperNilaparvatalugens (Stål),the small brown planthopperLaodelphaxstriatellus (Fallen), thewhitebackedplanthopperSogatellafurcifera (Horváth), and the ricedelphacidTagosodes (=Sogatodes)orizicolus (Muir), etc.
(http://books.irri.org/9712200280_content.pdf )
They are also a serious threat to the paddy crop as well. Hence, if the cicadellidae family of insects are not controlled and they can multiply significantly and cause not only severe damage to the crops but also may spread various diseases and flus to humans, cattle and the plants
So, now let's focus on the immediate and affordable treatment of ancient times
Sulphur, known as Gandhak (in Hindi/Sanskrit) was used to control these insects from damaging the crops of rice and paddy. Modern research also shows that Sulphur treatment is one among the best treatments for controlling such insects. Sulphur is used not only to treat rice or paddy crops from these insects but also grapes, potato crops from these insects (http://msue.anr.msu.edu/uploads/files/e2698.pdf )
Crackers used to have Sulphur in them, so our ancestors used to burst crackers during Diwali days to indirectly fill the atmosphere with Sulphur gas as natural treatment for the pests. Why this mode, because it's cost effective and quick. Hence fire crackers were used, they had sulphur and there was hardly any corner in the country where people did not use crackers on Diwali days and lit small oil lamps. Also, castor oil lamps are known to purify environment harmlessly.
Some Ancient Traditions
Many people think that bursting crackers was never a part of Indian tradition so what is the need to continue it. Let us firrst take a look at some unique rituals from different parts of India which have been practiced since ages.
The Tubri competition
The Purbannapara community of Makardah village in West Bengal holds an annual 'protijogita' for making the brightest and biggest 'tubri' or firework-candle. Tubri, looks like Christmas tree or a Roman candle in resemblance. In this village elders teach the younger generation to make Tubri and other types of fireworks during Kali Puja (Devi Maa Kali is worshipped during Deepavali in eastern part of India especially WB and Odisha and is known as Kali Puja)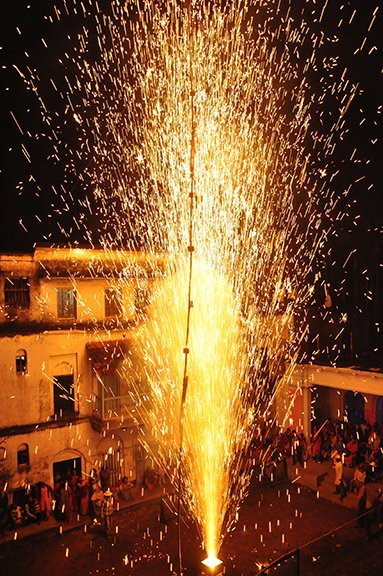 "A tubri consists of a powdered mixture of saltpeter, sulphur and charcoal, combined with iron filings, stuffed tight into a spherical shell made of baked earth. A small hole in the top of the casing allows the powder to be lighted. Each team has its own secret formula for the quantities and graininess of the ingredients, which have to be pounded and mixed fresh for maximum effect" (https://ruralindiaonline.org/articles/the-tubri-competition/ )
The competition commences with the lighting of a tubri. The firework is set inside a cubical metal frame, designed and made by local engineers, in order to protect the audience from flying fragments. Judges grade the height and other attributes of the fireworks sitting on a rooftop
Savarkundla residents fight cracker wars
Savarkundla is a city and a municipality in Amreli district in the Indian state of Gujarat. It is a twin city formed when the cities of Savar and Kundla merged. Residents of the two villages would gather on their side of the river every Deepavali and throw fire-crackers at each other as if they were fighting a war. Even today, Savarkundla villagers do not buy firecrackers from the market and make it locally at home. The homemade firecrackers are called Ingoriya and Kokdi. When lit, both burn like small flowerpot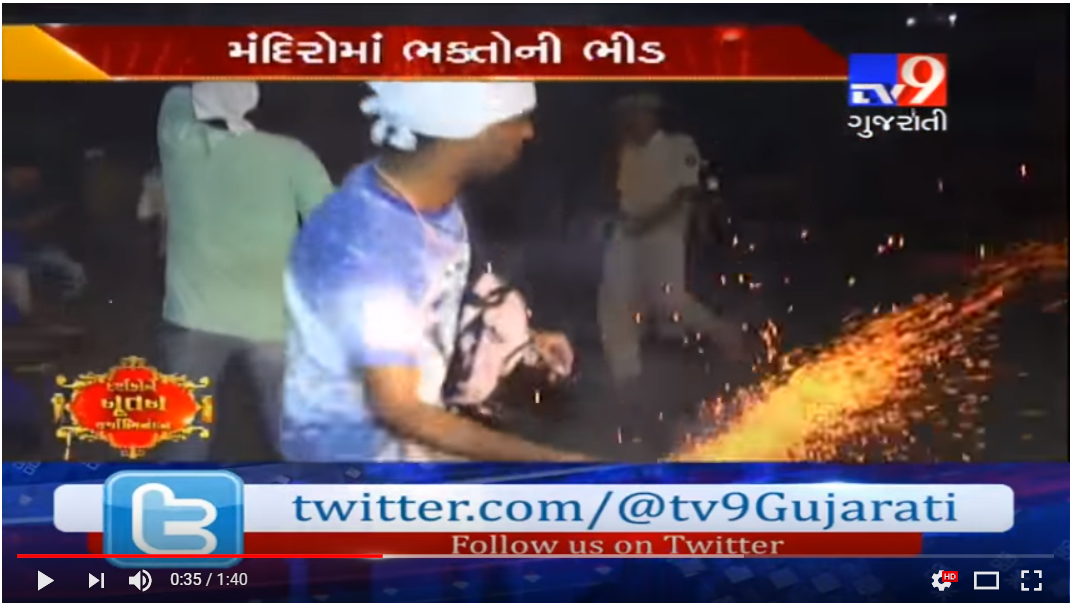 "Ingoriya is the fruit of a tree that grows in the wild. Everything inside the fruit is removed and the hollow shell is filled with potash, coal powder and other inflammables. Kokdi is also made of wood derived from wild bamboo," local resident
http://www.savarkundla.com/UniqueDiwali.asp
https://www.youtube.com/watch?v=o7T-tMKy_Xk
Unique Diwali tradition in Bhuj
Dhanteras, the first day of Deepavali, is marked by an early morning aarti at Hatkeshwar temple situated near the Hamirsar Lake in Bhuj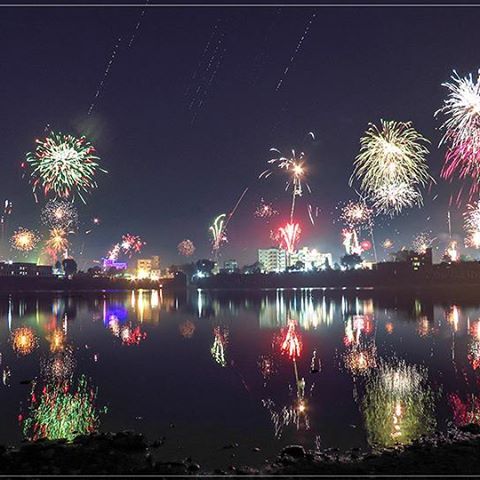 A community known as Vadnagra Nagar — believed to be descendants of Saint Narsinh Mehta — participate in the aarti in a big way. As soon as the aarti is over, participants gather at Mahadev Naka near Hamirsar Lake and burst crackers.
"This tradition is very old. It was started by the Nagars but now people of all communities participate in it. Firing crackers near Hamirsar is now a ritual for all communities," said Atul Mehta, president of Vadnagra Nagar Vyavasthapak Mandal. He said that from 6:00 am in the morning, elders, youths and children gather near Hamisar to fire crackers on all the three days of the festival —Dhanteras, Kali Chaudas and Diwali itself," said Mehta
(http://www.savarkundla.com/UniqueDiwali.aspx )
The traditions associated with Deepavali, including the bursting of crackers has a deep significance that most are ignorant about. It's unfair to brand it as environment unfriendly. This vilification of the festival of Deepavali and those who celebrate on environmental grounds is reckless and patently unfair.  The Green Diwali syndrome is actually making us sick and weak. Killing local rituals and vibrancy – so that they can become consumerist slaves. Please do not discard and get rid of your customs and traditions just because a certain business lobby says it is harmful for the environment, please do not dilute the culture which is a result of thousands of years of wisdom!!!
References
Origin of Crackers

Arthasastra "by Chanakya"
Sukra Niti "teachings of Sukra Charya"
Fire-Arms in Ancient India – By Jogesh Chandra Ray I.H.Q.
Hindu Culture and The Modern Age – By Dewan Bahadur K.S. Ramaswami Shastri – Annamalai University 1956

Usage of Crackers in Ancient India
Ancient Traditions
Thanks to Marut Mitra for sharing his research work on the same

His FB Profile link : https://www.facebook.com/marut.mitra.5