Friends, remember Agneepath? The violent remake of the 1990 cult classic, starring Hrithik Roshan and Sanjay Dutt in the principal roles, had a scene that I will never forget for the rest of my life. A girl, who is disabled, is lured into a primary school campus, and then mercilessly assaulted and raped by some lecherous teenagers.  An honest schoolmaster, Dinanath Chauhan, who runs the primary school in this island village, Mandwa, is the first to learn of this, thanks to the assailants committing the blunder of leaving the lights on. Besides, he is already fighting a battle against the autocratic zamindar of the village, whose son, Kancha, a deformed gangster, is trying to usurp the island for the production of cocaine, whose origin, the coca plant, is found in abundance there.
Now Dinanath, as is his duty, as well as his nature, tries to help the girl, and asks his son Vijay to get some assistance.  He does so, when at this very point, a two pronged attack happens. The same assailants, who had allegedly raped the girl, douse the house of the schoolmaster with kerosene and set it ablaze, while Kancha, strikes the dong of the primary school, and assembles the village, framing Dinanath for the crime. To cut the long story short, Dinanath, who was the first to learn of the crime and tried to help the victim, was framed for the same, dragged mercilessly to a banyan tree near the Mandwa beach, and hanged to death. His crime: he tried to do his duty and save his village and community from the monsters who wished to begin their empire of destruction. That's reality, folks, and the same happened in 2008.
Now picture this – There is a man, who is a reputed officer in a noted regiment of the Indian Army, and has been diligently serving the intelligence wing of the same section. He is doing his job well and has a sweet and comfortable life with his sweet family. However, one day, while sifting through his usual papers, he notices some unusual and cryptic stuff within his documents. Connecting the dots, he unearths a wicked, rather huge conspiracy, out to give deep wounds to India, which involves everyone, from his own comrades, to the noted luminaries of the crème de la crème in the Indian society.
What did he do? As was his duty, he investigated further, on his own initiative and his own risk, and decided to report the matter to his seniors, who reported the matter further to the Central Government. He expected nothing in return, but safety of millions of the citizens who resided in India. What did he get in return? 9 years of arbitrary imprisonment, on absolutely false charges, inhuman torture, gross humiliation to both himself and his family, on the pretext of trying to introduce saffron terrorism.
Yes, the hilariously cruel term that is now the butt of all jokes today, was an ironic reality for Lt. Col. Prasad Shrikant Purohit, who was denied his honor of donning the army uniform for 9, long, excruciating years, just to appease the whims and fancies of an autocratic despot named Antonia Edvige Albina Maino, or as the world knows her better as, Sonia Gandhi. But as they say, no matter how strong or long the evil is, it has to end, and it did. The glorious day was 21st August 2017, when the honorable Supreme Court of India once again restored our faith in Indian judiciary, by giving him a conditional bail.
Lt. Col. Prasad Shrikant Purohit was commissioned into the Indian Army as a commissioned officer of the Maratha Light Infantry Regiment, after completing his training from the prestigious Officer's Training Academy in Chennai.  A veteran of many anti terrorist operations, including Kargil War, he is a decorated officer with an envious record. He was rewarded with the following medals till the time he shifted himself from active military duties to more bureaucratic based ones:-
Chief of Army Staff Citation Card
Operation Suraksha Special Service Medal
Sainya Seva Medal
At the time when he was arrested by the ATS for his alleged involvement in the Malegaon blasts, Purohit was a decorated, esteemed Lieutenant Colonel working for the Southern Command Liaison Unit (SCLU) of Military Intelligence and undergoing a course in Arabic language at the Army Education Corps Training College and Centre at Pachmarhi in Madhya Pradesh. Before the course he was posted at Devlali in Nashik as part of his deputation with the SCLU.
But the moment he was arrested, all hell broke loose. You know guys, there is a concept that is taught in law, which is audi alterem partem, which means that listen to the other side. But like Master Deenanath Chauhan in Agneepath, Lt. Col. Purohit was not even given a single chance, a single chance to prove his innocence, in a fair way, on a fair platform. ATS and the Central government of that time declared him a harbinger of Hindu terror, and we blindly accepted it, without even looking into the facts, or even the circumstances related to the Malegaon blasts. In all these 9 years, Lt. Col. Purohit was treated in a way that would make even the horrifying execution of Indian revolutionary, 'Masterda' Surjya Kumar Sen, or even Captain Saurabh Kalia, for that matter, as something less horrifying. He was tortured in ways one can't even write down here.
In a statement at court, Lt. Col. Purohit summarized the horrifying torture he was subjected to:-
"The Haryana police and the CBI threatened me with an encounter. The ATS has threatened me in a similar manner a number of times. Their officers used obscene language about my mother and questioned my paternity. Moreover, they threatened that my wife and sister would be paraded naked and raped in front of me. "
The family wasn't spared either, exactly as happened in the film Agneepath. Lt. Col. Purohit's wife, Aparna Purohit was expelled from her job, and the entire family had to subsist on benevolence of their neighbors for the next 7-8 years.  The ATS top brass, and other Indian government officials, under the patronage of UPA government, made sure that Lt. Col. Purohit would be humiliated to the level that he would either commit suicide or would accept their fabricated claims of him stealing arms and ammunitions for the cause of Hindu terror.  He was incarcerated for six years in a Nashik jail without trial. The human rights activists, who would otherwise rip apart the government on even a scratch to some communities like the Rohingya Muslims, were dead silent on such a brazen violation of the human rights.  As you know, priorities matter.
But the UPA government forgot a quote, 'If you kick me while I'm down, you pray that I never get up.' While Deenanath Chauhan did not survive to see his honor restored in the fictional Agneepath, Lt. Col. Prasad Shrikant Purohit did. Not only was he given a conditional bail, when the fabricated cover of the then combination of ATS and NIA officers stood exposed, but was also restored to his original position, without any hassles. Fun fact, Lt. Col. Purohit was represented by the same senior advocate who gave India a significant judicial victory after years at the International Court of Justice with respect to the wrongful incarceration of the case of ex naval commander Kulbhushan Jadhav in Pakistan. Yes, you heard it right; Harish Salve was the man behind Lt. Col. Purohit being restored to his original honor.
However, during this journey, as I researched further on this case, and noticed the stance of Indian Army with respect to Lt. Col. Purohit, my belief in them grew stronger. Neither did they expel him, nor did they subject him to their court martial. He was on standby, or a provisional suspension. In the words of an officer from the Southern Command, "After his release from jail, Lt Col Purohit will join an Army unit. But because there is an ongoing litigation, there will be certain restrictions and he will not be given any active duty. The Army headquarters will finalize the details of his reinstatement. There will be issues about his rank, the promotions he has missed and the unit of his posting." Only a few days later, Lt. Col. Purohit joined his unit, and the radiance that emerged from his persona after being freed from 9 years of ignominy and dishonor, was writ large on his face:-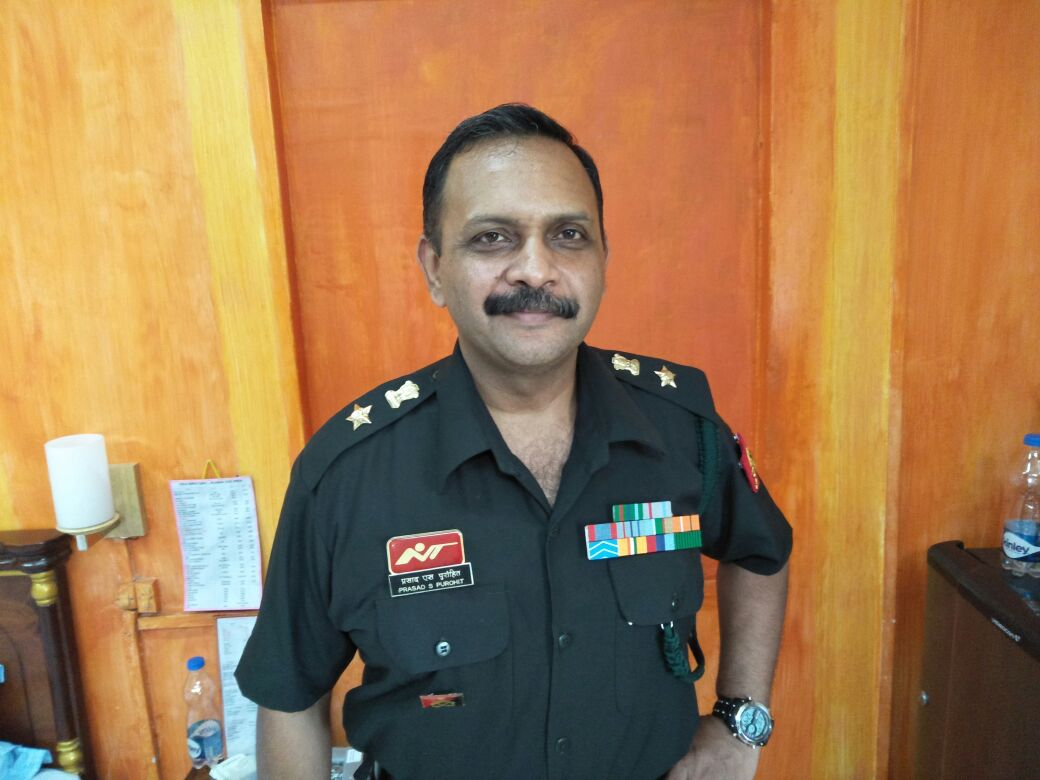 As far as I know personally, Indian Army will never do such a thing for a known or convicted criminal in their league, no matter how high or powerful.  So you know how much this unit of our defence forces cares for their own men in trouble!
Only time will tell what will become of Lt. Col. Purohit. But if he makes it through, he will be immortalized in the hearts of millions of Indians as the man, who refused to bow, even in the face of the worst of atrocities, and continued to serve his nation with a smile on his face and a zeal in his persona.
Lt. Col. Purohit was the biggest victim of Sonia Gandhi's excesses, but he has survived them. He is free. His honor is partly restored and he will now pose a serious threat to the ones metted out this grave injustice to him.
He seriously reminds me of these lines, which were beautifully sung by Amitabh Bachchan in the cult classic, Kahaani:-
"Jab Kaali Ghata Chhaye, O Re O Re O Andhera Sach Ko Nigal Gaye,
Jab Duniya saari Dar ke aage sir apna jhukaaye, Jab Duniya Saari Dar ke aage sir apna jhukaaye
Tu Shola Ban Jaa, Tu Shola Ban Jaa, Jo Khud Jal Ke Jahan Roshan Kar De, Ekla Chalo Re!'
[When the clouds of darkness emerge, and seem to swallow the truth,
When the world bows down to fear, nothing but fear
You become the blaze who burns thee to enlighten the world]
We sincerely hope that no soldier faces such fate ever again, and we also hope that those who made the lives of Lt. Col. Purohit and Sadhvi Thakur a living hell will be brought to the book and be jailed for their crimes, if not hanged to death.
Sources:-
http://economictimes.indiatimes.com/news/politics-and-nation/sc-grants-bail-to-colshrikantpurohit-in-malegaon-case/articleshow/60153917.cms
http://www.dailyo.in/politics/malegaon-blasts-sadhvi-pragya-prasadpurohit-nia-hemant-karkare-maharashtra-ats/story/1/10611.html
http://www.livemint.com/Politics/GRE4yqmlX4SYj47cZ9Wm0N/SC-grants-2008-Malegaon-blasts-accused-Lt-Col-Shrikant-Pur.html
http://www.financialexpress.com/india-news/malegaon-blast-wife-of-lt-colpurohit-bursts-into-tears-after-husband-got-bail-after-9-years-this-is-what-she-has-to-say-watch/817276/