The social sectors of this country have been primarily in the nature of supporting an activity by way of budgetary allocation. However, time has come for the government to measure everything into returns it creates or rather think like a Private Equity firm focused on Return on Investment. Do note, it is not meant in a wrong context, profit created from activities can be invested for social good. Pure collection of tax cannot be converted to social scheme. In this context, I have analysed the education sector by the Maharashtra Government, and believe there is a huge opportunity for the Government to not only boost
EDUCATION SECTOR

The following table shows basic statistics of expenditure
Number crunching to certain operational statistics

With an overall expenditure by the state to the tune of INR 28,618 cr., the average spend per school during the year including capex is INR 198,852 per school per month or INR 12957 per student (annually).
The questions I am posed with today are:
Is that enough?
Is that the best we can do?
Is that adequate to cater to the overall schooling requirement of the state?
Can we remain satisfied with the current state of affairs?
According to 'Elementary Education in India and Progress towards Universal Elementary Education Report (Flash Statistics 2013-14)', the State ranks 13th at primary, 16th at upper primary & 13th at composite levels with EDI 0.63, 0.67 and 0.65 respectively. At composite primary and upper primary level, Karnataka, Kerala, Gujarat and Punjab rank 5th, 9th, 8th and 10th respectively.
These itself shows there is a lot to be achieved in terms of overall development.
EDUCATION and FOOD SECURITY are the two most important things needed to be achieved by a nation first. It is of utmost importance.
The above table and the quote from the Economic Survey leads me to believe that the overall spending by the state albeit at satisfactory level is inadequate to generate / give boost to overall education sector.
Two of the key projects I have observed are seeing a high expenditure i.e.
Mid Day Meal Scheme
Sarva Shikshan Abhiyan
Lets look at each one separately:
As per Survey "During 2013-14, number of students benefited for class I to V and class VI to VIII were 69 lakh and 40 lakh respectively and expenditure incurred was INR 1,151.49 crore".

My basic question is, "Is average spend of Rs. 4.76 / student / day" enough? "CLEARLY NOT"
Further, I believe the current system of local procurement of food products and then cooking it cannot be subjected to quality control. In fact, in absence of right agency or food audit structure, we cannot ensure right quality reaches.
The better approach would be:
Identify key vendors F&B related companies such as Taj, Oberoi, M&M, Infosys, etc.
Identify key agencies engaged on food quality control
I will get in the operational mechanics later, however, I believe the spending per student needs to be increased on a fast forward and immediate basis. In fact, the need of hour is also enhancement in overall school infrastructure. We cannot be happy with probably 1 or 2 computers in the school; the need is to ensure that there are at least 30 computers in each school.
In fact, these computers should double as information agents for Farmers as well for understanding cropping patterns, filling in farm related information.
Accordingly, without getting into much details let me bring out a CAPEX & OPEX plan for overall Educational sector in the state
School Modernization Program

Building a modern Public School and ensuring overall cost: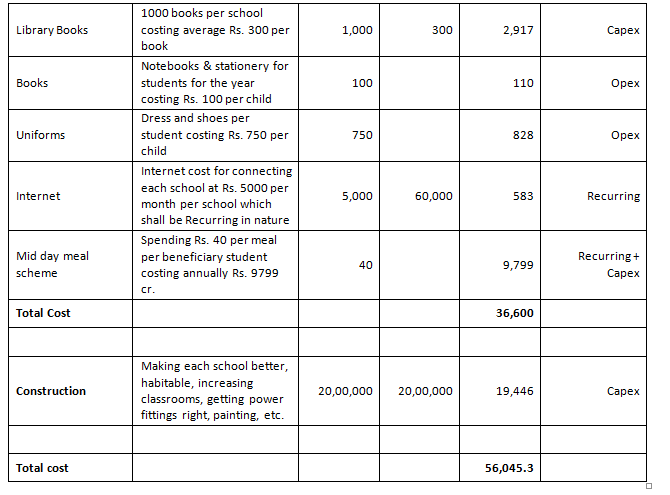 All the above costs are important for each school to ensure that quality education and setting is provided. In fact, I would urge the government to consider not just Mid-Day Meal, but All MEAL for kids and ensuring that the kids come to school twice a day. Plus, the uniform should be provided to each student.
Financing Expansion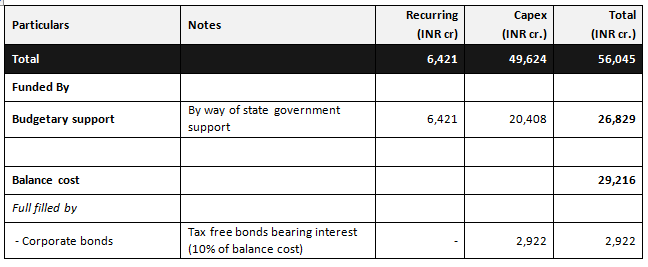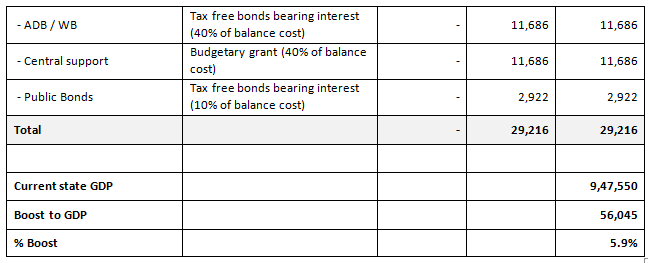 This one time expenditure shall create long term growth initiative with educated students and parents willing to send them to the schools.
In fact, the primary conditions for giving such high orders for:

Large screen like a 32 inch to 40 inch screen from a manufacturer such as LG, Samsung, etc. In fact, for such order, cost can be reduced to huge level due to large scale procurement. This one time large scale capex planned will take the education sector in Maharashtra to a different level.
A proper revenue / financial model can be designed as well to ensure that the state will not be in deficit. However, one thing important is you will raise overall EDUCATION in the state to a huge level.
Additional Use of Computer Assets:
Agriculture Record keeping for village and vicinity
Sowing patterns
Additional aid for Insurance scheme launched with the Government
Gram Panchayat digital record keeping
Scheme spend details to be input in the system
Expected growth in JOBS and further CONSUMPTION BOOST

This salary will be used to boost overall economic growth, boost demand and kick start consumption cycle. Plus, new jobs in MAKE IN MAHARASHTRA remain additional boost.
Save