A recent report published in Bulletin of Atomic Scientists, suggested that Pakistan has amassed an estimated stockpile of 130 to 140 warheads for delivery and will be the fifth largest nuke capable nation by 2025. Earlier it was thought that Pakistan had around 100-110 warhead, but the latest update means that Pakistan is ahead of India in nuke capabilities, atleast by volume. Not only this, Pakistan may become the world's third-largest nuclear weapon state in a decade from now, overtaking France, says the report titled "Pakistan is expanding its nuclear power".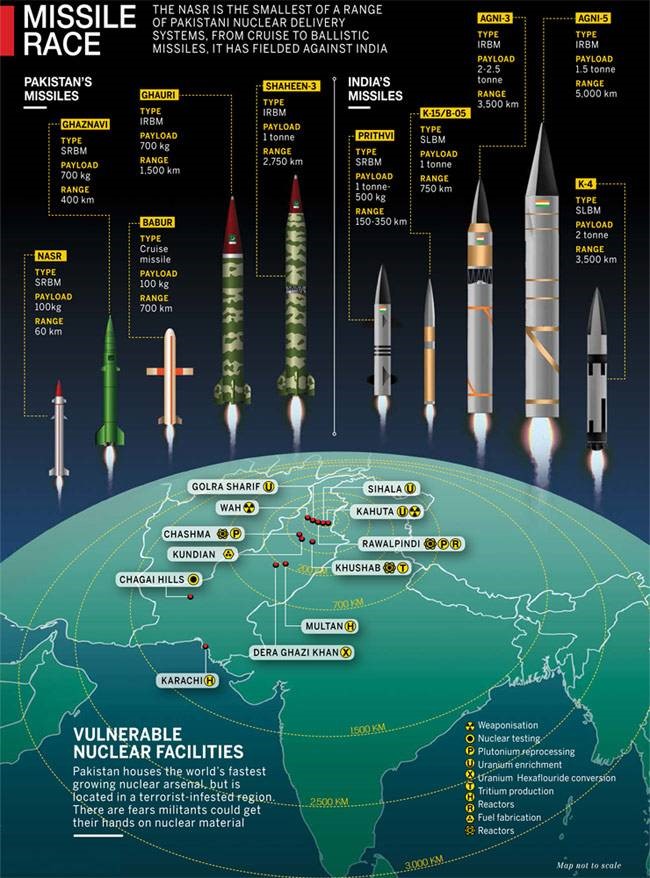 Its an open secret that Pakistan's nuclear missiles are nothing more than Chinese and North Korean missiles painted green, some examples given in the link:-
http://www.b14643.de/Spacerockets/Specials/Dong-Feng/index.htm
Speculation that Pakistan may become the world's third-largest nuclear weapon state – with a stockpile of some 350 warheads a decade from now – is not the least exaggerated because that would require a build up two to three times faster than growth over the past two decades, the authors have said. And, if tomorrow, Pakistan is cleared a designated terrorist state, then it will be a rogue state with a substantial nuclear arsenal. In late 1970s, Zulfikar Bhutto had declared "Our people will eat grass if need be, but will do everything to build a nuclear bomb".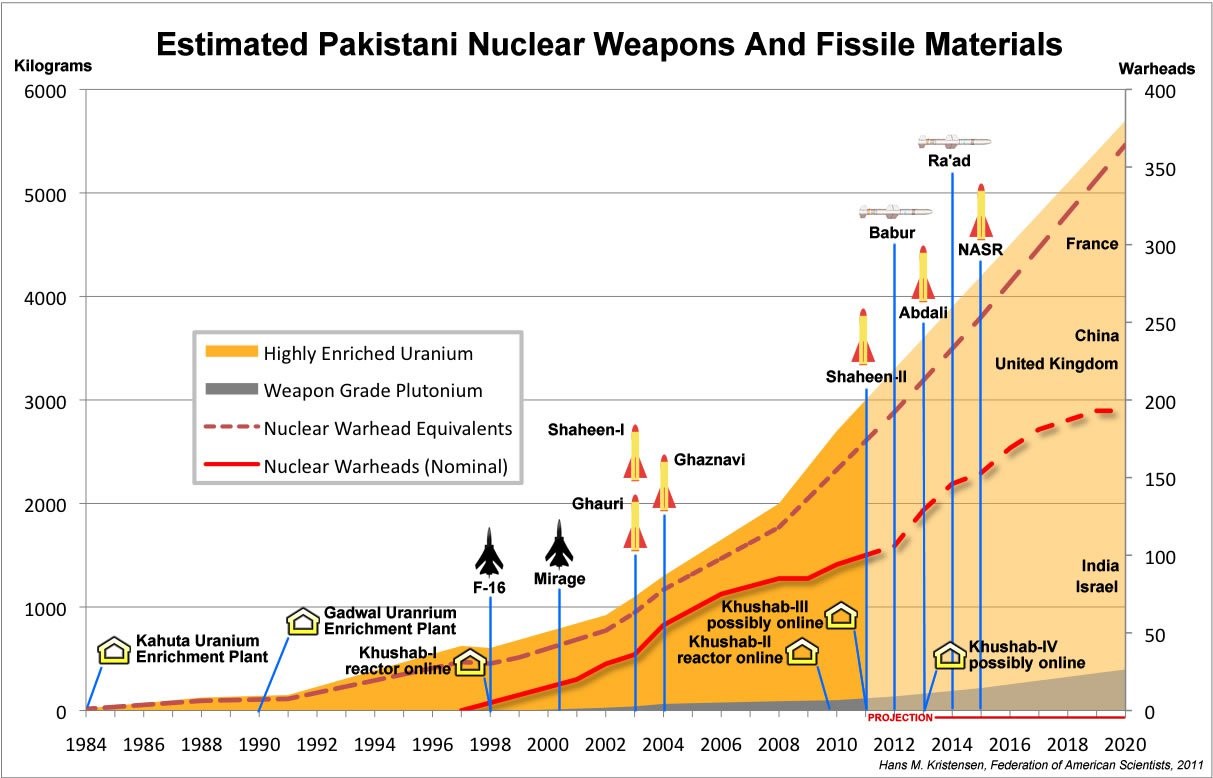 Pakistan gives justification of its nuclear arsenal to India's cold start doctrine (proactive strategy to mobilise major formations at short notice to launch a surprise strike). Though India officially denies the existence of such a doctrine, it was first enunciated by the Indian army after the Kargil War in 1999 and the terror attack on Parliament in 2001. Policy experts had complained that it took months for the Indian army to ready its strike corps for a counter-attack on Pakistan. Since then, India is supposed to have developed a proactive strategy to mobilise major formations at short notice to launch a surprise strike. Pakistan has always been brave in its stance against India because it knows that if something goes wrong , which is always the case, USA and China and the OPEC lobby will always be there to save it.  Cold start was designed to avoid the wastage of time due to mobilization period  (the shortcoming was seen most prominently during Op Parakram in 2002) for the forces to assemble . This will enable the Indian armed forces to launch a multi pronged attack within 24-48 hours.  
A word Pakistan uses often is ''tactical nukes", ie the nuclear payload that can be delivered over short distances,  with missiles like Nasr, to deliver a crippling blow to the advancing troops in its territory.
Pakistan's NCA, in 2002, had listed four conditions that would elicit a Pakistani nuclear riposte. These were: if India conquers a large swathe of Pakistani territory; if it destroys a large part of its armed forces; if it strangulates the Pakistani economy; or if it causes political destabilisation. Pakistan also retained the option of striking first and its nuclear threshold is deliberately ambiguous so as to generate uncertainty in the minds of Indian leaders. In contrast, India has a No First Use (NFU) nuclear doctrine but reserves the right to massively retaliate if Indian forces, populace or territory suffer a nuclear, biological or chemical strike.
So has Pakistan finally got the edge over India ? Has it checkmated India?
Hassan Nisar, the celebrated Pakistani  columnist,  says that the nuclear capability that Pakistan is so proud of, is like a wheelchair bound wrestler, with strong biceps, but paralysed legs, who can only brandish his bulging arms, but wont be able to run even a step to retaliate if a kid slaps him. He has a good reason to say that.
A difference of 10-20 nuclear warheads is no reason to panic. Having a nuclear warhead and having the capacity to fire all of them at the given targets effectively are two different things. Even if Pakistan overtakes France's tally, they simply cant use them. India is too big a country to be finished in a primary strike, but Pakistan can be annihilated with no more than a dozen nuclear warheads. US strategic analyst Ralph Peters, the author of Looking for Trouble, explains, "Pakistan's leaders know full well a nuclear exchange would leave their country a wasteland. India would dust itself off and move on." Ashley Tellis , who has written several defining books on India's nuclear programme ,points out that it would take "300 to 400 Hiroshima-sized weapons, not tactical weapons, to stop an armoured corps". He says that Pakistan just doesn't have the numbers to sustain such a nuclear battle.  And even the US has abandoned tactical nukes because they are not effective war-fighting instruments
(http://www.tehelka.com/let-us-not-go-ballistic-over-pakistans-nukes/?singlepage=1)
Plus, if Pakistan even does use its so hyped tactical nukes on advancing Indian forces, only a part of the Indian forces would be destroyed, but vast territory of its Punjabi hinterland will be made barren forever, bringing starvation to its people. And the rest of remaining Pakistani territory will be destroyed by Indian retaliation.
Nuclear warfare is not some hit and run counter terror raid or a covert commando military operation. Even the American presidents or Chinese Premiers get overwhelmed thinking about its possible use.
Pakistan has been bled badly by the madrassa bred dogs it had reared to attack India, with terrorist attacks over the years costing close to a 100000 civilian lives, with even the police and paramilitary training academies and naval ports suffering . It is also since 2004, been fighting a bloody war against the Waziristan separatists (a war which has received little coverage in the media), costing close to 10000 soldiers killed and over 10000 injured (official figures, real figures can be more than double. According to some reports, Pak Army has lost an equivalent of two divisions in Waziristan alone), with no end in sight. Add to that the separatists in Balochistan, and now growing Pashtun separatism in places like FATA, Pakistan army has its hands full. Rhetoric aside, a full blown confrontation with India is its worst nightmare.
Pakistan's economy simply cannot sustain a long drawn war. It cannot keep producing nuclear weapons in huge quantities without bankrupting itself, no matter how much handouts it receives from the gulf states and USA or China. Having more nuclear warheads is by no means an assured strong position. Soviet Union had much more nuclear warheads than USA did, but that did not prevent its collapse due to its own weight.
An arms race will be hundreds of times more ruinous for Pakistan than it will be for India. In its race to destroy India, it is well on its way to become a Chinese satellite state, if it isn't one already. Piling on weapons at the cost of other development issues due to arms race can ruin the mightiest of nations. Soviet Union is the biggest example of this.  USA did not go that way, but the military industrial complex bleeds it dry, making it necessary to manufacture wars around the world in case there is none already. No president who comes to power can counter the arms lobby, and is forced to keep these industries running to produce useless arms which have little use at the cost of billions of dollars every year
Some examples are :-
M1 Abrams tank manufacturing is kept going to keep 10000 jobs , and literally hundreds and thousands of tanks are rotting away in their ''graveyard"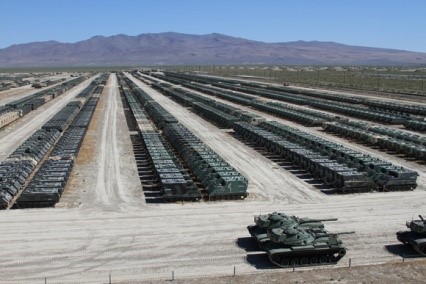 F 22 raptor. More than USD 400 million have been spent on its development and yet its yet to be combat worthy.
SWAT tactics used by policemen in USA for the flimsiest of ''crimes'' like breaking into a house to arrest a person smoking marijuana. Militarized police exists in many cities because the govt is compelled to buy excess arms left over after sales to the army and terrorists around the world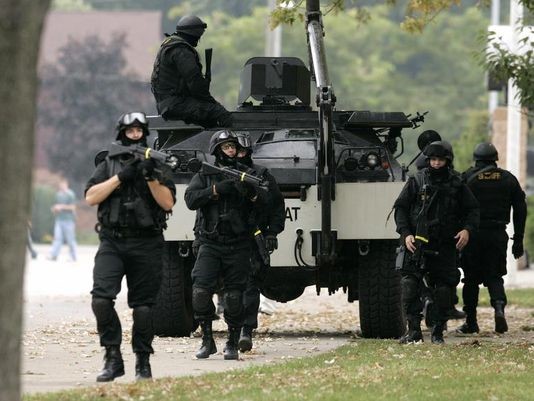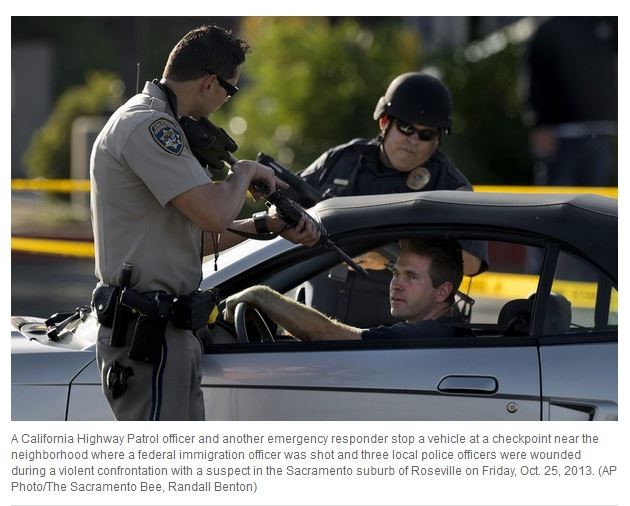 Pics: When you have a police like this, understand that they are there to keep you in order, and not to protect you. Thank your lucky stars that India is not USA. Imagine if your local corrupt policeman had this power to lord over you.
While it is true that Pakistan is a land held by the world's seventh largest army (which unlike India's is self funded via its own money laundering racket and owning 40-45% of the country's assets) and is strategically important for the west and China, there is simply no excuse to not taking a strong stand against it because "good god they have nukes". Peace at the cost of self respect is not different from being a second class dhimmi citizen in sharia rule. ISI's infiltration into India is much more than RAW's into Pakistan, for the simple reason that they have their ''aman ki asha'' agents among the politicians, bureaucrats, journalists and artistes to subvert the Indian public. And that is more dangerous than any nuclear bomb.