A girl was born into an Iyengar family with both grandfathers working, one for the Mysore Kingdom and the other for Hindustan Aeronautics. But her father – despite being a lawyer squandered his family wealth and died when the child was one year old.
Her mother started working as a clerk before entering the film industry. The young girl, like many girls in Tamilnadu, learnt Bharatanatyam, while being in school. Remember the song 'Zaroorat Hai Zaroorat Hai' from the film Manmouji with Kishore Kumar as hero? Well, there is a two minute bit of one classical dance sequence in which Radha and Krishna play with one another. Krishna's character was played by Jayalalitha.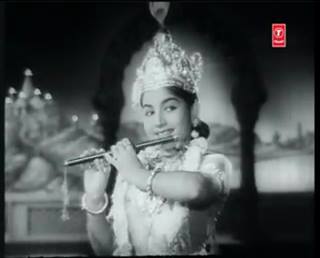 Financial condition forced the girl to abandon studies and take up the film career. And the young student who topped Tamil Nadu State Board of Matriculation, went on to rule Tamil films before ruling the State itself, eventually.
Yes, Jayalalitha JayaRam was a state topper, who abandoned her studies – like many girl children. Yet, she could speak fluently Kannada, Tamil, Telugu, Malayalam, Hindi and English. Her debut speech in Rajya Sabha was commended by Indira Gandhi, for her fluency in English.
Of course, she ruled the Tamil film industry, being the leading lady of MG Ramachandran in many films. He encouraged her to enter politics, and after the demise of MGR, though a faction of AIADMK tried to promote MGR's wife Janaki, ultimately people accepted Jayalalitha as the political heir of MGR and she continued the enmity with Karunanidhi, with renewed vigour.
There was a time when she was in the news for all wrong reasons. While in opposition her saree was pulled by Durai Murugan, one former minister belonging to DMK, exhibiting the vulnerability of a woman in the male dominated Assembly.
When she came to power, videos of her dresses, shoes and jewellery made news. Though it is widely known she was heavily rich even before entering politics and being single Jayalalitha may not need money, she got entailed in corruption charges.
She could never account for the 'sixty six crores' that was found 'extra' in her property. Of course, very few people could afford to make enemies with Dr. Subramanian Swamy, but she never gave a damn to the political maverick. She spent considerable time behind bars.
However, it was during her first term as Chief Minister, she introduced the 'cradle baby' scheme, with an aim to prevent female infanticide. She asked people to leave unwanted girl children in the government run centres. If not for anything else, only for this single scheme she would be remembered by all those men and women, who could never have been lived if not for the scheme.
Though the scheme was aimed at preventing girl infanticide, many male kids were left at these centres. Yet, most of her first term was remembered for the extravaganza over the marriage of her 'adopted' son, who was the son of her friend Sasikala.
Even to date, it is rumoured it was under Sasikala's influence Jayalalitha committed so many mistakes. Well, all the remittances of corrupt activities went to Sasikala and her son. Though Sasikala was thrown out of Poes Garden, the famous residence of Jayalalitha in 2011, there was a patch up immediately.
While in the office for second term, Jaya did what even Mughals could not do. She got the seer of Kanchi arrested for murder. Though Jayendra Saraswathi could come out clean after fighting in the courts for over a decade, he lost all the moral authority he commanded earlier – of course, it was he who could engage AIMPLB to discuss and resolve the Ram Janmabhumi issue.
She was considered to be towing the line of the anti-Hindu Dravidian policies, despite being part of Iyengar clan and highly religious in her individual capacity. But, that is how politics work in Tamil Nadu.
For the last few years, all sorts of rumours grew wild.
First, it was alleged Jayalalitha was being administered slow poison. Then came rumours before 2014 elections about her staff replaced by Gujarati staff, provided by Narendra Modi that helped her recover health.
It was even rumoured that despite being allies, Modi and Jaya fought 2014 elections separately, to prevent DMK and Congress join hands together. Whatever the reasons, AIADMK wiped out DMK and BJP achieved majority in Lok Sabha, on its own.
Smarting from earlier mistakes, Jayalalitha made serious efforts to become what people really expect of her. She became a good administrator and her schemes like AMMA Canteens, though started as populist ventures became a hit and were well received by citizens.
However, owing to ill-health she couldn't oversee regular administration, much to the chagrin of citizens. The failure of Tamil Nadu administration to respond to Chennai floods in 2015 was seen in this context and Karunanidhi, who let his son Stalin to rule on his behalf for two terms didn't miss the chance to talk of Jayalalitha's illness.
Well, it seems her advisor, former chief secretary of Tamil Nadu, Sheela Balakrishnan is running the show on behalf of Jayalalitha with adequate help from the current chief secretary P Rama Mohana Rao.
Except for the noise made by Karunanidhi on the health condition of Jayalalitha, as such the administration is normal.
There were reports that Jayalalitha already finalised Sheela Balakrishnan as her successor. In the state that is famous for its love of native language, it is truly harmonious with the custom and practices of Tamil Nadu to have a Kerala born lady to lead the state, after the Karnataka born Jayalalitha.
Of course, even Karunanidhi was born in a Telugu family, but in Tamil Nadu. Yes, the origins are not important for they lie in the past. What matters is where one's loyalties lie, as of today. Rajnikanth, perhaps the most famous person born in a Marathi family would second.
Reference: http://www.catchnews.com/national-news/jayalalith-healthh-apollo-hospitals-makes-first-veiled-admission-about-nature-of-illness-1475508502.html