Social media is a tool that can influence one's brain to a deep extent, and none can escape it. True, it's not perfect, but certainly, in many cases, it can work wonders. The way every incident, whether pro or anti INDIA is analyzed on social media, balanced and also opinionated is something certainly commendable, which we seriously owe to Supreme Court, courtesy repealing the draconian Section 66 A of the IT Act 2000. However, some scallywags, who have not yet got over from the Left influenced hangover of 'Everyone is a crook save us!', continue to spoil the beauty of social media, making us facepalm ourselves with their tomfoolery.
Leading them, is the opinion based forum, Scroll.in.
Although it claims to be pro INDIAN, and neutral, like another competing portal, Swarajya Mag, it is rather far from it. Completely biased to the Left and the Pseudo Seculars, pro terrorist (see the unflinching support for people like Ishrat Jahan and JNU traitors), Scroll.in is apparently anything but neutral. To cut the long story short, Scroll.in is almost nothing but a smart peddler of lies, which can be the honest Twitter profile of the prominent intellectual terrorist (and unfortunately the Booker Prize winner as well), Arundhati Roy.
But why am I roasting Scroll.in? For the reason that their peddling of lies has crossed all limits. One of their columnists has declared, that the new strategy of Bharatiya Janata Party to explore 115 new Lok Sabha Seats for the upcoming 2019 General Elections is nothing but an attempt to cover up their apparent failure in their strong bastions. If you don't believe me, then see this:-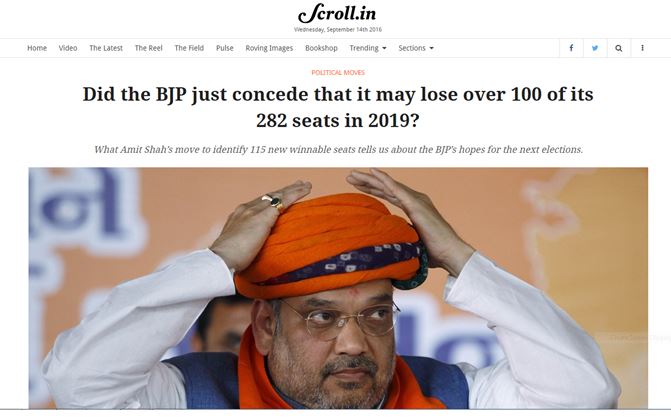 As  per the headlines, the columnist wants to indicate that BJP is afraid of losing power in 2019, long before the election campaigns have even begun! In his self righteous tone, he has allegedly declared as noted:-
"However, inherent in this admission is the fact that the BJP has conceded, for the first time, that it expects to lose over 100 of the 282 seats it won in 2014 in the next general election."
The BJP general secretaries insisted that the gain of 115 new seats would offset the "natural" losses in states like Madhya Pradesh, Rajasthan, Gujarat, Uttar Pradesh and others in 2019."
This wasn't the end. Like Arvind Kejriwal, he went on to claim, to quote him, that "Thus, the belief that Shah would perform electoral magic here in 2019 in the manner he did in the Hindi heartland in 2014 is hard to fathom.
……………..It is equally interesting to note that the BJP leaders in question have admitted that they will lose seats not just in Madhya Pradesh, Rajasthan and Uttar Pradesh, but also in Gujarat, the nerve centre of the BJP's strength today."
Now for the hard facts. It's true, that Amit Shah did hold a day long convention meeting at the BJP headquarters in New Delhi. It's also true, that he held a separate after the official one with his trusted aides. But what the National President of BJP actually meant was this:-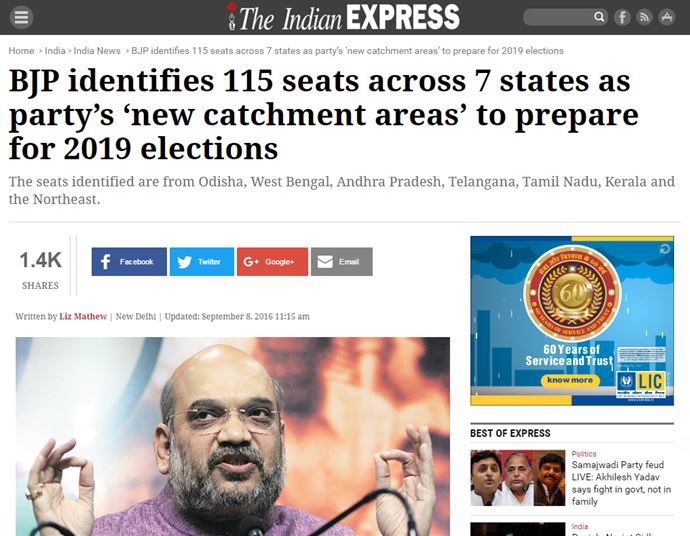 Yes, according to the meeting, what an impartial observer can easily deduce, is that BJP is looking forward for new areas, like West Bengal, Telangana, Odisha etc. to make a strike for. The apparent fear of anti incumbency might be possible, but only if the people are as dumb as the denizens of Delhi and Bihar, who voted for scallywags like Arvind Kejriwal and Nitish Kumar, despite knowing apparently well that none of them actually cared for their regions. Got that, Mr. columnist? To be a bit filmy, if a lion steps back, that doesn't mean he is going to run away. Who knows if this might be his most lethal strike?
Agreed, for once, that BJP is facing trouble in Gujarat. But compared to other parties, it is in a dilemma on whether to use strict action, or make for concerted action with minimum losses. Strict action in places like Gujarat simply means considerable loss, which can be used sinisterly by the opposition as a political leverage to blow the image out of proportions. Remember Bisahda and Rohith Vemula? Would BJP love to strike their feet on the axe again?
Besides, we should also look at the one talking. Scroll.in, to be precise, is anything but an observer. Like the pseudo liberals, they are against anything that is pro INDIA. Labeling the likes of Burhan Wani as martyrs, and terming the change in academic curriculum, including inclusive history of the Rajputs, and the inclusion of Sanskrit as a compulsory language as 'Saffronization of Education', Scroll.in doesn't look into its own backyard before attacking.
The way they duct taped themselves on issues like Jisha Rape Case in Kerala, the bail of Mohammad Shahabuddin in Siwan, Bihar, the Kashmiri Holocaust of the 1990s, is certainly the identity of every intellectual terrorist sucking on the honest Indian taxpayers' money. Will you trust those who glorify terrorists? Will you believe those who know nothing better than making a lie so big, that it appears apparently to be the TRUTH? To be honest, if the answer is yes, then God only knows how INDIA will fare in the coming years. But if I can see INDIA changing, I hope this nightmare never comes true.
As for Scroll.in, Social media is not the playschool, where you can show any trash and get away with it. Besides, this is INDIA, where people's minds and the strategies of political parties cannot be predicted. Governments have fallen for something as odd as onion. Then how do you think that the BJP will definitely lose their seats in 2019?
Scroll.in, and their esteemed columnist, please grow up. This is 2016, not 1970s, where your all benevolent Mother was the only person in INDIA, who was absolutely correct. If you're still not convinced, try some lemons. Your pseudo liberal hangover will definitely get over, it's a promise!
References:-
http://scrol.in/article/811255/valley-of-martyrs-burhwan-wani-like-others-before-him-knew-he-was-going-to-his-death
http://scrol.in/article/811059/the-legend-of-burhan-wani-how-the-new-militants-of-south-kashmir-have-become-local-heroes
http://scrol.in/article/808377/by-comparing-akbar-to-hitler-bp-shows-theres-no-place-for-even-a-good-muslim-in-indias-history
http://www.business-standard.com/article/politics/bp-eyes-100-115-seats-in-northeast-coastal-states-for-2019-ls-poll-116090701413_1.html
Save