What can 1% Land Use in the State of Maharashtra can do to Solar Power for the Country?
 Lets keep an Open mind while we read this one and taking into consideration the Land Usage in the State of Maharashtra, where the Marathwada region is facing drought problem.
India is a power starved nation, and I will not get into statistic (that will be a detailed post). In fact, I am happy that the government has huge focus on SOLAR. The government has drafted a great policy on Renewable Energy. However, more is needed and in fact with the deep pockets of IFC, Softbank, etc., the government should rather create a separate SOLAR POWER COMPANY.
Just to give you an example of Maharashtra:
Following is land utilization statistic of Maharashtra: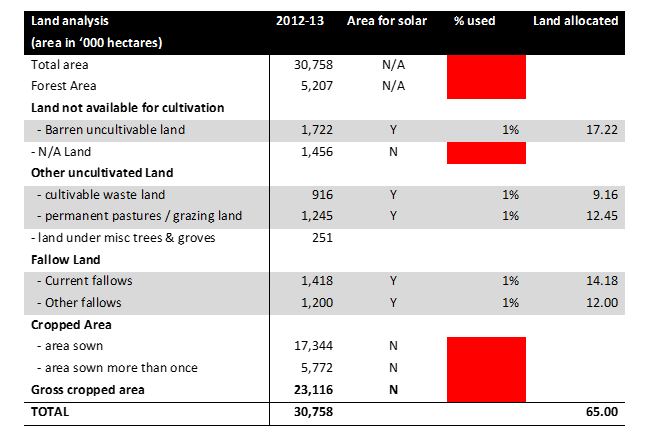 Note: The red section points to areas which cannot be used; while the percentages above say 1% in the above table points to the Fact that we / the Government is able to identify at least 1% of the area above for Solar Project.
If we look at the above table, all we are saying that for the Areas highlighted in GREY, identify at least 1% area for Solar Project. Now, these 1% translates to 65,000 hectare. The following table now gives us a overview of Potential Solar Power Generation from this 1% Land Use:
Setting up SOLAR power plant

Note: The price of Rs. 6.0 cr., per MW can be reduced with higher solar power projects which shall be procured on such high purchases.
How does one Finance this Venture?
The Government puts out a separate Solar Company which shall be financed as under:
Solar SPV company financed by:

Note: ECB borrowing at LIBOR plus all in cost, from IFC, World Bank, etc.; with say a dollar denominated pricing or Pricing which is adequate to cover all costs.
Why have I included Softbank and Foxconn?
In 2015, Softbank & Foxconn has committed to invest at least USD 20 bn in Solar Project.

Source: http://www.livemint.com/Companies/VXBRbs9HVdDbEIJJeB5NYP/Softbank-to-double-India-investment-to-20bn.html
Baby Steps to Go Ahead
Given the niche of the industry, better to award to contract to Solar City, Yingli, etc., with the commitment to MAKE IN INDIA. In fact, better to award to professionals and employ LOCALs.
This is Rs. 200,000 cr., order book, the world will come running to give set up in India. One may argue this is large.
Let's take a 5 to 7 year horizon and implement this, explore option to make this HAPPEN, rather than discuss how it cannot happen.
And, along with Solar, the same land should have a agriculture development possibility within SOLAR premise; like Horticulture that can happen in shade or pathways, etc.
The major issue that can crop up here is Land Acquisition. In that case, the Government should explore an option of LONG TERM LAND LEASING with the Land-owners. Further, instead of paying farmers or land holders in monetary terms, the government should issue bonds to them carrying an interest on 10% on the land value. This shall act as good revenue to holder of land. In the case of Maharashtra, Marathwada is facing a drought situation, in that case this shall be a good source of livelihood for the land owners; plus exploring inter-cropping options for the said Solar parks should help in creating additional income.
What's the basic impact?
Expected growth in JOBS and further CONSUMPTION BOOST

Note: Job creation stat based on Economic Survey of Maharashtra report
These salaries shall boost overall economic growth, boost demand and kick start consumption cycle. Plus, new jobs in MAKE IN MAHARASHTRA / INDIA remain additional boost. Moreover, these projects come with a life of 15 to 20 years.
So, there is recurring jobs to be created for each MW of Solar Power. In fact, with scale we are actually creating a huge industry for a region.
So having said that, why not start small?
Let's start small say tap the unutilized MIDC land as under:

Source:
* Unused Industrial land "Desai informed that more than 16,000 hectares of land is lying unused and has been taken over by the industry houses without starting production": http://www.business-standard.com/article/economy-policy/maharashtra-govt-to-take-back-unused-industrial-land-115111701406_1.html
Renewable energy installed capacity:
https://en.wikipedia.org/wiki/States_of_India_by_installed_power_capacity
In conclusion, based on Media reports, with 16,000 hectares lying unused, there is potential to generate ~7907 MW or 7.9 GW of Solar power in this land. In fact, for simplicity sake, lets say only 50% of this is used still it translates to ~3.95 GW of power generation capacity. Its time, our Governments get focussed.