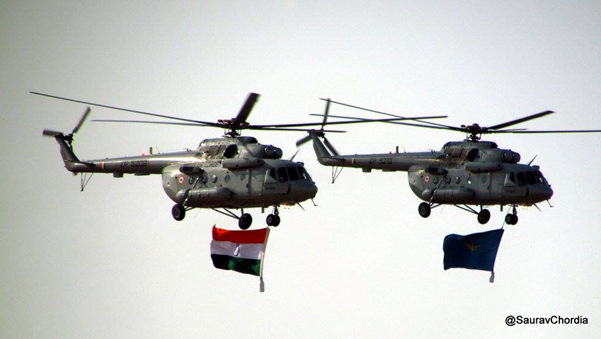 (All image credits Saurav Chordia) Mi-17 helicopters displaying the Indian flag at Iron Fist
The Iron Fist exercise was conducted by the Indian Air Force (IAF), which in the fourth largest in the world, in Pokhran, Rajasthan on 18 March.
The day-night combat exercise, which was first held in 2013, will see the participation of more than 181 aircraft including the home-grown platforms like HAL Tejas, HAL Light Combat Helicopter and HAL Dhruv, apart from IAF's frontline platforms like Su-30 MKI & A-50E/I AWE&C. The highlight of this exercise is to showcase IAF's growing focus on the concept of all weather, network-centric operations, precision weapon delivery and ability to deliver lethal firepower.
Prime Minister Narendra Modi and President Pranab Mukherjee witnessed the Iron Fist exercise at Pokhran Field Firing Ranges along with various cabinet ministers, political leaders and top officials from different arms of the Indian military. The aim of the Iron Fist exercise, according to IAF officials, was to demonstrate a synchronized "aerial ballet" that showcases IAF's deadly combat capability over the entire spectrum of aerial operations. This exercise is meant to send a statement to India's adversaries about IAF's capability. The Iron Fist exercise showcased aerobatic displays by the Sarang and the Surya Kiran Aerobatic team. IAF Garud commandos and special heliborne operations were also showcased during the event.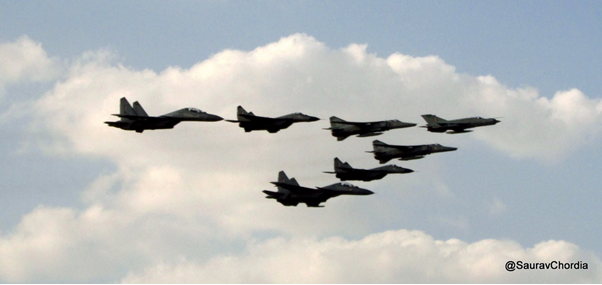 From right to left, Mig-21 Bison, Jaguar, Mig-29 and SU-30MKI at Iron Fist
All types of aircrafts, air-to-air and surface-to-air weaponry, and Special Forces took part. In total, 181 aircraft flew in 69 missions. Military transport aircraft like the American C-17 and C-130J,and the Russian IL-76 and its air refuelling variant the IL-78 participated alongside Fighter aircraft like the home-grown Tejas (LCA), Russian aircraft like the Su-30 MKI, Mig-29, Mig-27 and Mig-21, and French Mirage 2000, Anglo-French Jaguar attack aircraft. Helicopters that participated in the Iron Fist exercise included, the Russian Mi-35 attack helicopters, Mi-17 and its many variants the indigenous HAL Dhruv ALH and the underdevelopment Light Combat Helicopter. Training aircraft like the Swiss Pc-7 & the British Hawk advanced jet trainer also participated. Stupendous bombing runs were performed by SU-30, Mirage-2000, Mig-21 and Su-30 fighters and the Mi-17 and Mi-35 helicopters. Boeing C-17 and An-32 aircraft para-dropped the military's Special Forces which then conducted mock operations to showcase the might of India's Special Forces. Apart from aircraft, the Iron Fist exercise also showed surface to air guided weapons like IGLA, shoulder-fired missile system and the OSA-AK missiles striking down airborne targets.
Apart from the massive display of firepower, the event also showcased India's growing capability in the defence sector. Su-30 MKI aircraft successfully fired the indigenously developed Astra Air-to-Air missile. DRDO's indigenously developed Airborne Early Warning and Control System (AEW&C) and Akash surface-to-air missile, also developed by DRDO, was also demonstrated. India's very own LCH fired rockets on simulated targets and Tejas (LCA) displayed all kinds of manoeuvre inching closer towards FOC (Final Operational Clearance).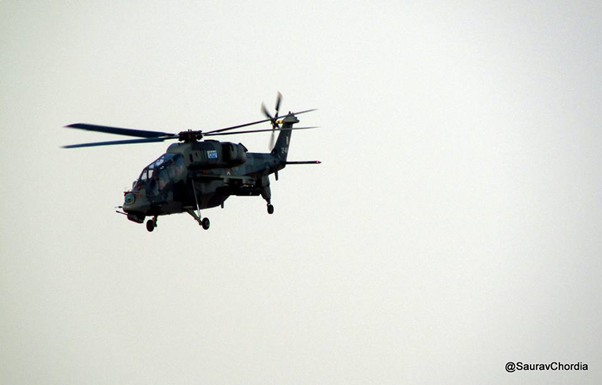 HAL LCH at Iron Fist
The exercise sends out a loud and a clear message to India's adversaries about IAF's capability.