The Deliberate Misinterpretation of Hinduism
Religion is a matter of great significance to the masses in India, when we adopted Active Secularism we repudiated the notion that the State should have nothing to do with religion, instead we adopted a policy in which the State promoted each religion equally without having a religion of its own. The policy was bound to fail in a country with a plethora of religious denominations promoting every religion became impractical and soon Active Secularism was used as a method of Vote Bank Politics.
The Arithmetical approach to Indian Politics, i.e. framing policies with an eye on the demographic scenario compelled some of the 'secular' Parties to divide the Majority Community among caste and sectarian lines and pooling of Minority votes by imbibing a sense of fear among them. Thus, began the most negative political campaign of our times, the deliberate misinterpretation of Hinduism. Following are the deliberately created false interpretations of Hinduism.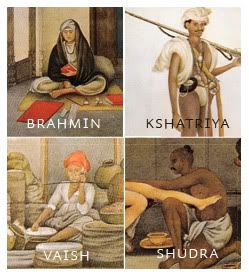 Misinterpretation of Hinduism: Caste Differences are inherent in Hinduism                    
Caste differences were a part of the Hindu Society, no one is denying that but to say that they were ingrained in the principles of Hinduism is a fallacy that has been purportedly created by Nehruvian Politicians. The Caste System was based on occupation and not on birth in its pristine form as is evident from the Mahabharata where Sri Krishna talks about how someone's occupation determines his status and not his birth. The Ramacharita Manas narrates how a Kshatirya Ram kills a Brahmin Ravana; over centuries the Caste System was polluted and rigidified on the basis of birth. Post-Independence the politicians were supposed to encourage Fraternity and make Caste Lines irrelevant but our Politicians instead took up the Reservation System and further rigidified the Caste System with permanency. This also divided the majority community on caste lines and the main reason as to why an incident of the Hindu being oppressed receives no real attention while a slight discrimination with any other Community becomes a 'National Issue'.
Misinterpretation of Hinduism: Hindutva is Hinduism
An Islamic lyricist wrote a song called 'Sare Jahan se Acha Hindustan Humara' which is now played during the Beating Retreat giving the song an official Status, where India itself has been referred to as Hindustan, but when the word Hindu is used nowadays by BJP and RSS leaders there is an unprecedented uproar about it. The main controversy is with the interpretation of the word 'Hindu' itself which refers to a culture or an Indian way of life but it suits the pseudo seculars to portray it as a religion in their political interest. Even the Supreme Court held in Dr. Ramesh Yeshwant Prabhoo vs Shri Prabhakar Kashinath Kunte, that Hindutva is a way of life and not a religion. But for political gains the so called intellectuals have started construing any word containing the term Hindu as the religion of Hinduism and thereby all Hindutva organizations to be communal in their own world where they are self acclaimed intellectuals.
Misinterpretation of Hinduism: Hinduism is a Misogynist Religion

The Ramayana and the Mahabharata are the two main epics of Hinduism and both the epics saw momentous wars being fought for the dignity of woman. The edifice of Hinduism is based as much on female deities as on male counterparts and none of the Hindu Gods are worshiped without their female counterparts. As far as recent Tamil Nadu Temple Controversy is concerned, there are certain religions which do not even allow women to enter their sacred areas and allowed them maintenance only after repeated interference by the highest Court of the land, but somehow it has been in the best interest of self acclaimed intellectuals and social servants to portray the Hindu Religion as Misogynist when in fact it is one of a very few religions which actually places emphasis on female deities, thus going beyond gender barriers.
Misinterpretation of Hinduism: Hinduism is Intolerant
Probably, the biggest lie being spread in India for the last 70 years or so is that Hinduism is the most intolerant religion in India even though it is one of the very few religions which accepted Judaism when Jews were being persecuted all over the world, Parsis would have lost existence had they not been accepted and welcomed in India by what was then a predominantly Hindu Country. India represents almost every world religion despite having what our intellectuals believe an intolerant majority, the fact that you can call Hinduism intolerant in a country where 79% people follow Hinduism goes on to show how tolerant Hinduism actually is.
Another related misconception is that Hindu religion is responsible for anything and everything that happens in any corner of India, in the year 2000, certain Churches were attacked in the State of Karnataka, Congress leaders did not wait for a minute in holding RSS responsible for the attacks, a couple of years later, we came to know that SIMI, a banned Islamic Organisation was responsible for the attacks. The same is the case with the death of Akhlaq, when RSS is being blamed for an incident in which the Courts have not as of now put the facts on record. If we go back in time, we come across how a noted journalist, Barkha Dutt blamed Kashmiri Pandits for their own persecution in the state of Jammu and Kashmir and how the RSS is still being blamed for whatever happened in Punjab in the 80s even though Bhindranwale was the brainchild of the Congress Leaders. So, for an incident that happens in India, the Pseudo Seculars constitute a Court of their own and in a society governed by rule of law, the RSS is denied a trial by a court of law and is held guilty repeatedly by the Sardesais and the Goswamis.
Conclusion:
Looking at the present circumstances the only hope of a neutral and unbiased interpretation of Hinduism is a greater unity among Hindus cutting across caste and regional lines not to promote any vote bank politics and inter religious animosity but to reaffirm their correct identity and ask for justice from the media and political corridors which have for long committed the sin of blaming them for anything that happens in India.