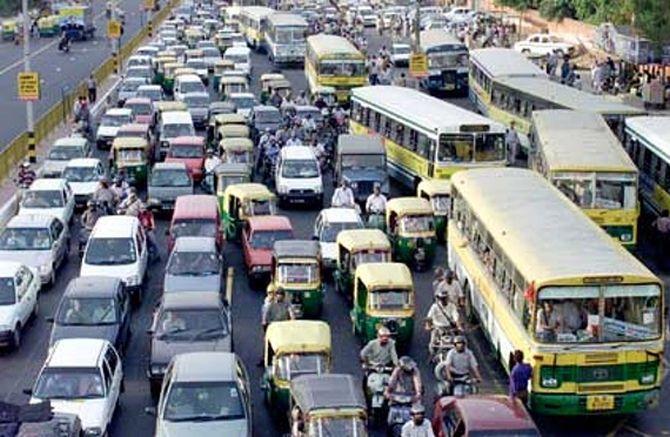 Odd-Even scheme – Spot the odd vehicle!
As fate would have it, we were subjected to Kejriwal on our TV channels on the first day of new year. One had gotten used to that because Kejriwal is seldom off news channels, however,  yesterday, there he was, announcing with his usual misplaced overconfidence, that the Odd-Even Scheme had been a raging success. He Even congratulated Dilliwallahs for the grand success of the scheme. Probably the fact that 1st January was a holiday for most did not cross his mind, Even if it did, chances are that his desperation to proclaim the success of Odd-Even Scheme got the better of him. For days now, this controversy over Odd-Even scheme has been raging. There are two schools of thought that are pouring forth arguments for/against this scheme. The first school is that of AAP/Kejriwal sympathizers who point out that 'At least Kejriwal is doing something'. (Sadly, this is the tragedy of 6 decades of Congress rule. People have been so starved for governance that any step, howsoever pointless is considered worthwhile).The other school would have us believe that the scheme is impractical and is bound to fail. A sound, lucid analysis of pros and cons of the Odd-Even scheme might lead to more rational and dispassionate results.
The Odd-Even scheme came into existence because of the alarming levels of pollution in the national capital. The first step towards tackling this problem would be by listing down the main sources of pollution in the national capital. Research indicates that the main sources of air pollution in Delhi are as follows-
i. Weather related phenomenon
ii. Vehicles
iii. Thermal plants and industries
iv. Burning of Municipal waste
There is some level of confusion on what exactly are the main sources of pollution, but the above factors are believed to more or less cover all major causes. Of the above factors, no solution can be found for point no.1. Incidentally, Weather related phenomenon is what drives up Delhi's pollution levels in winters. This leaves us with Vehicular, industrial pollution and wrong practices as the main factors. Of these, Kejriwal government has chosen to tackle vehicular pollution as a low-hanging, high visibility fruit. Let us now examine the Odd-Even scheme. For the first 15 days of January (excluding Sundays), only Odd/Even cars will run on Odd/Even dates. To this gets added a list of exceptions (too large to mention here), resulting in a situation where on any given day, the Odd-Even scheme will keep only 6.27% vehicles off Delhi's roads, i.e. a paltry 5.3 lakh cars. By keeping two wheelers outside the purview of the scheme, Delhi government has given a large source of pollution (32% of all pollution is due to two wheelers), the license to pollute. The responsibility to administer this scheme lies on Delhi traffic police. Reports indicate that the Traffic police is operating with at least 4000 traffic policemen short (its strength is around 5500). Its performance is evident in the way it struggles to maintain traffic discipline and adherence to rules on a daily basis.
These however are theoretical reasons. As on date, we have 2 days' data available to analyze the implementation of the scheme. The truth is somewhat different from what media channels would have us believe. There is no doubt that many Dilliwallahs have gone by the rule book, but there are reasons to believe that the response has been different in areas that are far away from camera's reach. Other than ITO, CP and other high profile areas, where traffic police presence is minimal, daily routine seems to have prevailed. Additionally, there is no data to prove that pollution levels on January 1 were markedly lower than those on 31st December. Also, if sanity was allowed to prevail, many would ascribe any dip to the prevailing holiday season and the absence of vehicles on roads. By giving school children an off till 15th January, Delhi government has smartly removed one major source of traffic congestion and air pollution- School buses. Instead of giving thumbs up to the scheme right now, the voice of reason indicates that one should wait till Monday and analyze data for at least a week before jumping to results. Given that the scheme will run only for 10-11 days, chances are there will be no perceptible long term reduction in pollution levels in Delhi.
The other impact of Odd-Even scheme will be visible on Delhi Metro and other public transportation. Given that not adequate preparation has been made to ease the transition into Odd-Even scheme, chances are that Devil himself will visit the national capital on Monday as commuters will struggle to hold on to their limbs in the Delhi Metro, or struggle to keep their little toe on the footboards of DTC buses. Either way, come 4th January, it will be one manic Monday. And that is not to say that there will be no congestion on Delhi's streets. With only 6% vehicles off the road, Monday traffic blues will be written in BOLD letters on commuters' faces.
The problem of air pollution in Delhi is complex. It is the doing of successive administrations, that have failed to address the issue adequately. The transition to CNG which held promise, was squandered by the lack of infrastructure to cater to the requirement of CNG vehicles. Issues such as crop burning in the vicinity of the national capital, ban on diesel vehicles, phasing out of old vehicles etc. could have been done, keeping in mind fixed timelines. It is unfortunate that past governments chose to keep their head buried in the ground in spite of serious nature of the problem, probably because taking action would have alienated their vote banks.
Mr. Kejriwal's Odd-Even scheme will not solve the problem of air pollution in the national capital, it is as simple as that. The problem is complex and requires a series of actions that need to be sustained over a period of time for them to show any results. It is possible that actions (if any) taken by Kejriwal will show results under the next government. Mr Kejriwal, however has never been one for patience and perseverance. He is content as long as the Mediawallahs lap up his scheme and the public does not revolt. It also helps that he has a solid backup in place, in case the scheme fails- Blame it on Modi! However, it is not that the Odd-Even scheme is without its merits- it can help enforce much needed discipline on Delhi's roads (without reducing congestion or pollution though) and that can be a good small start. If that start will translate into bigger gains in the future… Well that's a big if!
REFERENCES:
http://delhiair.org/india-and-delhi/what-causes-pollution-in-delhi/
http://www.dailymail.co.uk/indiahome/indianews/article-3377930/Odd-just-6-private-vehicles-Capital-s-roads-73-9-lakh-polluting.html
http://indiatoday.intoday.in/story/delhi-police-says-enforcing-odd-Even-scheme-would-be-tough/1/555121.html
http://timesofindia.indiatimes.com/city/delhi/Odd-Even-scheme-On-Day-1-Delhis-air-quality-fluctuates/articleshow/50409131.cms