Since Narendra Modi's Wembley magic , I have been wondering why such magic is not seen happening in Indian cities off late and why we have to wait to see the firebrand , decisive Narendra Modi till he leaves the shores of the country.
This has puzzled me, because I personally believe Narendra Modi has been the best Prime Minister for India till date when it comes to vision and ability to convert vision to mission. He has changed the way government machinery has been working in India, since occupying PMO. Various nonpartisan reports and opinions have publically acknowledged this.
But somehow the good work done by him is not visible within India and when Narendra Modi says at Wembley that India is much deeper than what you see in TV Boxes or through News Paper headlines, we can gauge the level of disappointment he has for media back home.
But I feel Narendra Modi is getting it wrong here. Because TV and National Print media plays an important role in forming the psyche of politically neutral public and it is not correct to assume that media is bias due to one reason or the other all the time.
If we analyze how the relationship between Media and Narendra Modi has been since 2002 onwards, It's a glaring fact that main stream media did in a way sideline Modi post 2002 and never really accepted the Gujarat success story as it is but always with many colored question marks.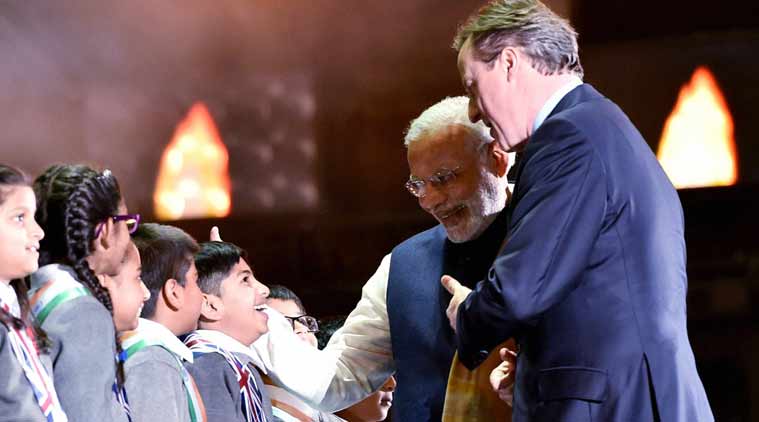 But BJP victory of Gujarat in 2012, according to me, did result in a sea change in Indian media over Narendra Modi's image. Suddenly there was a growing acceptance to understand the brighter side of Narendra Modi to his 2002 image. Media finally seems to have woken up to Modi magic and what we saw after that has been 24/7 Narendra Modi literally till his swearing in ceremony as Prime Minister.
So media did change its attitude towards Narendra Modi but whether Narendra Modi changed his view on Media is something, I am not sure off.
Point that I want to make here is the change in media post 2012 and how that change helped Narendra Modi to connect with a larger audience pan India via TV boxes and Newspaper headlines.
We have seen the response by viewers to Narendra Modi, wherever he was going as a speaker, it was nothing different from Wembley or Madison square in terms of viewer response. Whether it's Sriram College, India Today conclave and many such outings, which had resulted in huge fan following for Narendra Modi.
Now one must accept that in 2014, people had voted for Narendra Modi and not exactly for BJP. They voted for a decisive development focused Prime Minister. It was indeed a vote for personality and Advani was cent percentage right when he attributed victory to Narendra Modi ki Krupa.
Hence expectations from the voters / supporters are from Narendra Modi and not from Arun Jaitely or Rajnath Singh. Not just on governance but on political issues as well as ideological issues.
Now Narendra Modi has been defending and publicizing the progress made by his government but when it comes to political and ideological allegations, we see a different Narendra Modi, who is ignoring the issue or being silent, leaving it to his colleagues to respond.
Now during 2014 election campaign, we saw same allegations of being corporate friendly, divisive etc. being thrown at Narendra Modi by opponents namely the Gandhis but then there was a point by point rebuttal by Narendra Modi before 9 pm news room shows. This clearly meant all the allegations had life of few hours or till such time Modi ji rebutted on it.
Even though now it's not an election time, but look at ferociousness with which his opponents are attacking him and now remaining silent is perceived as lack of conviction or weakness, both of which were never attributed to Narendra Modi Yet.
We see oppositions ganging up against the government in parliament and block GST , put pressure and roll back of land reforms or see them raking up communal issues and other issues like growing intolerance etc. and we see no action from Narendra Modi.
I believe this has resulted in major confusion amongst both traditional support base and the neutral base, which matters a lot in elections. All those Modi Supporters, supports him for his decisiveness, ability to fix problems, ability to override petty political games and that's what he has been known for in Gujarat. How many times we have heard Gujarat assembly being held to ransom by few opposition MLAs, rather I remember on one occasion few trouble makers were evicted from the house.
Now all the Modi opponents knows that he has a strong image when it comes to governance but they also know that his weakness remains 2002 image and look at what they are doing , they are painting the media with their interpretations on each and every wrong thing in the country as the result of Narendra Modi's divisive agenda and media truly doing their job by printing whatever they get and here unfortunately it is the opposition whose view point is put forth strongly and the response by BJP brigade has been either arrogant or apologetic or too late. So in a way lion share of media coverage is going to opponents and whatever little space managed too is doing more damage than good.
Now the present speakers of BJP doesn't really matters to the public , for them they don't exist and they want Narendra Modi to come out strong on all the domestic issues either to fix it or bulldoze it. But they want action. That unfortunately has been missing.
Narendra Modi has been assisted well by his colleagues in governance but then when it comes to ideological battle and political battle, they have been way below par. Hence time has come for Narendra Modi to stand up and take up the battle of perceptions on his own hand. This will not only enable him to win back the media space but also get back with the support base both traditional and neutral.
If he doesn't do that now, I am afraid; things are going to be tough for Narendra Modi and for the Government going forward. Because already there is a question mark put on governments so called divisive agenda on one side, putting off neutrals and on the other, inability to crack problems posed by oppositions is being seen as same old, frustrating political weakness exhibited by successive governments making traditional support base turning to questioning.
People want to see Narendra Modi the way he had presented himself during the 2014 election campaign and not necessarily as a global leader or statesman like Vajpayee Ji at least in the immediate years.
Hence I feel Narendra Modi should do introspection on his Media strategy and do the corrections wherever it is required. Because in India at this age and time, TV Boxes and newspaper headlines do matter a lot to common man in shaping up his opinions. Hence it's important for Narendra Modi to be back on the domestic circuit discussing issues that is being debated and be on the TV Boxes and newspaper headlines with his view point. Its demanding ,considering his Prime Ministerial tasks but once it happens, Wembley, Madison etc will be a thing of past and we will have Mumbais and Delhis showing same passion and appreciation to the Leader Modi and his government. This I believe is needed now.
Hope Narendra Modi is listening!!!!