A Hindu girl sued her Muslim boyfriend: You must have seen the scene in the movie "Paan Singh Tomar" where Irrfan Khan's character receives an ice cream brick as a retirement gift, and Irrfan gets overwhelmed by the significance of the gift as he remembers his first test. In this way, he received many honours before, but this honour was something different. Now what has happened in Indore has brought similar respect to the creators of "The Kerala Story".
The awakening in Indore
Often whenever something goes wrong, and something indirectly inspired by movies is found in it, everyone says in unison, "Hey it's because of movies!" But when something positive happens through the same medium, which is effective in changing the society, it is ignored like ethics in IPL, and idealism in politics.
Why so? This is because recently a Hindu girl in Indore imbibed the message of "The Kerala Story" in such a way that she filed a case against her Muslim boyfriend. It is said that Faizan Khan [accused] used the same modus operandi which was shown in the film, and following the release of the film, the Hindu girl understood the implications and filed a case against her boyfriend.
Also read: Dear mothers and fathers, watch "The Kerala Story" with your daughters immediately
But the matter is not limited to Indore only. Another Hindu girl has ended her relationship with one Atiq Syed, who pretended to be a Hindu, after watching 'The Kerala Story' in Gujarat's Bharuch. According to sources, a Muslim youth named Atiq Sayyed, who lives in Bharuch station area, had registered his marriage with a Hindu girl living in Shaktinath area a year ago.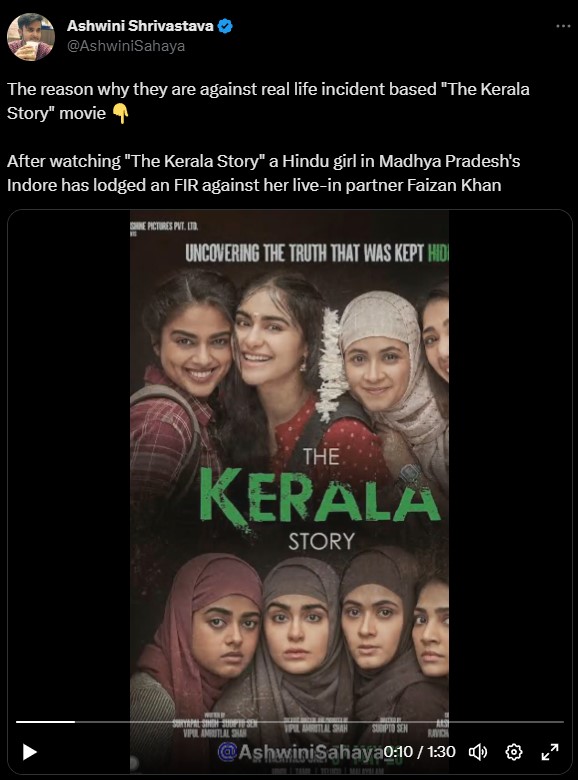 Also Read: What is Sengol: Tamil Nadu Connection, History, Significance and why it is to be installed in New Parliament
Is this why?
Like in the Indore case, here also the girl mentioned that she realized her mistake after watching the film The Kerala Story. She flatly refused to stay with Atiq. But Atiq is pressurizing the girl to stay with him. The girl confessed to her parents that she had made a mistake. Fun fact, even the parents of Atiq, even if for formality, are tired by his antics and have approached the police for help.
The Hindu girl informed her parents how Atiq wooed her and got her married registered. The girl has sought help from her parents to get out of this trouble. As of now, the case has been registered on the grounds of illegal conversion and harassment.
Also read: Indian Films Remade in Hollywood and More: A Celebration of Global Cinematic Inspiration
Now if this change has happened in Indore and Bharuch, then imagine what would have been the effect in other states? It is also heard that many cinema lovers from Bengal crossed their state to see the film in Assam. Is this one reason why folks want to ban it.
Support TFI:
Support us to strengthen the 'Right' ideology of cultural nationalism by purchasing the best quality garments from TFI-STORE.COM
Also Watch: