Chinese FDI: The world is blessed that, after a lot of setbacks, it has finally realised the true nature of China and its evil designs. Major economies of the world are shifting their supply chains away from China and opening bases in more open societies like India and Vietnam. Because of India's long border with China, India required a faster counterattack to tackle Chinese economic and political subversion. But decoupling from China is a long and complex process.
However, despite several hiccups, the Indian government and common citizens have been taking baby steps in the right direction. A major step towards decoupling with China went unnoticed again, courtesy of China's much deadlier and noticeable problem for the world, the COVID-19 pandemic. We are talking about the policy that the Modi government framed during the COVID scare. It was aimed at safeguarding Indian firms from "opportunistic takeover or acquisition" by Chinese companies.
A big no to Chinese FDI
Post the Galwan Valley clash, the Modi government has been categorically stating that relations with China are not normal. For faster economic growth, the Modi government has been streamlining the process of foreign direct investment (FDI) in India to make it simpler and faster. Contrary to that, the Modi government has been holding China accountable for its misadventures at the border and its attempts at economic subversion in the Indian market.
As per recent remarks by Union Finance Minister Nirmala Sitharaman, it is clear that India is in no mood to consider easing the restrictions placed on countries that share land borders with India or have an investor from the said nations. This move is particularly directed at China.
Also read: Chinese FDI in India might hit a perfect zero soon, Anurag Thakur's statement suggests
Minister Sitaraman recently highlighted the Modi government's efforts to curb Chinese imprints. On this line, the Modi government has sent around 54 Chinese FDI proposals to cold storage. Speaking on a query in Lok Sabha, the Finance Minister said, "54 FDI proposals received during the past year and current year with investor or beneficial owner from China or Hong Kong are pending for decision with the government as of March 21, 2023."
The political tensions with China heightened just a couple of years ago, and since then India has been working on a plan to limit Chinese investments in India. According to the finance minister, Nirmala Sitharaman, during the previous year, New Delhi had received about 54 requests for Chinese FDI. As of March 21st, 2023, these proposals are still in a pending state.
This decision is backed by an early policy the Modi government adopted in April 2020. Back then, the Government of India (GOI) amended the country's FDI policy to keep predatory Chinese investors from acquiring or taking over Indian companies.
Also read: China's debt trap diplomacy claims Kathmandu- Know why Nepal govt is singing China's tunes? It's the Chinese FDI
Government route for FDI investment
In a normal procedure, easier rules are put in place for major economies to infuse FDI investment in India. But contrary to this, strict procedures were implemented for all those companies that are based in countries that share land boundaries with India. Such firms have to get the prior permission of the Union government if they want to invest FDI in Indian companies.
As per the current regulations, only the official government route is available to companies based in countries that share a border with India. Additionally, citizens of these nations—or any person who would benefit from this investment made in India—can only make investments through the government route. Moreover, government clearance is required for any transfer of ownership involving past, present, or prospective FDI in an Indian company that results in beneficial ownership matching the criteria outlined before.
Earlier in an RTI reply, the DPIIT said, "388 FDI proposals have been received by the government since April 18, 2020, from countries sharing a land border with India." However, around 80% of the total FDI proposals were denied by the Modi government. The DPIIT added that only 80 proposals out of 388 were granted permission to invest in India.
In March, the Commerce Ministry informed the Parliament that the total value of investments from the countries that share a land border with India was 13,624 crore. These investments were made between April 18, 2020 and March 1, 2022.
As per the official data, around Rs 5,000 crore was invested in the drugs and pharmaceuticals sector, while Rs 2,907 crore was invested in the services sector.
An FDI Proposal Review Committee was established in October 2020 to examine security clearances for Chinese FDI proposals in greater detail. The committee's chairman is the Union Home Secretary, with the Secretary of DIPP serving as a member.
Also read: After blocking Chinese FDI, India blocks China from investing into Indian markets as well
The automatic route does not require a security clearance from the Ministry of Home Affairs. The automatic route allows FDI up to 100% in non-critical sectors. For investments in sensitive sectors like mining, telecommunications, satellites, private security firms, civil aviation, and defence, prior government approval or security clearance from MHA is required. FDI destined for sensitive areas like Ladakh, Jammu and Kashmir, and Arunachal Pradesh, among others, must also receive clearance.
This stern attitude towards the Chinese firms has not hampered India's attractiveness to attract FDI investment in the country. As per official data, India received the highest-ever FDI inflows worth $84.8 billion in services in the financial year 2022.
The annual flow of Chinese FDI investments from China to India in the last decade shows that Chinese firms have been constantly trying to reap the benefits of India's economic growth, but since the Galwan Valley clash, their extent has been decreasing or in a stagnant range.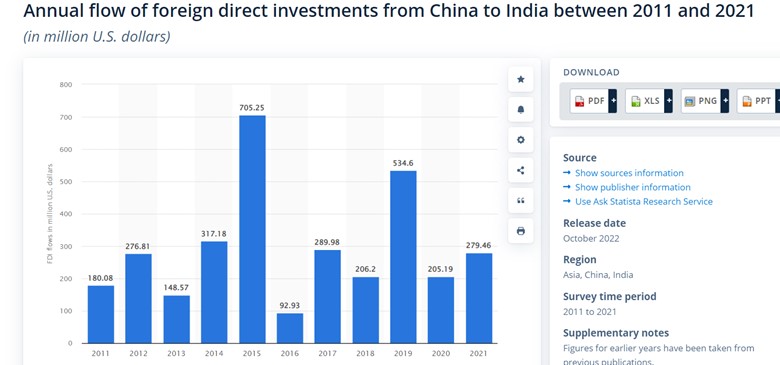 Source: Statista
Apart from these policy measures to limit Chinese investors, India has been cracking down on Chinese companies that have been involved in illegalities, be they economic or data theft.
Support TFI:
Support us to strengthen the 'Right' ideology of cultural nationalism by purchasing the best quality garments from TFI-STORE.COM
Also Watch: