Ukraine, Ukraine And Ukraine. Out of the last 365 days, not a single day has passed when we did not hear this word. It makes sense for broadcasters like CNN, Fox News, MSNBC, Russia Today, The Guardian, Reuters, The Economist, and many more. They have their national and financial interests closely attached to that. The puzzling thing is why Indian news channels are hooked up to it.
Do they not have a crisis of India's own to cover? For instance, apart from occasional coverage, there is a deafening silence on Myanmar's political, democratic, economic, and constitutional crises. Even the Indian government has taken a moderate route. The situation is deteriorating, and if this occurs, the North-eastern states will suffer greatly.
Myanmar's tryst with disobedience
Two years have passed since Maynamari breathed democracy into the air. The country is under military rule for the time being. This time around, the revolt is not weak, though it looked easy to crush in the beginning. Initially, civilians in Myanmar took to the Gandhian way of civil disobedience. Doctors, teachers, farmers, industry workers, and government servants refused to execute their mandates. Like a typical feminist rally, people's imaginations were used through designer protest marches. The question is, "How did they fare?
To put it mildly, they failed. The public has resorted to arms against the Myanmar Army. They have been successful in drawing Tatmadaw, the Myanmar Army, into well-organized guerilla warfare. In fact, there is a new army in the country called the People's Defense Forces (PDFs). Ethnic armed organisations and their trained rebels have joined the ranks of PDFs.
They have come up with their own access to high-caliber arms in the nearest illegal arms market. More recently, PDFs have been able to get hold of drones. They are also drawing soft power through strikes, processions, sloganeering, prayers, placards, and revolutionary songs. On the other hand, the Myanmar Junta is getting support from the Chinese and Russian governments.
Also read: As Adani scraps Myanmar Port plan, the US will be culpable if Myanmar falls into China's arms
Only time will tell which faction will emerge victorious. We can't predict. Especially in the aftermath of the Ukraine-Russia crisis. The West sees Russia and China as part of the anti-West axis. The possibility of Myanmar's guerilla warriors getting support can't be eliminated. If their purpose is to beat Russia and China, why not do it in Myanmar? Along with Ukraine, of course?
In any case, the problem for India is going to get bigger. Myanmar is too close, too connected, too ethnically related, and too strategically important to ignore for the Union government.
India-Myanmar equations
As any close neighbours would do, India and Myanmar share historic, cultural, and economic ties. Historically, Buddhism has been the biggest connecting link between both countries. 89–90% of Burmese follow Buddhism, which originated in India. It is one of the five pillars on which India-Myanmar relations are built. The other 4 are Business, Bollywood, Bharatnatyam, and Burmese teak.
Not so long ago, Myanmar was part of British India. Remember the iconic slogan "You give me blood, and I will give you freedom!" given by Netaji? It was announced in Japanese-controlled Myanmar during World War 2. After gaining independence, both countries signed a treaty of friendship in 1951. Later, the military junta took over the power, and it became difficult for India to maintain strong ties. PM Narsimha Rao, PM Atal Bihari Vajpayee, and PM Modi later tried to bridge the gap.
Also read: Rohingyas and Myanmar nationals entering the Northeast have become a major security issue, 14 arrested with fake Aadhaar cards
Both countries share strong ethnic ties. An estimate by the Ministry of External Affairs suggests that anywhere between 15 lakh and 25 lakh people of Indian origin reside in Myanmar. Living in Yangon and Mandalay, they are mainly engaged in export-import businesses or work as employees of multinational corporations.
The ethnic ties are stronger on the border front. India and Myanmar share a 1,643-km-long border with each other. Arunachal Pradesh, Nagaland, Manipur, and Mizoram share India's border with Myanmar. It is the only Southeast Asian country that shares a land border with India. Apart from that, India's border with Myanmar has triangular connections with China in Arunachal Pradesh and Bangladesh in Mizoram.
No wonder, both countries have a free movement regime (FMR). Under it, citizens of both countries living within 16 km of each other can cross borders and live in each other's territory for two weeks. A visa is not needed, nor are the rules of traditional customs' checks and clearance required to be followed.
Apparently, it has been done to maintain the centuries-long ties of people who have been separated due to borders created after Abrahamic colonisation. It mainly benefits people belonging to the Chin ethnicity on either side of the border. In fact, the disdain for the border is so great that many local tribes do not even accept it. They are ably aided by natural conditions like low mountains, high ridges, and peaks. The population density is not that high, and borders are mostly unfenced.
Also read: If the Modi govt were not in power, India would have become a dumping ground amid Myanmar and Afghanistan crises
The challenge posed by the crisis
This is where India's concerns regarding borders get bigger. The ongoing crisis has killed thousands of Myanmarese. For the first time in 57 years, Chin people living near borders have to hear the sirens of combat jets. These are operated by the Myanmar Tatmadaw. The crisis has started to affect the borders.
According to reports available in the public domain, entire villages are being burned down and emptied. Residential areas are being shelled. Loot, torture, and rape have become common phenomena. Both sides of the conflict are using humans as shields. With so much torture, Chin people are finding it easier to cross the more than 500 km long border with Mizoram and Manipur. Many have died en route.
By January 2022, more than 20,000 Chins had officially crossed the border to take shelter in India. According to a February 2023 estimate, the number has crossed 40,000. Given the kind of kinship Chin people enjoy with Indians, especially with Mizos of Mizoram and Kuki-zomis of Manipur, we won't be surprised if the unofficial numbers turn out to be more than 1 lakh.
Their rehabilitation is becoming a serious issue, not just economically but politically too. Mizo National Front (MNF), the ruling party in Mizoram and BJP's alliance partner in the NDA, went against Amit Shah's and the Home Ministry's mandates to help them. In nearby Manipur, the state government is a bit less accepting of Chin people, but locals are not happy with it.
Also read: China had grand plans to spill blood in India's Northeast, but Myanmar has foiled them
Conflict gives birth to a humanitarian crisis
Then there is the security cost attached to accepting them. The cost of violent conflict spilling over into the Northeast is high. Ethnic groups on both sides of the border are fighting for different factions. Meitei community-dominated Valley-Based Insurgent Groups (VBIGs) of Manipur are said to be fighting for the Myanmar Army.
On the other hand, the Chin National Army and the Chin Defense Force are fighting against the Myanmar Army. Tell me, why would the Metei community, which is dominant in Manipur, be accepting of the Chin community, whose fighters are against it in Myanmar? We are lucky that the fight has not crossed Indian borders.
What has crossed Indian borders are drugs. Yes, the India-Myanmar border is very close to the Golden Triangle. It is the region where the borders of Myanmar, Thailand, and Laos meet. The region is notorious for opium production.
Opium from this region has been used by Europeans and North Americans for centuries. Drugs like opium, heroin, and amphetamine regularly cross the border and are used to corrode the young and vulnerable. Reverse transportation is also a recurring phenomenon. Under a special campaign, 40,000 kg of drugs were destroyed in October last year. Home Minister Amit Shah was himself virtually present to see all of it.
It is not going to deter these mafias. The reason is simple. Their livelihood depends on it. And now insurgent groups' are also dependent on it. These groups help drug mafias cross the border for payments. This money is then being used to foster insurgency on both sides of the border. Make no mistake about it: both sides of the aisle are culpable for it.
Also read: India's Energy and Vaccine diplomacy – A masterplan to snatch Myanmar, Sri Lanka, Maldives, and Bangladesh from China
China angle
The harakiri has given China ample time and space to gain influence in resource-rich Myanmar. The communist nation is funding more than a dozen infrastructure projects in Myanmar. With oil and gas pipelines, roads, and rail links, the China-Myanmar Economic Corridor is only growing in leaps and bounds. Rakhine Chin, Sagaing, Kachin, Shan, and Kayin are the main areas in which China has poured tens of billions of dollars.
China sends gas from Rakhine to its Yunnan province through a gas pipeline. It wants to extract more oil, gas, precious metals, and stones from these regions. To ensure this, China has also sent its mafias to these regions. They are engaged in the illegal sale of arms, drugs, and even human hair. By hook or crook, China wants a big piece of Myanmar's energy resources.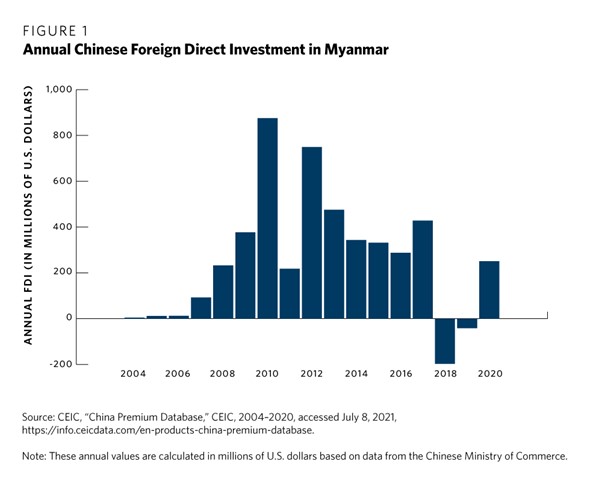 PC: Carnegie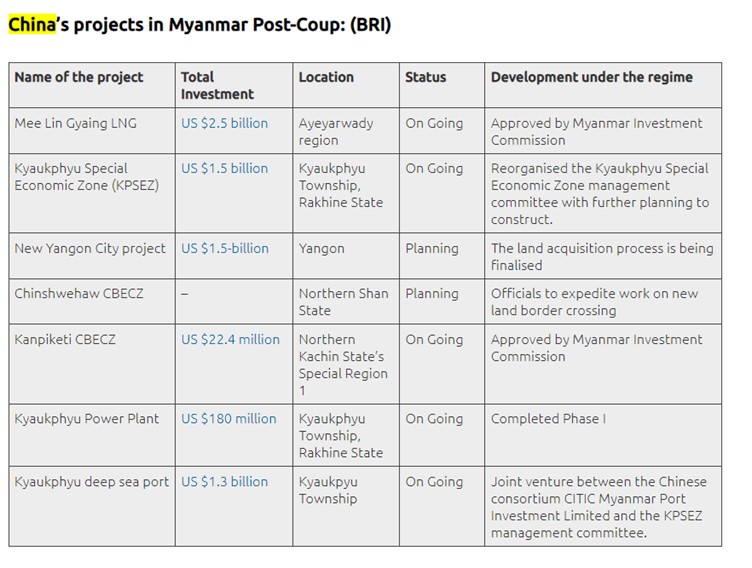 PC: Orfonline
Desperation is understandable since, through Myanmar, China wants a backdoor entry into the Indian Ocean. Another debt trap is just around the corner.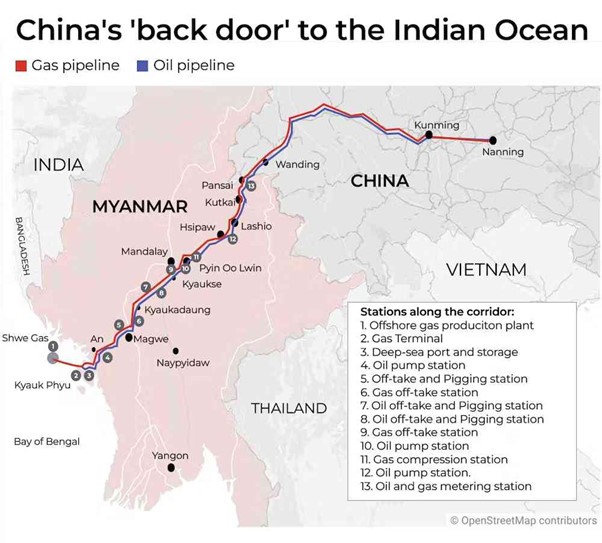 PC: Scroll
Wake up India!
This is nothing but a direct threat to India's Act East policy. In a way, Myanmar is a cornerstone of this policy. One of the goals of this policy is to make the Northeast a flourishing trade route. Myanmar is nothing less than a gateway for India's venture towards East Asia and beyond. For this purpose, projects like the Kaladan Multi-Modal Transit Transport Facility, the India-Malaysia-Thailand Trilateral Highway Project, the Mekong India Economic Corridor, the Delhi-Hanoi Railway Link, and the BCIM Economic Corridor are in various phases of development.
A few of them are proposed, the development of which depends on how much the Myanmar crisis does not hamper peace in the Northeast in the upcoming years. At the time of writing, active projects are running on delayed time.
Despite direct competition with China in Myanmar, the Indian government has adopted a policy of wait and watch for now. It has its reasons for doing so. For one, India confronting the Myanmar Army on the issue could end up with the Tatmadaw joining hands with China to create a ruckus on borders.
Secondly, India has a pact with Tatmadaw to share real-time intelligence against any anti-India insurgency group operating from the border region. In case India goes harsh, the Myanmar Army could abandon that. Thirdly, India does not want to be seen as a country that interferes in the internal affairs of a smaller neighbour, as articulated in NAM policy.
Those are virtuous goals, and India has done well till now. It is just that, till now, the benefits from non-alignment have been far greater than the losses. With China's aggressive push, the tide could soon turn. India should start leveraging its soft war to minimise its losses in the future.
Support TFI:
Support us to strengthen the 'Right' ideology of cultural nationalism by purchasing the best quality garments from TFI-STORE.COM
Also Watch: