Antony Blinken India Visit: It has become clear that India is not getting uprooted because of its stand with Russia. India has not given up and will certainly not give up in the near future either. While the rest of Europe is playing a game of tug-of-war, India remains unmoved, causing France to throw a hissy fit. It was visible at the recent G20 Finance Ministers meeting.
Contrary to that, the viewpoint of the USA is somewhat more lenient towards India. There are plenty of reasons for that, which we will discuss in the later parts. But the important aspect of US diplomacy now is to cut the band of restrictions around India so that it can take more bold decisions on international affairs, which obviously includes Russia. Let's dive deeper into why the charming US Foreign Secretary, Antony Blinken, has been making frequent visits to India.
Antony Blinken comes for the G20
On the sidelines of the G20 Foreign Ministers meeting, Antony Blinken met the Indian minister of external affairs, Dr. S. Jaishankar. The two ministers discussed various issues, including the review of bilateral relations, regional issues, the Russia-Ukraine conflict, and the Indo-Pacific. Of late, there have been many high-level visits between the officials of India and the United States of America. This includes Indian NSA Ajit Doval's visit last month. In the later part of the year, the White House is also expecting the visit of Prime Minister Narendra Modi.
Also read: Jaishankar's dressing down of Anthony Blinken has an immediate effect
India is not an ally, but more than that
One thing that needs to be clarified is that although India is not a Western ally, it is not even less than that when it comes to the agreements it has. That is, India is the only country pursuing nuclear trade without being a member of the NSG. It is because of the Indo-US civil nuclear deal of 2008, where the US made amendments to its domestic law. It was this agreement that became the basis for India's other agreements with the IAEA and NSG.
The relations further reached another height after PM Modi's visit to the US in 2015, when the US proclaimed India to be its major military partner, a status given only to US allies.
In recent years, India and the US have increased their ties to another level. The signing of the Logistics Exchange Memorandum of Agreement (LEMOA) in 2016 was followed by the Communications Compatibility and Security Agreement (COMCASA) in 2018.
The most recent agreement was the Basic Exchange Cooperation Agreement (BECA) in 2020. All these agreements augment India-US ties to a level where decoupling for both nations is almost impossible. The basis of these agreements is India's richness in its economy as well as its geopolitical advantages.
This makes the very pointed observation that, while India is not an ally, the US finds it difficult to be stiff with New Delhi. This brings us to another aspect of Blinken's journey. India visit of Antony Blinken is significant in terms of his en route visit to Central Asian countries. But first, it's important to understand the US perspective on India's ties with Russia.
Also read: India-US relations can't be strong until Democrats are in power
USA's view on India-Russia's future
The United States has worked tirelessly to isolate India from Russia. To that end, it is attempting to free India from reliance on the defence trade and oil, among other things. In September last year, a US State Department official said, "We have been in deep conversation with India about the fact that we want to help them have options to diversify here." If we look at India's defence import figures, it becomes crystal clear that India's imports from Russia are at an all-time low. Still, Moscow is the biggest arms supplier to New Delhi.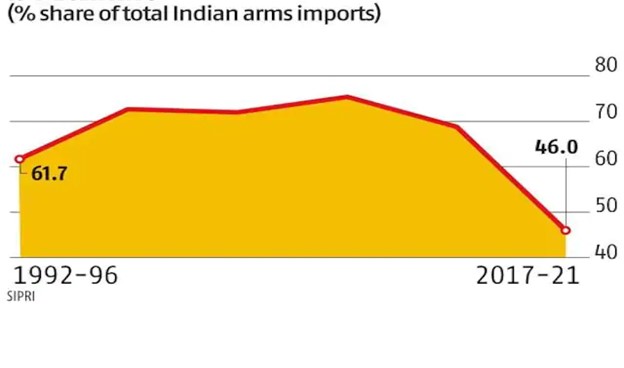 Following that in November last year, Ned Price, the spokesperson of the US state department, said, "When it comes to Russia's and India's relationship with Russia, we've consistently made the point that it's a relationship that developed and was cemented over the course of decades, really coming to be during the Cold War at a time when the United States was not in a position to be an economic partner, a security partner, a military partner to India."
On similar lines, it was reported in January that the US is looking to renew efforts on reducing India's defence and oil dependency on Russia.
This became more evident in the US's vision after India's abstention from the UNGA voting last month. Antony Blinken defended India's stand, saying, "There are countries that have long-standing, decades-long relationships with Russia—with the Soviet Union before—that are challenging to break off in one fell swoop. It's not flipping a light switch; it's moving an aircraft carrier."
So basically, the US has understood that it is not possible to apply the same tactics to India that they have earlier applied to other countries for negotiating their terms and conditions.
Also read: The last thing India wants is Russia becoming the satellite state of China
Antony Blinken Central Asian visit and aim at India
Now let me talk about visit of Antony Blinken to Central Asia and India. He paid a visit to Kazakhstan and Uzbekistan and met with foreign ministers of all five countries in the region. Antony Blinken announced a $25 million (€23 million) support package to help Central Asian nations diversify trade routes and create employment.
Interestingly, all these countries have not rallied behind Russia in the ongoing conflict. The visit of Antony Blinken in the region and India is a new experiment in itself, as Russia and China have a dominant influence in the region. Apart from that, Central Asia is also critical for India.
And as described earlier, bolstering ties with these countries is part of the US's policy to provide India another option of cooperation in the region, thereby containing Russia. This is actually a calculated move because, between Russia and the USA, the USA would become the more probable partner that can speak profoundly against China. Apart from that, India is envisioning connectivity to Europe through Central Asia, for which it needs transit rights from Pakistan. And Washington may tackle this concern in favour of India.
Also read: Why both Ukraine and Russia never say a word against India?
Indian rationale
The US approach is quite clear in India. But this does not mean that India views it in the same way. No doubt! India has remained neutral in the conflict. But there is not only a trade dependency factor. India has deep ties with Russia because the interests are built upon trust. That is why it becomes easy for the Indian MEA to say that Russia supported India when the collective west was busy supporting Pakistan.
Along with that, if for a moment we accept the US notion that India will reduce its dependency on Russia because it is not a reliable partner, then India can also not cut loose from Russia. Because the Indian leadership clearly knows that it has to diversify its sources, not just shift them.
Support TFI:
Support us to strengthen the 'Right' ideology of cultural nationalism by purchasing the best quality garments from TFI-STORE.COM
Also Watch: