In modern day and age, cities like Dubai, Sharjah and Riyadh are considered as epitome of development. Most of the people living there have everything they need. Excellent housing, clean water, weekend vibes and what not. Big institutions like the International Cricket Council are located in Dubai. Other cities also have their own share of prosperity. It really doesn't matter whether they import these facilities. What matters on the perception index is that they have it. And that is how companies all across the world keep flocking there, despite local governments not being democratic.
That was not always the case. Until oil became a saleable commodity important for building up on developments of industrial revolution, most of these places were barren lands with people moving around on camels for water and food. Even today, if you visit the outskirts of the cities, the difference between civilization and traces of barbarism will become clear. Such is the importance of oil that democracies are looking beyond their advertised value to invest in these places. It has completely altered the geopolitical equation, with the Middle East being the centre of it. But it is changing very quickly and by the phrase "very quickly", I mean at an unprecedented pace.
While the world is trying to detoxify itself from fossil fuels, Lithium is emerging as the new oil. Countries posing reserves of Lithium, no matter how remote the possibility of actually discovering, are constantly occupying significant positions on geopolitical stages. India, USA, Canada, European Union, China, Australia, Russia and many other powers worried about their future prospects are constantly looking to establish their control over mining, production and supply chain of the precious alkali metal. The geopolitical equations are turning upside down on an annual basis.
India's Lithium reserve
India just got its biggest breakthrough of the 21st century. The country just discovered its treasure of white Gold. And that too in a Union territory, which has been the most controversial in the history of political independent India. On 9th of February 2022, Ministry of Mines said, "Geological Survey of India for the first time established Lithium inferred resources (G3) of 5.9 million tonnes in the Salal-Haimana area of the Reasi district of Jammu and Kashmir."
Additionally, 51 mineral blocks, including those of Lithium and Gold have been handed over to the respective state governments. These states include Jammu and Kashmir (UT), Andhra Pradesh, Chhattisgarh, Gujarat, Jharkhand, Karnataka, Madhya Pradesh, Odisha, Rajasthan, Tamil Nadu and Telangana.
Reports indicate that more such reserves may be discovered in the near future. According to a report by ANI, in FY24, GSI is taking up 966 programmes comprising 318 mineral exploration projects. 12 of them are in the marine domain. 115 projects on strategic and critical minerals are in the offing.
Importance of Lithium
Lithium also comes in the category of critical minerals. It is used in rechargeable batteries for mobile phones, laptops, digital cameras, electric vehicles, and some non-rechargeable batteries for things like heart pacemakers, toys and clocks. Out of these, it is Lithium's use in batteries which has pushed its importance to such a high level. So much so that countries are ready to compromise with global world order, disrespect others' sovereignty and wage wars for it.
Studies available till date indicate that Lithium-ion batteries could transform the future of energy. For the world, it matters so much that 3 scientists namely John B. Goodenough, M. Stanley Whittingham and Akira Yoshino were awarded the Nobel prize in 2019 for providing the foundation on which Lithium's use in green transition became possible.
Consequently, the use of Lithium has witnessed a radical shift. Here is a chart depicting the change in consumption pattern of Lithium by different industries.

Trend in use of Lithium
In 2010, only 23 per cent of the available Lithium was being used by industries for Lithium-ion batteries. Ceramics and glass dominated the chart with 31 per cent of total share. Out of 5 major industries, the share of 3 of them in consumption was in double digit. Within 11 years, the tables have turned in massive proportions.
The share of Lithium consumption in batteries has increased by more than 200 per cent. In FY22, batteries comprised 74 per cent of Lithium consumption all across the world. The share of all other sectors was down by more than 100 per cent, with only ceramics retaining a double-digit percentage. Comparing it with the change in its use between 2004 and 2010, the growth is astounding to say the least.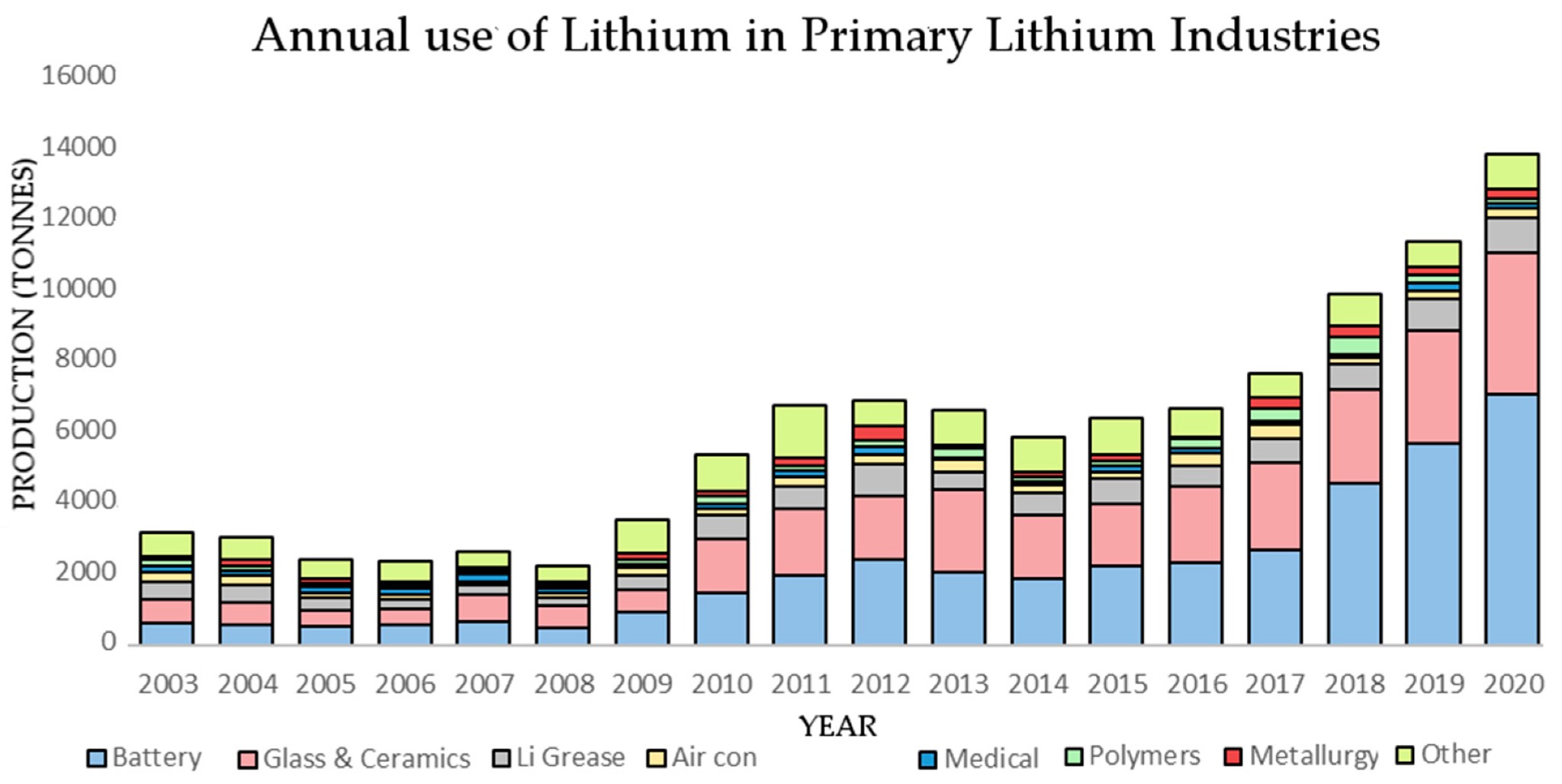 It is pertinent to note that between 2010 and 2021, Lithium production has quadrupled from 25,000 tonnes in 2010 to 1 lakh tonnes in 2021.
India has underachieved
So, where does India stand in this league? Well, sadly we have not been able to make much advancement in this sector. Like most of the countries, India is also dependent on the import of Lithium. India first rose to Lithium spectrum in FY2019, when buoyed by massive cell phone sales, India's import of Lithium imports increased by a massive 300 per cent to above $1.2 billion. The frenzy settled down a bit in successive years. Covid-19 also played a factor in it. In FY21, India imported Rs 8,984 crore worth of Lithium and Lithium ions. The number jumped by more than 50 per cent in FY22.
The rapid change became possible because Indians started to emphasise on buying electric vehicles. The following chart clearly reflects how the sale of EVs in India increased on a quarterly basis during the last few quarters.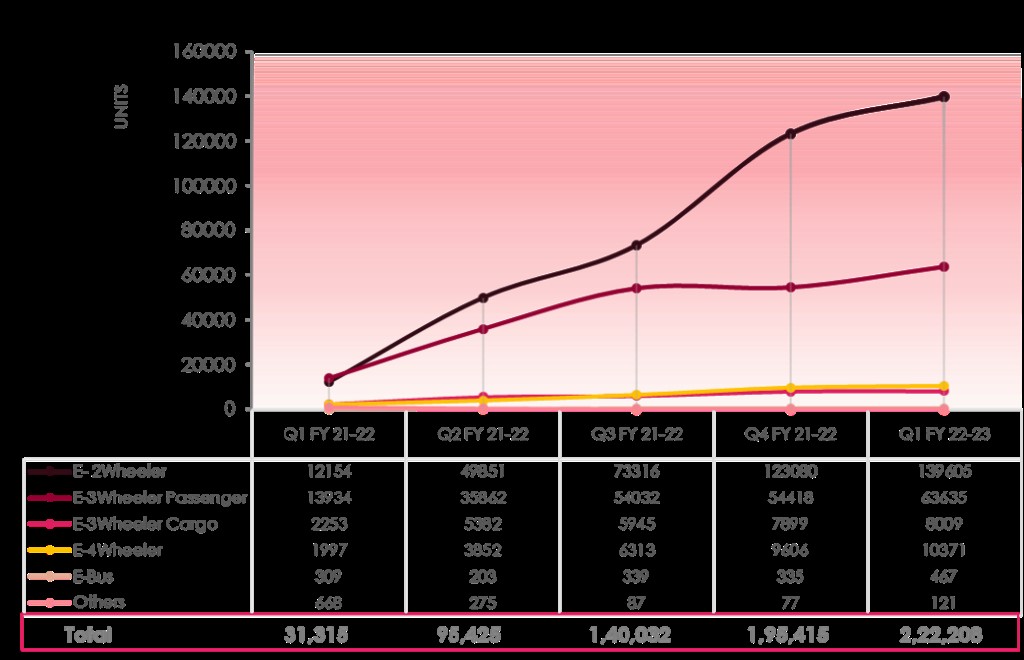 Projected growth and challenges
E-Rickshaw, e-scooter and electric cars are becoming common sights in India. The projected growth of India's e-vehicle sector is astounding. Compared to nearly 7.5 lakh e-vehicles sold in FY22, India is projected to be the home of 8 crore e-vehicles by 2030. That is more than 100 times that of the current capacity. For context, the demand jump in the global EV sector till 2030 is not projected to be more than 4 times.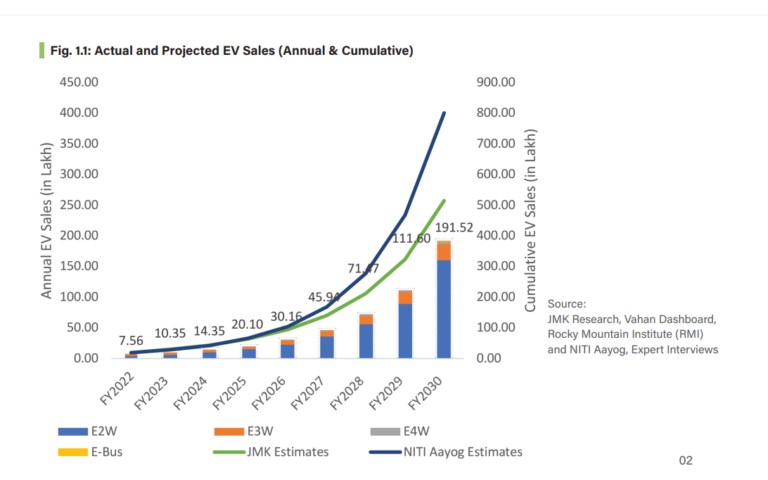 While the projection is good and gives India more respect, there is a problem with it. The problem is India's imports. Currently, we import 70 per cent of our needs from China and Hong Kong. Given the fact that our battery demand is projected to grow from 3 GWh to 20 GWh in 2026 and 70 GWh in 2030, it is not a healthy trend. I mean it's China and you can never trust it for anything, especially looking at the way the Communist nation has jeopardised others' interest in the sector.
China's dominance
If you look at the countries where Lithium reserves are and countries where Lithium is produced in highest quantity the anomaly will become clear. Not counting latest discovered reserves from India, currently, Australia and Latin America contain 80 per cent of Lithium reserves found all across the world. Latin America leads the roaster with 63 per cent.
In Latin America, Chile, Bolivia and Argentina lead the chart with proven reserves. The 3 counties are known as the Lithium triangle. Bolivia tops the least with 21 million tonnes while Chile and Argentina are not far behind. According to the latest report by Indian Express, Argentina has 17 million tonnes of Lithium. 2022 estimate by data churning website Statista estimates Chile's reserves at 9.3 million tonnes. Australia has 5.7 million tonnes.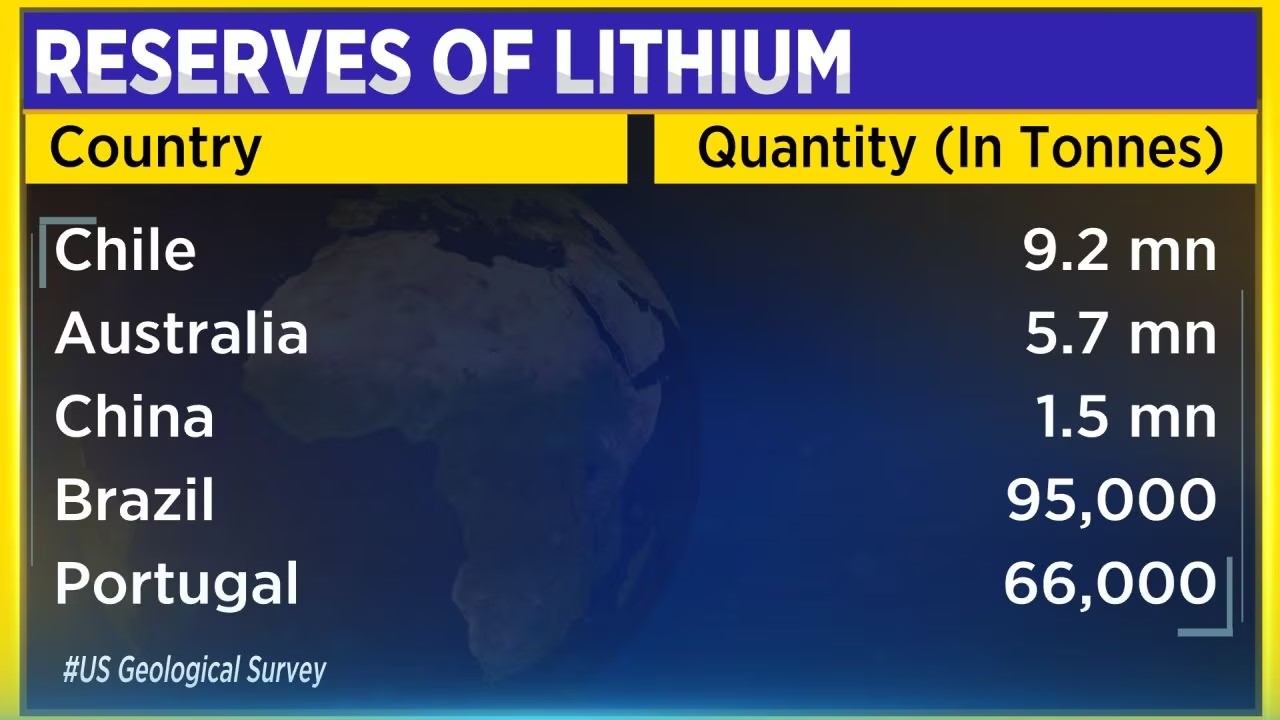 Throughout the last 4 years, Australia has emerged as the top Lithium producer of the world. The trend continued in FY22. China was at 3rd position.
Despite that China is a dominant force in the global Lithium market. Through mergers, acquisitions, mining and hacking boardrooms of Companies, Chinese state backed companies control 60 per cent of the world's capacity for processing raw lithium products into battery-grade chemicals.
India's quest for Lithium
This is a problem for India. And this is the main reason why India has been looking for Lithium reserves in countries all across the world. India's latest aggressive push to Latin America is a step in that direction. The responsibility of handling Latin America has been shifted from the Minister of State to EAM himself. Just last month, India identified two such mines in Argentina for acquisition or long-term lease. More such projects are also in the pipeline.
With the latest discovery, many of us may be led to believe that India may pull back from the region simply because, our projected needs are in line with the discovery. Earlier, we estimated that by 2030, our battery requirements will need 70GWh of energy. This translates into 7crore kWh of energy. 1 kWh requires 73 gm of Lithium. That puts our Lithium requirement at more than 51 lakh kilograms.
The discovered reserve of 59 lakh tonnes of lithium will easily fulfil the demand, with the caveat that we are efficient in utilising them. But the question is about life beyond 2030. This is where India should remain on alert in Latin America.
Not the time to relax
Not hanging the boots in Latin America brings us other advantages too. Strengthening of our position in that region coupled with efficient use of our own reserves at home provides us a projected opportunity to emerge as a big player. Let me explain.
International Atomic Energy has projected that by 2040, the global demand for Lithium is going to increase by 40 times. China knows it and has been trying to get control over the supply chain so that it can use that as a diplomatic leverage. If somehow, India is able to realise its potential, both Desi as well as Videshi, the game can easily tilt in India's favour. After all, it is a democracy and more trustable in the long run than the Chinese. It is going to be a direct offence to Chinese interest.
Leverage in international relations
Stopping the Chinese juggernaut is crucial for India's future. Currently, India is trying to decouple itself from the Middle Eastern oil. The problem with it is that transition requires Lithium and for that we would be forced to be part of Chinese good books. In Hindi, there is a phrase for it. "‌‌‌आसमान से गिरा खजूर में अटका|" To avoid the problems created by our dependence on oil, we were subscribing to China for the alternative of oil. Thankfully, India did not have to suffer much damage.
Then there is the question of our relationship with the western world and the Global South. Well, as soon as Americans heard about the discovery, they sent Energy Resources Assistant Secretary Geoffrey R. Pyatt to India. Now is the time for Americans to regret not including India in its multilateral quest for securing critical minerals.
India has already poked a hole in this quest. Australia is one of the countries of the Minerals Security Partnership (MSP). India is on friendly terms with the Southern hemisphere country. India is already investing in lithium mines as well as lithium processing in Australia. The Aussies are even ready to supply lithium to India. It is pertinent to note that India has ECTA or Economic Cooperation and Trade Agreement with Australia, which makes India more credible for the historically biggest producer of Lithium.
Clearly, the discovery is revolutionary in more ways than one. They say energy is the future. We say, the quest for this energy changes the course of a civilisation's journey.
Support TFI:
Support us to strengthen the 'Right' ideology of cultural nationalism by purchasing the best quality garments from TFI-STORE.COM
Also Watch: