INSTC and Russia: Relations between India and Iran suffered during the cold war era. The reason being India's non-alignment policy and potential ties with Soviet Union. Iran was an open member of the western bloc. Additionally, Iran always supported Pakistan and during the Iran-Iraq war, India's close relations with Iraq too strained the relations. But as they say, increased dependence reduces chances of hostility. India's trade with Iran too narrowed the gap between them.
But it must not be ignored that relations in global politics are guided by national interest and after the interests are fulfilled, thing can turn out to be completely different. Therefore, sustaining relations and maintaining relevance in the long term becomes necessary. As far as the relations between Iran and India are concerned, they still have some common interests that can strengthen ties even further, such as the effort for the International North South Transport Corridor (INSTC), among others.
Putin commits INSTC again
Recently, in his speech, Russian President Vladimir Putin addressed the Federal Assembly in a national address. In his speech, he said that Russia will continue to strengthen its economic relations with the world and build new supply corridors. He said, "We will develop the ports of the Black Sea and the Sea of Azov, we will particularly focus on the North-South International Corridor (INSTC)."
According to reports, the Russian government has already decided to extend the Moscow-Kazan highway. The extension will go to Yekaterinburg, Chelyabinsk, and Tyumen, and in the future, it may reach Irkutsk and Vladivostok. Additionally, there is potential for the extension to reach Kazakhstan, Mongolia and China, which would significantly expand Russia's economic ties with the markets of Southeast Asia.
INSTC is a 7,200 km-long multi-mode transport project for moving freight to and from India, Iran, Afghanistan, Armenia, Azerbaijan, Russia, Central Asia, and Europe. India is supporting the corridor as it bypasses Pakistan and provides an entry point to Central Asia, giving India an alternate route to Europe. Currently, European trade takes place through the Suez Canal. During a visit to Yerevan, Armenia, in October 2021, External Affairs Minister S Jaishankar proposed that the strategic Chabahar Port in Iran be included in the North-South Transport Corridor. This inclusion has the potential to overcome connectivity barriers.
The proposal to include Chabahar Port in the North-South Transport Corridor has strategic significance for India, as it serves as India's sea halt in the Arabian Sea on foreign land, making Iran important for India. However, the release of a clip by ORF for the upcoming Raisina Dialogue has created resentment in the Iranian leadership, leading to the Iranian Foreign Minister's decision not to attend the event. This is not a good sign for India, as China is looking to bolster its relations with Iran.
Iran's relation with China
Back in March 2021, China signed a landmark strategic partnership agreement with Iran for 25 years, committing to invest $400 billion in Iran. This could provide China with an opportunity to procure cheap oil and form a new axis with Iran against the USA. However, the $400 billion investment was considered unrealistic by many because, until 2018, China's total investment in Iran was only about $3.23 billion, and as of the end of 2022, the FDI inflow was only $185 million. Ali Fekri, leader of the Organization for Investment & Economic and Technical Assistance of Iran, has criticized China for not fulfilling its commitments.
China is also seeking to expand its Belt and Road Initiative to Iran. At one point, Tehran had proposed the formation of an alliance among five countries — China, Iran, Russia, Turkey, and Pakistan. However, this proposal did not materialize. Apparently, Beijing has shown reluctance in recent times when dealing with Tehran, perhaps because Iran is sanctioned by the USA and China does not want to escalate tensions with the United States. But there is no guarantee that this situation will persist in the near future.
Whenever India receives good news from the stalemate in the relationship between Beijing and Tehran, the question arises as to why Tehran needs China or India. Let us try to understand this.
Iran's concern
In 2006 and 2010, the UN imposed sanctions on Iran as the Persian nation denied to stop its uranium enrichment programme. But it was Trump administration's sanction that made Iran worried. Its oil trade declined steeply. The major oil trading partners of Tehran, including India, sought other options. In order to sustain its economy, Iran needed investments. It became the prime reason why Iran is looking for China along with other countries to sustain its economy.
In the current world order, almost all the nations have overlapping relations with each other and hence it becomes difficult to divide them into the camps. But Iran is an exception to that. The Persian country is clearly against the USA and is supported by Russia and China. It also avoided relations with Israel.
Russia has ended up becoming the biggest supporter and partner for Iran. It has become the single largest investor in the country. About 45 per cent of Iranian foreign investment is through Russian capital with $2.7 billion invested in 2 petroleum projects. This also becomes the prime reason that Iran is giving importance to INSTC. The only thing that is needed for it is India. So, let us now examine the Indian side of the story.
India's concerns
India has traditionally relied on Iran as one of its biggest oil-exporting countries. Until 2011, Tehran was the second-largest oil supplier to India for its domestic needs. In 2013-14 and 2014-15, India purchased 11 million tonnes and 10.95 million tonnes of oil, respectively. Procurement from Iran increased to 12.7 million tonnes in 2015-16, putting Iran in the sixth spot. It was in 2016-17 when Iranian supplies jumped to 27.2 million tonnes, catapulting it to the third spot.
However, after the US imposed sanctions on Iran in 2018, the inflow of Iranian oil came to an end. After the US sanctions on Russia, India's continued procurement of cheap oil has increased the hope for Iran too. Iran wants India to resume the purchase of oil, and India is interested in doing so because Iran provides a 60-day credit facility. In this situation of turmoil, further negotiations can extend the timeline.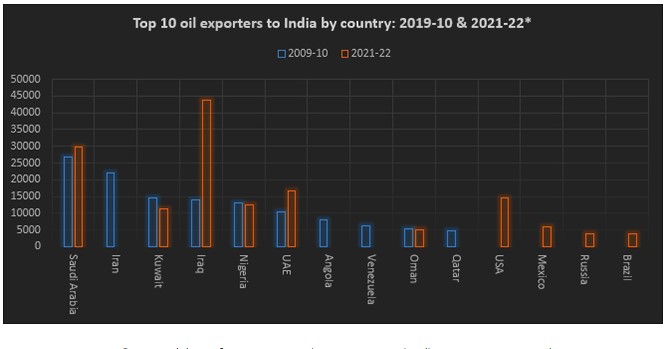 Leaving oil aside for a moment, if we look at the strategic point of view, we find that India's investment in the Chabahar Port is of great significance. Earlier, in order to reach Central Asia, India had to deal with Pakistan due to geographical limitations. However, as the relationship between the two nations soured, India demanded transit rights through various platforms such as BRICS and SCO. But this was not sufficient, so India tried to find an alternative route through Iran and Afghanistan.
While everything seemed good for India, the Taliban took over Afghanistan. Since India has a policy of not negotiating with terrorist outfits, it has faced new challenges after the regime change. Not only are India's projects in Afghanistan compromised, but its reach to Central Asia is also at risk. In this situation, the North-South Corridor becomes more important as it bypasses both Pakistan and Afghanistan. It would have been foolish to compromise with Iran too. So, India is looking far and wide for a common issue that can bolster ties.
Also Read: The last thing India wants is Russia becoming the satellite state of China
The clip is actually a blessing in disguise!
India is currently pursuing interest-based politics in world affairs, which has raised concerns for many countries. The country has been successful in balancing its relationships with both the United States and Russia. In fact, its relations with the United States have seen greater closeness, which is probably why India is adopting a more neutral stance when it comes to dealing with anti-US nations.
However, this cannot be the way forward. Countries like Russia and Iran prefer India for better relations, but they also have good ties with Beijing. The Chinese are aware of this and are trying to widen the gap in India's relations with these countries. On the other hand, India's policy seems to sustain neutrality until the right time. Therefore, it completely depends on Iran and Russia's affordability.
Regarding INSTC, India needs to adopt a dedicated approach with Iran and Russia. While Russia is not a matter of concern when it comes to bilateral relations, India needs to adopt an assertive approach when dealing with Iran.
The clip from the Raisina dialogue by ORF has dealt a shock to India-Iran ties. ORF needs to understand the difference between international relations and geopolitics. India needs a pragmatic approach to world affairs, and there is a proper way to deal with the domestic issues of a country that may have possible global implications. Inviting a country and commenting on its internal issues is more than just stupidity, as demonstrated by ORF. Additionally, the Indian government should remember PM Modi's mantra of 'Aapda me Avsar', which means that India should realize that it needs to take bold steps while dealing with individual nations.
The ORF issue will only deteriorate the situation if left unattended. This 2-minute clip has the potential to compromise India's relations with Iran, and the first thing that will be affected will be the INSTC.
Support TFI:
Support us to strengthen the 'Right' ideology of cultural nationalism by purchasing the best quality garments from TFI-STORE.COM
Also Watch: