This is not the first time that a nation has developed a cyborg. The United States announced its programme in 2014, and in 2019, China reported having achieved success in controlling a mouse's brain from a human's brain. Both countries have been involved in similar efforts in the past. Researchers at Zhejiang University, China, published a paper titled "Human Mind Control of a Rat Cyborg's Continuous Locomotion with a Wireless Brain-to-Brain Interface."
Now India is catching up and creating some kind of cyborg that will be helpful for the armed forces. Indian defence scientists have successfully engineered a new type of robotic device in their laboratory, known as "Cyborgs." The purpose of these devices is to provide security forces with a live video feed from within a building in the event of a 26/11-style situation in which the enemy has seized control of a premise and troops lack situational awareness.
What exactly is a cyborg?
Android, robots, and cyborgs are three different things, and Android is not the same as the Android software found in mobile phones; they are distinct from it. In the developing world of robotics, the physical makeup of robots can vary, with some robots having a body that is designed to resemble the human form, including a head, torso, arms, and legs.
However, some robot manufacturers create robots with different body designs. In recent times, androids have been mostly discussed in the realm of science fiction, with stories and theories about artificial human-like beings being created. Aesthetically, these androids often look very similar to humans. As a result of great progress in robotics, real-life working androids and their female counterparts, gynoids, have been produced.

PC: Frontiers
Androids and robots are inanimate objects, lacking any form of life or emotion. They are not capable of experiencing life or emotions because they do not have any living organisms. The cyborg is now distinct from an Android or a robot. Cyborgs involve living organisms.
A cyborg, on the other hand, is a combination of organic and non-organic components and can have characteristics or capabilities that neither a robot nor an android possess. It is a living being with both organic and non-organic parts that can have emotions and a sense of life. Cyborgs are humans or animals that have been augmented with machine or computer parts to enable them to do the tasks they otherwise could not.
Also Read: Throughout the Congress era DRDO was a burden, now that it's making both missiles and medicines Congress is pissed
What is DRDO's Project?
An official has announced that India's Defense Research and Development Organization (DRDO) is developing "rat cyborgs" at their leading R&D facility to assist security forces in rescue operations and intelligence gathering.
The scientists at DRDO's Young Scientist Laboratory (DYSL-AT) are developing remarkable rat cyborgs that have cameras attached to their heads and can be directed with the help of semi-invasive brain electrodes. This unique endeavour was announced by the Director of DYSL-AT, P. Shiva Prasad, in a session after the World Science Congress.
"This is the first time India has engaged in developing such technology. Some foreign nations already have it. It will help armed forces in intelligence, surveillance, and recovery (ISR) operations. Phase 1 trials, in which the rat will be controlled through commands from the operator, are underway," Prasad said.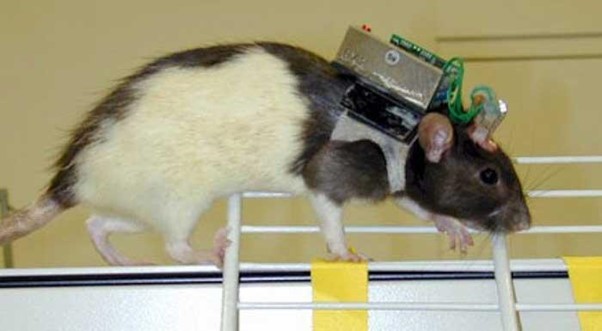 "In Phase 2, scientists can actually feed images into the camera mounted on the rat's head for the cyborg to find. An example of its use could be a situation like the 11/26 terror attack, in which more than 200 rooms of a hotel had to be searched," he added.
He explained that robotic systems used in ISR (intelligence, surveillance, and reconnaissance) activities face manoeuvrability challenges, such as navigating restricted areas and scaling obstacles. He noted that rats possess an impressive capacity for completing strenuous tasks, and researchers have developed strategies to incentivize them with rewards of food in order to motivate them to embark on missions.
The scientist has determined that rats are the optimal choice for the task at hand, as they possess the ability to move quickly, access hard-to-reach places, climb stairs, and sustain themselves on discarded food. For example, if the rat comes to a halt, the remote control can be used to gently encourage it to continue.
The first phase of research in India has been successfully concluded, with electrodes being implanted through surgeries to control the movement of rodents. The team is now aiming to make the process non-invasive and more comfortable for the animals, such as through head mounting. As noted by a DRDO scientist in a presentation to The Times of India, some discomfort may be experienced by the animals following the surgery; however, the goal is to ensure that they are as comfortable as possible.
"In Phase 1, the electrodes will need to be implanted in the brains of the rats, while in Phase 2, we will go for wireless transmission." "We have used three to four rats for the lab tests," Prasad said.
What are the possibilities with animal cyborgs?
In some developed countries, like China, animal cyborgs are available commercially. These cyborgs, such as remote-controlled beetles and rats, have been designed. In 1994, the US Air Force proposed using compounds that act as sexual pheromones for bugs as weapons. A "sting me" (attack me) chemical that would make bees hostile was suggested as "particularly effective for infiltration routes," as outlined in a document. Additionally, the use of powerful aphrodisiacs was taken into consideration, specifically if the compound was known to prompt homosexual behavior.
Researchers at the University of South Carolina have developed a system that enables trained dolphins to identify and mark underwater mines with the help of sensors and other devices attached to their bodies, according to reports. On top of that, in 2020, reports surfaced that North Korea had developed its own kamikaze dolphin army to attack its enemies.
The entertainment industry, such as films and television shows, has incorporated animal cyborgs in their productions. For example, the iconic Star Wars character "Chewbacca" is a cyborg with electronic elements and mechanical components embedded in his body.
Animal cyborgs have been used in research and practical applications such as the military, search and rescue, entertainment, and patient therapy. Some animal rights activists and organisations like PETA have expressed ethical concerns about the use of animal cyborgs in India, claiming that the modifications may cause unnecessary suffering to the animals or deprive them of their natural abilities.
Sadly, they were unable to extend the same teachings to more developed nations such as the USA. What China does to animals is well documented; it appears to be difficult to even mention this subject in front of Chinese as they consume anything that walks, flies, or swims with gluttony. However, in the case of India, this same hypocritical organisation lectures on why India is the largest consumer of milk in the world.
It is evident that India is making strides towards a brighter future, and should remain focused on its high-reaching goals. A popular saying in India is "कुत्ते भौंकते रहते हैं और हाथी चलता जाता है।", meaning that the elephant did not stop, when dogs bark. India, as the proverbial elephant, should take this philosophy to heart, and continue to move forward unfazed.
Support TFI:
Support us to strengthen the 'Right' ideology of cultural nationalism by purchasing the best quality garments from TFI-STORE.COM
Also Watch: