Indo-Pacific Strategy of Canada: Geopolitical interests are ultimate equalisers. Two countries walking on different tracks can converge on a common enemy. Right now, the crossroads of Canada and India have converged. Trudeau, the man who supports disintegration of India now needs to back India for his own interest.
Canada's Indo-Pacific plan
Canada has officially joined the list of countries having a specific strategy for the Indo-Pacific region. It released a 26-page document highlighting its commitment. The document terms India as a 'crucial partner' and mentions it 27 times. On the other hand, China has been termed as an 'increasingly disruptive' force and has been mentioned 53 times.
Over the next 5-years, Canada will spend $2.3 billion in the Indo-Pacific region. The spending has been bracketed into 5 strategic objectives. The objectives are
promoting peace, resilience and security
expanding trade, investment and supply-chain resilience
investing in and connecting people
building a sustainable and green future
and Canada as an active and engaged partner in the Indo-Pacific.
Also read: US, Australia, Japan, Canada, Taiwan, India, and now UK. China has picked more fights than a roadside goon
Indo-Pacific is a diplomatic chessboard
The Indo-Pacific region is quickly changing into a chessboard for established as well as emerging global superpowers. The region consists of 40 countries of which most are small nations. These nations are constantly looking to rely on bigger powers to enhance their national interests. India and China are two countries on which these countries mainly bet to aid them.
India is a well established force in the region. It is the shoulder of QUAD, especially designed to counter China. Similarly, Indo-Pacific Economic Framework is designed to look after the trade aspects of this region. Additionally, Indian Ocean Rim Association (IORA), consisting of 23-states, is also a formidable threat to China.
On its part, China has also tried to strengthen itself in the region. The major section of its Indo-Pacific outreach has been browbeating and threatening naval, land and air sovereignty of smaller nations in the region. In fact, the rebirth of QUAD is directly attributable to the Sino-Japan Senkaku island conflict. Browbeating did not work and that is why China recently tried to thump its chest by announcing that it has taken 19 countries on board. Two of them, Australia and Maldives, quickly took down the arm-twisting by China.
Canada is a bit late to party
The arm-twisting is not a regional problem since China is looking to occupy the space vacated by the USSR. Trump had decoded it and later New Zealand, France, the United Kingdom, the European Union (EU) also joined the ranks. However, taking Canada on board was an arduous task since Trudeau and his liberal party have been traditionally close to the Chinese Communist party. Additionally, Canada also did not want to risk its interest vis-à-vis its second biggest trading partner.
Meanwhile, Canada-China relations started to take a hit in post-covid world order. Trudeau's ministers have been reaching out to countries like Vietnam to chalk out a new strategy. His foreign minister Melanie Joly even visited Asia to get a clear understanding. Trudeau's deputy Chrystia Freeland pointed out the strategic folly of economic reliance on countries like China. Then, Trudeau went as far as accusing China of interfering in Canada's elections. The final nail in the coffin has been struck by declining Sino-Canada trade numbers.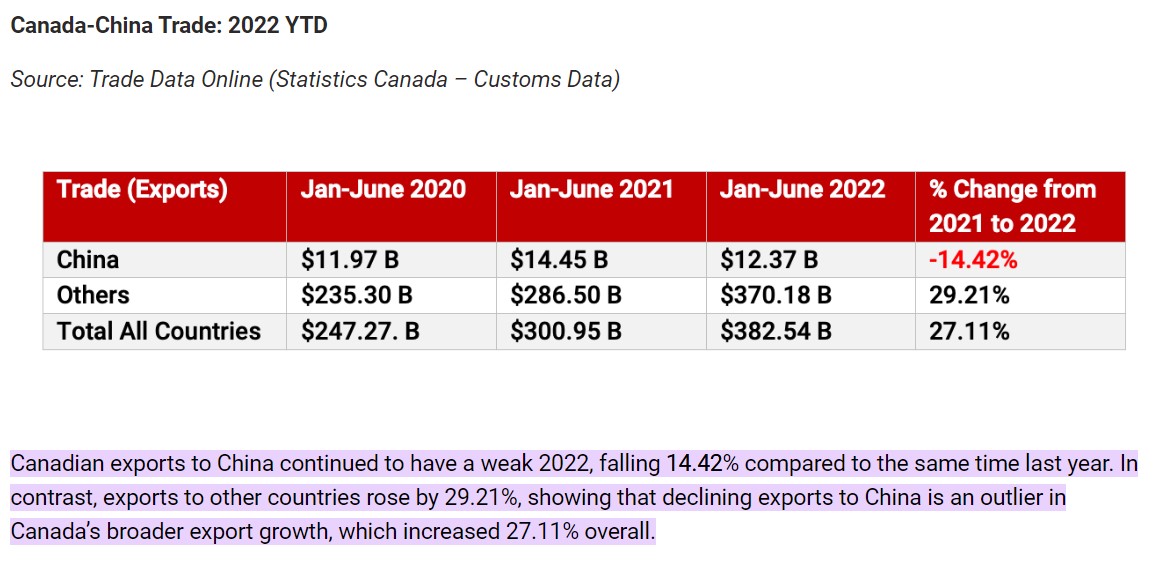 Also read: A China vs Canada war has already begun, only the first bullet needs to be fired
Khalistan has to be curbed to take India on board
The decline in trade is reflective of declining China's economic clout. Jinping's authoritarian economic policies do not promise any revival in future. Additionally, China's population is increasingly getting older due to which their manufacturing is dying a slow and excruciating death. Canada had to look the other way and Indo-Pacific is its best choice. 6 countries in the region are among the top 13 trading partners of Uncle Sam's junior. Canada has rushed in to save its interest in its second biggest export destination.
Also read: Canada will soon be Khalistan, Lebanon is a striking example
However, it is not that easy for Canada, until at least Trudeau is in power. The problem is siding with India. If Trudeau leans too much towards India, his Khalistani friends will get angry and may pull out their support. It will be interesting to see how Trudeau balances it out. Clearly, China is not the future, but India is. And if India is the future, then Khalistan is not.
Support TFI:
Support us to strengthen the 'Right' ideology of cultural nationalism by purchasing the best quality garments from TFI-STORE.COM
Also Watch: