India's oil exports report: Not so long ago, global political forums were full of critics of India's oil trade with Russia. Even a few days ago, Manoj Jha, a respected MP, took an indirect dig at it. The problem is that very few people have been able to see the bright side of it. It is en route to changing India's foreign trade dynamics. 
India's oil exports burgeoning
A prominent impact of India's oil imports has been on India's exports. Interestingly, India does import 80–85 percent of its oil needs, but the increased Russian oil in India has led to an increase in India's oil exports as well. In the first seven months of this financial year, India's oil exports to countries like the Netherlands, Brazil, and Tanzania have witnessed huge jumps.
India's oil exports to Tanzania have witnessed a threefold increase and have jumped to $2.4 billion. Tanzania is in dire need of the petrol and diesel available in India, so much so that out of $1.6 billion of its total imports from India, 80 percent, or $1.3 billion, is oil.
Trends have been similar in the Netherlands as well. During the first half of this financial year, it became the top destination for India's petroleum products. Apparently, the jump in Dutch imports is believed to be part of a larger European plan to protect itself with Russian fuel in winter. They can't buy directly from Russia, so they are relying on the Netherlands to buy as much oil from India as possible and store it for the future.
Russian oils are also included in India's exports to the Netherlands. The fact that India has a refining facility as well as cheaper crude availability has played a significant role in this.
Also read: Indonesia's ban on the export of palm oil can become a blessing in disguise for India
Change in rankings of trading partners
Dutch-bought petroleum products are worth over Rs 5 trillion, which is a 180 percent jump over the last year. They comprised 9 percent of India's total petroleum oil exports during the period. These numbers have impacted India's export destination ranking as well. Netherlands became the 3rd largest destination of India's oil exports. Last year, it was hovering around the 8th rank.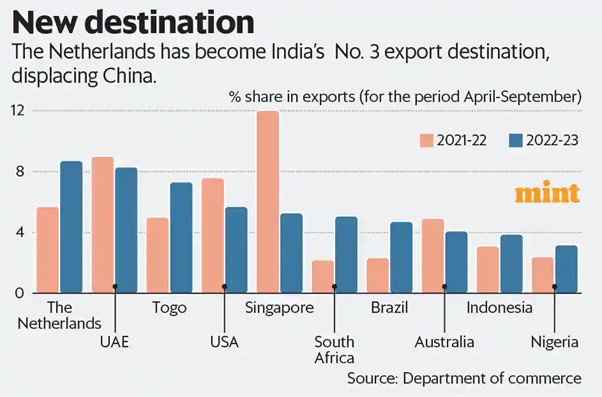 The 8th rank of the Netherlands has been occupied by Brazil in the first half of this financial year. Last year, during the same time period, Brazil was in the 20th position in India's export destination pie. 70 percent increase in India's oil exports had a domino effect on trade relations with Brazil as well.
Along with its BRICS partner, South Africa, Brazil is also a key recipient of India's increased oil exports. Brazilian companies are hopeful of getting more oil from India in the future, which is why they are eager to sign deals with Indian companies. Brazilian Petrobras, India's IOC, BPCL, and HPCL, among others, have the know-how.
Also read: India imported Oil and Gas from OPEC, soon we will be exporting Green Hydrogen to them
Opened the gates for settlements in rupees 
All in all, India's total exports during this period increased by 12.5 percent in value terms. India remains one of the few countries whose exports are witnessing a jump at a time when demand all across the world is declining. It is a big opportunity for India to push for acceptance of its rupee in the international market.
The RBI agreed in July to establish a mechanism for such trade. Initially, banks were hesitant as there was an imminent threat of recession. Presumably, India's rising export numbers (comparative to the rest of the world) have given them confidence. A few days ago, the RBI gave its final approval for opening five Vostro accounts for this kind of trade with Sri Lanka. 12 such accounts for trade with Russia and one more for trade with Mauritius have also been approved by India's Central Bank.
Reports indicate that at least 35 countries have shown interest in India's rupee trade mechanism. Belarus, Tajikistan, Cuba, Luxembourg, and Sudan are already in talks with India. Initially, the rupee trade mechanism was intended to attract only countries dissatisfied with reckless American sanctions.
However, things have changed for good in the last few months. India's top trading partners, including the UAE and Saudi Arabia, are also interested in rupee-dirham and rupee-rial trades, respectively.
Also read: India is now the top exporter of Netherlands and Brazil is catching it fast
Net positive for India
These positive developments have propelled Indian businesses to look for alternate trade routes as well as investment routes. India and Russia are now looking to harness more natural resources in the Arctic region. The renewed push is over and above the investments made in the past. It is here that the intra-BRICS competition between India and China is going to intensify. Resources from the Arctic will find their way through the Chennai-Vladivostok shipping route and INSTC corridor, which are big shifts in established trade routes.
Scalability, saleability, and adaptability are three things that keep foreign trade going in a country's favor. Oil trade with Russia has positively impacted all 3 of them.
Support TFI:
Support us to strengthen the 'Right' ideology of cultural nationalism by purchasing the best quality garments from TFI-STORE.COM
Also Watch: