The tremendous power of the Indian pharmaceutical industry to produce and export quality medicines and vaccines to the world is commendable. It is encouraging to see that India is using this power responsibly to serve humanity in times of crisis. India is playing a crucial role in providing access to affordable medicines to the needy and vulnerable sections of the world.
As they say 'With great power comes great responsibility.' India has the potential to be a leader in the global pharmaceutical industry. With this power comes the responsibility to ensure that its medicines are safe, effective and accessible to all. India is taking the necessary steps to ensure that it meets its obligations and continues to be a responsible member of the global community.
To that end, Union Health Ministry has launched a 'comprehensive drive' to inspect drug production, distribution and sale. It has been done to identify and address any issues related to trademark infringement, purchasing of raw materials without invoices, selling drugs without receipts, quality concerns and production of counterfeit medicines.
Massive attempt to clean up pharmaceutical industry
Recently, it was reported that 66 children died tragically in Gambia due to the cough syrups produced by Maiden Pharmaceuticals Ltd.
Similar type of incident was reported on Tuesday where 18 children in Uzbekistan passed away due to ingesting an excessive amount of cough syrup manufactured by Marion Biotech without a prescription. The Health Ministry of Uzbekistan stated that "It was found that the deceased  children had been taking the medication at home for 2-7 days, 3-4 times a day, in amounts of 2.5-5 ml, which exceeds the standard dose of the drug for children."
Other reports like sale of spurious and substandard medicines have also been reported which has raised serious concerns about the quality of drugs being manufactured in India.
In response to these alarming reports, the Indian government has launched a campaign to ensure that all medicines sold in India are of high quality and safe for consumption. Reportedly, six teams have been established to conduct audits and inspections at drug manufacturing facilities across India.
The campaign includes a series of measures such as the implementation of a strict monitoring system to ensure that all medicines produced in India are properly tested and certified before being released for sale.
Also Read: Government's technical "surgical strike" on fake pharma companies
On Tuesday, the Central Drugs Standard Control Organization (CDSCO) conducted raids on more than 12 drug manufacturing units in Himachal Pradesh (a state with nearly 1,500 functional units). Some of the companies were issued 'show cause notices' and manufacturing was completely suspended at one unit.
Thriving Indian pharmaceutical industry
If we look at the exports over the past few years, India's pharmaceutical exports have been steadily increasing. This trend was seen even prior to the outbreak of the Covid-19 pandemic.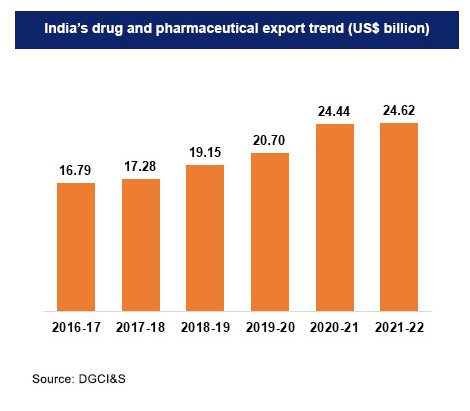 Union health minister Mansukh Mandaviya tweeted last month that India's pharmaceutical exports have seen a remarkable 138% increase comparatively from April-October 2013-14 to 2021-22, growing from Rs 37,987.68 crores to Rs 90,324.23 crores. The Union Minister noted that India's medicine exports are leading the world.
In May, Indian pharmaceutical companies achieved impressive numbers for their competitive prices and high-quality products, accounting for 60% of the world's vaccines and 20% of generic medicines. The share of pharmaceuticals and drugs in our global exports was 5.92 per cent.
Indian pharmaceutical companies have a significant presence in the prescription markets of the US and EU, with the largest number of FDA-approved plants located outside the US found in India.
Need for strict measures
To ensure the continued success of India's drug exports, it is essential to prevent the distribution of substandard drugs. This can be done through stringent enforcement of quality control regulations, robust laboratory testing of drugs, and the maintenance of a reliable supply chain system.
Furthermore, the Indian government should ensure that drug manufacturers comply with the Good Manufacturing Practices (GMP) standards. In addition, the government must opt its 'two-sided approach' to spread awareness among the public. Hotlines need to be setup for consumers to report any suspicious medicines they may have purchased. This will ensure that the drugs exported from India are of the highest quality.
India has put in immense effort to reach the impressive figures it has achieved. So, steps must be taken to ensure that unfortunate incidents such as the one in Gambia and Uzbekistan do not occur, as they can tarnish the global image of India as the 'pharmacy of the world'.
Support TFI:
Support us to strengthen the 'Right' ideology of cultural nationalism by purchasing the best quality garments from TFI-STORE.COM
Also Watch: