In the last 365 days, we have seen Sri Lanka crumble and Pakistan claw on geopolitical stages. One common link between both of them is China. The Communist nation has virtually destroyed both of them. Now, it is after Bangladesh.
Bangladesh with China?
A few days ago, China held a meeting with 19 countries. According to the CCP, these countries are integral parts of the Indian Ocean region. The fact is that the Maldives and Australia, two countries that China claimed was on their side, denied any participation. But Bangladesh did not. Neither did it come forward to issue clarification on participating in yet another anti-India initiative of China.
Given the fact that Sheikh Hasina is in power, this was a big surprise. Her reign is believed to be favourable to India. Even in October, she vowed to protect minorities in Bangladesh. So, why not come out in the open against the Chinese?
Also read: With access to Chittagong port, Bangladesh and India put the final nail in the coffin of China's 'String of Pearls'
China-Bangladesh defence relations
The answer is that she can't. Bangladesh is so neck-deep in Chinese influence that it will take at least a decade for it to get rid of it. It all started when military dictator General Ziaur Rahman took over Bangladesh after a coup. Dictators love dictators, and aptly, China established diplomatic relations with militarised Bangladesh in January 1976.
Bangladeshi military leadership being under the control of former Pakistani Army officials played a key role in it. By virtue of Pakistan-China friendship, these former Pakistani Army men mainly operated Chinese weapons. When they were inducted into the Bangladesh Army, they did not leave their comfort zone and pitched for China only.
Even to this day, China is the biggest arms supplier of Bangladesh. China supplies tanks, missile launchers, fighter aircraft, large-caliber artillery systems, combat aircraft, missiles and related equipment, small arms and regular artillery pieces, submarines, guns, and frigates to Bangladesh. If that was not enough, Bangladeshi forces are regularly trained by the Chinese People's Liberation Army.
Until the Bangladeshi Army stayed in power, China had solidified its hold on Bangladeshi politics. When democracy was established in 1991, China was quickly emerging from the shadows of Communist hunger. That is why even the democratic leaders of Bangladesh found it apt to side with China.
Also read: The oppression that Hindu cricketers go through in Bangladesh and Pakistan
Economic relations are burgeoning
China tasted the economic fruits of its groundwork in the 21st century. By the end of 2000, bilateral trade between the two countries had reached $1 billion. In the late 2010s, that number jumped to $10 billion. A fun fact is that China enjoyed a $9 billion trade surplus with its exports to Bangladesh. Sheikh Hasina was worried and asked for a concession.
Jinping readily obliged, and amidst COVID, China announced that it would give duty-free access to 97 percent of Bangladesh's exports. It only turned out to be advantageous for China, as now China's trade surplus vis-à-vis Bangladesh is worth over $24 billion a year. Bangladesh is struggling to meet its earlier goal of $1 billion worth of exports.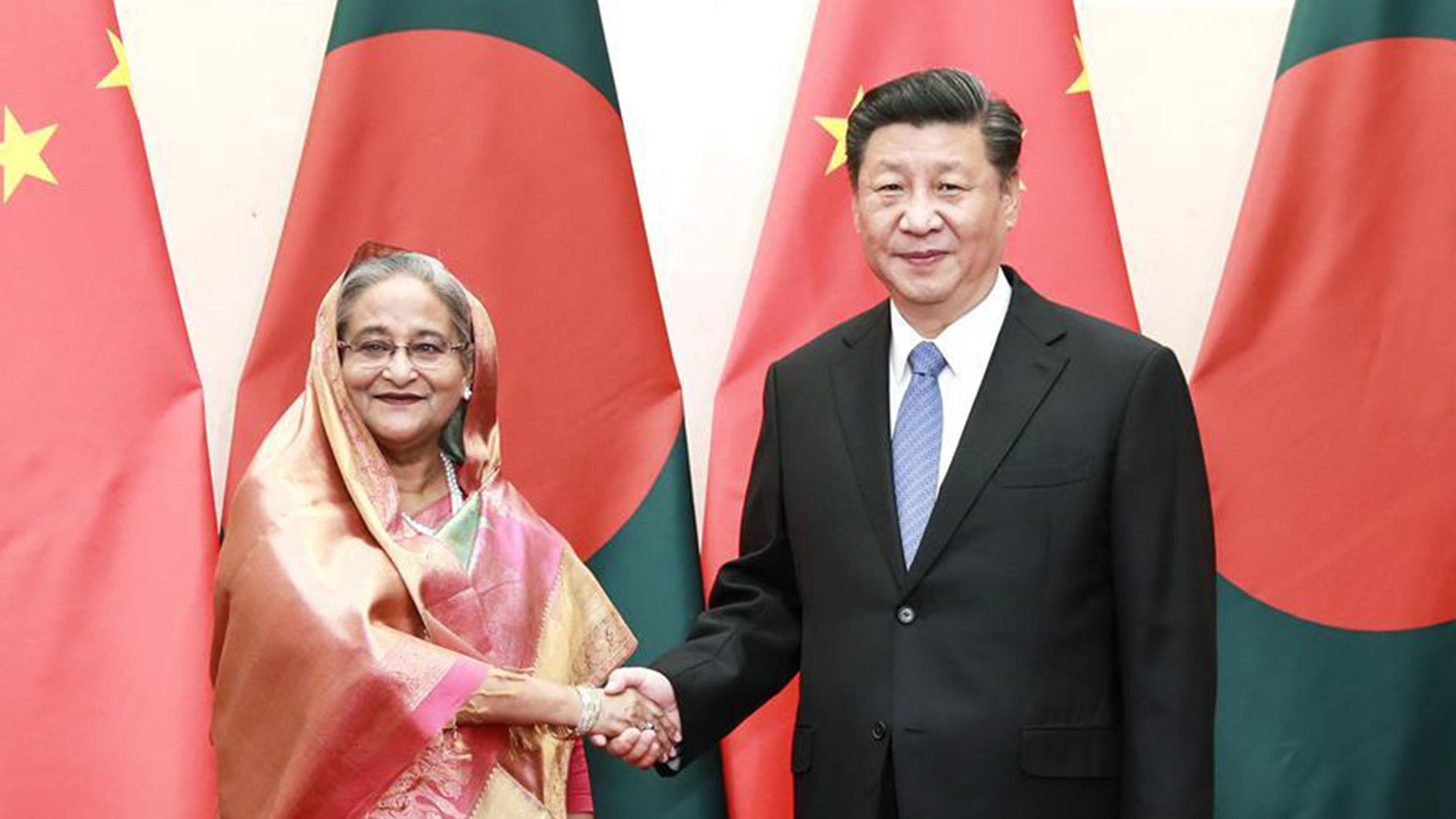 Bangladesh under debt-trap
China is reaping the reward of including Bangladesh in the Belt and Road initiative. According to an estimate by Standard Chartered Bank, China has pledged more than $38 billion in Bangladesh for BRI. Deals worth $21.5 billion have already been signed. If not for the derailing of the project, the situation could have been much worse.
That is not to say that the scenario is in good health right now. The Chinese are building roads, railways, metro rails, bridges, power plants, smart cities, and various other infrastructures in Bangladesh. With Chinese investment worth over $2.48 billion in the Payra power plant, Bangladesh became the first South Asian country to achieve 100 percent electricity coverage. China is also trying to make a foray into the nuclear energy segment of Bangladesh's energy demands.
Also read: India must help Bangladesh to get out of its mess, but with conditions
On the connectivity infrastructure front, China is desperately trying to get hold of Bangladeshi ports, just like it did with Hambantota in the island nation and Gwadar in Pakistan. In Bangladesh, Chittagong Port holds the numero uno spot. China is keen on getting big stakes in smart city and metro projects in Chittagong in order to nullify India's hold on the city's port.
At this point, Bangladesh is too dependent on its largest trading partner. What India can do is keep Bangladesh on talking terms and continue to provide incentives in pockets. At one point, Bangladeshi citizens will themselves be up in arms against the Chinese, just like Sri Lankans have. When people speak, Bangladesh won't have a better option than India.
Support TFI:
Support us to strengthen the 'Right' ideology of cultural nationalism by purchasing the best quality garments from TFI-STORE.COM
Also Watch: