Navtej Singh Johar Vs Union of India Case: For a major part of our recent history, homosexuals have been the most depraved minorities in India. Politicians shouted over the rooftop about religious minorities but did not give a dime about homosexuals, the sexual minority. For 71 years, it remained a criminal activity until a landmark 2018 judgement. 
Victorian-era morality
The criminalization of homosexuality in India is a relatively new phenomenon. I know it sounds absurd, but India has practised it for only 158 years. Suffice to say that hating homosexuality is not part of Indian culture. It came from Victorian British morality. In 1533, King Henry VIII passed an act called the Buggery Act. The word buggery covers anal intercourse and bestiality.
In 1860, Thomas McCauley xeroxed the act into the first Law Commission report. Since he was the number-one authority, the act found its way into the IPC through Section 377. Ultimately, it ended up making it criminal for a person to fall in love with another person of the same gender.
Also read: The most iconic Indian case ever: 1973, Kesavananda Bharati vs State of Kerala – Part 4
Onset of HIV changed things
Not many people bothered to change it in independent India. Simply because it was a private affair. However, the spread of HIV/AIDS changed it, as medical professionals actively found it difficult to treat homosexuals affected by the disease. The primary reason behind it was that they feared public and legal persecution as well as blackmail if they revealed their sexual orientation.
NGOs could only see one solution, and that was to approach the courts. A petition filed in 1994 was dismissed. In later years, the Delhi High Court declared Section 377 as unconstitutional in the Naz Foundation case. The decision was overturned by the Apex Court in Suresh Kumar Koushal and Ors. vs. NAZ Foundation and Ors.
Also read: The most iconic Indian case ever: 1973, Kesavananda Bharati vs State of Kerala – Part 3
Arguments and counterarguments on the criminalization of homosexuality
This judgement was again challenged and a coveted bench of CJI Dipak Misra, Justice A.M. Khanwilkar, Justice Rohinton Fali Nariman, Justice D.Y. Chandrachud, and Justice Indu Malhotra. It was one of the cases where social morality was in direct conflict with constitutional morality. Petitioners argued that the majority disapproves of LGBTQ+ rights, and so the onus is on courts to protect them. Petitioners also contended that the given section violated Articles 14, 15, and 21 of the Constitution. Articles 14 and 15 talk about equality, while Article 21 permits a dignified life to Indian citizens.
The opposing party argued that decriminalising homosexuality would impact religious rights under Article 25. Regarding Article 15, they argued before the Court that the said Article prohibits discrimination on the basis of sex, and not sexual orientation. Respondents were also worried about the possible negative effect on the family system, the backbone of our society.
Also read: Understanding Indra Sawhney Case: The post-Mandal "reservation criteria has glaring loopholes in it"
Section 377 violated multiple constitutional provisions
The enlightened court delved deep into the literature of gender and sex. In a way, it agreed with the gender studies literature that the sex assigned at birth may turn out to be different from the one that a person will identify with in later years.
Sexual orientation was reiterated as an essential component of constitutional rights, as was held by the current CJI, D.Y. Chandrachud, himself in the K.S. Puttaswamy case. The court also cited foreign jurisdictions, including those of the US, Australia, and South Africa, to substantiate its points. Hence, Section 377 was held to be violative of Article 21.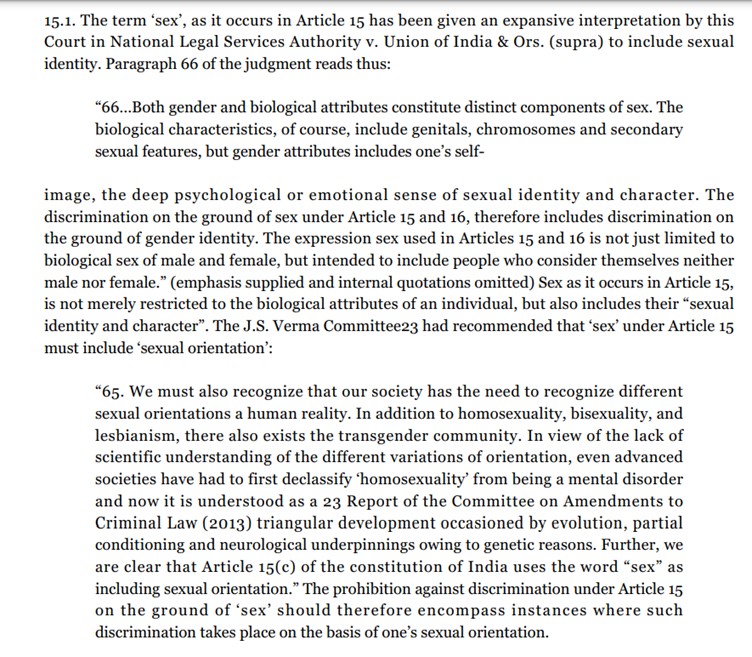 The Apex Court also quashed the question of curbing their constitution by stating that they can only be prohibited when public order, decency, and morality are at risk. The court did not find any such problem in their freedom of expression and ruled that Section 377 violated Article 19.
Also read: The 1995 case that cemented the notion of 'Hinduism is a way of life' and why it is not right
Section 377 was also found to be violative of Article 14 as the given section's purpose and the restrictions laid down by it were not found to be interconnected, and hence the restriction was arbitrary. Arbitrary restrictions are not permitted under Article 14 of the Constitution because it treats every human as equal.

Ultimately, Section 377 was held to be violative of Articles 14, 15, 19, and 21. But it was not totally defanged and is still applicable in cases involving non-consensual sexual acts. The Navtej Singh Johar Vs Union of India case is remembered for a progressive interpretation of the constitutional scheme of things.
Support TFI:
Support us to strengthen the 'Right' ideology of cultural nationalism by purchasing the best quality garments from TFI-STORE.COM
Also Watch: