In her victory speech, the newly appointed Italian Prime Minister, Giorgia Meloni, made a passionate speech about family, national, and gender identity. The pro-family leader highlighted the increasing menace of WOKEISM and why the wokeism-inflicted retards attack these logical identities.
She categorically highlighted that these so-called WOKE 'liberals' attack gender, family, and national identity to make a person a "perfect consumer" and slave of the Wokeist enterprises.
This is Italy's new Prime Minister Giorgia Meloni.

I've never heard any politician so perfectly explain what we're up against and why we fight.

When you watch this video, you'll quickly realize why the establishment is afraid of her.
pic.twitter.com/CswR8o3mjg

— Greg Price (@greg_price11) September 26, 2022
Wokeism forces enterprises to shut shop
Evidently, the realisation of grave dangers posed by Wokeism is not an Italian phenomenon rather a global one. Businesses after business are facing the fury of disgruntled consumers for their wokeism and irrational leftist agendas. The prime example of it is Netflix.
Its revenue tanked because of its oozing wokeism and pushing woke tyranny. It was forced to come back on the management board and take drastic measures to steady its shrinking ship. Later, it went on a firing spree to get rid of the menace of wokeism.
Also Read: Go Woke, Go Broke: Netflix begins mass firing of employees
Apparently, the micro-blogging site Twitter's management would have learned these hard lessons after its recent acquisition by Elon Musk. For a very long time, the platform ran their bias against the right-wing, their hatred for Hinduism and Indian narratives unabatedly, unapologetically and with impunity.
New acquisition danger sign for Wokes
After a long period of dilly dallying, the world's richest person, Elon Musk, has finally fulfilled his end of the bargain to buy Twitter. He has successfully bought the microblogging site, Twitter, in a $44 billion deal with its earlier management. Without wasting any time, he began his Twitter ownership by terminating Chief Executive Officer (CEO) Parag Agrawal, Chief Financial Officer (CFO) Ned Segal, and legal affairs and policy chief Vijaya Gadde.
With this, he has made his first moves to get rid of the leftist and wokeism bias of the platform. He fired the top management as they were the reasons for the leftist bias of Twitter. They were the ones who kept ensuring that Twitter furthered the leftist agenda rather than acting as a platform for free speech or as an intermediary.
Also Read: Twitter's own engineers expose its bias against the Right-Wing
Wokeism brought Twitter to its current peril
These 'woketards' (woke + retards) kept pushing the leftist and woke agenda even at the expense of letting the platform trade on the path of bankruptcy. Notably, Twitter only saw profit in 2018 and 2019; otherwise it has been in the red territory (a loss-making enterprise) for a long time. In the second quarter of 2022 as well, it suffered massive losses. Twitter reported revenue of $1.2 billion in the 2nd second accounting to a gigantic loss of $270 million.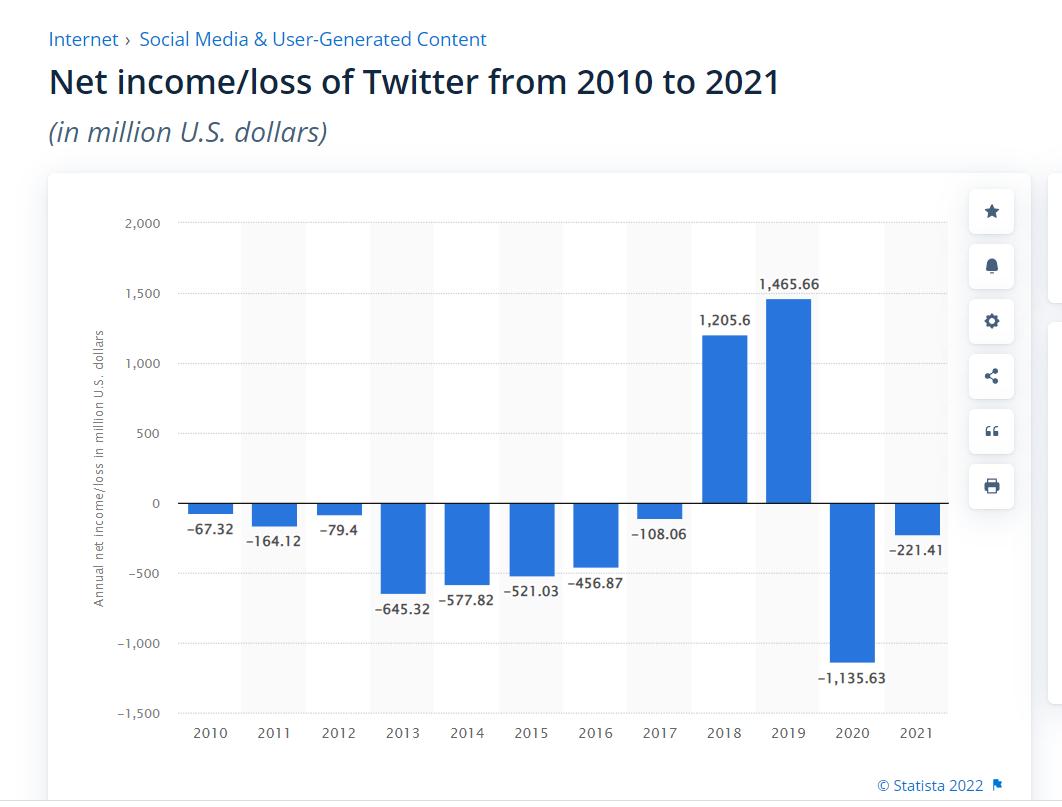 Also Read: The pros and cons of the upcoming 'Edit' feature on Twitter
It is an open secret that right from its inception, Twitter was a left-leaning social media portal. Its founder, Jack Dorsey, once himself accepted his leftist bias. But with each passing day, it degrades to new lows with wokeists taking over the platform.
These so-called liberals in the name of AWAKENED global citizens started rent-a-cause activism and indulges in despicable cancel culture. These woke Twitter management officials flagged tweets left, right, and centre as per their whims and fancies to give unparalleled space for woke mentality while suppressing right and logical narratives.
The founder, Jack Dorsey, and legal head Vijaya Gadde, among others, began actively participating in utter nonsense of Wokeism, such as the Smash Brahmanical Patriarchy campaigns.
Had Twitter not flaunted its intermediary rules and guidelines and behaved as a neutral platform for free speech and expression, the social media giant would not have found itself in a humiliating situation. The Tyranny of the WOKES is the sole reason for Twitter's current losses and it being sold to a new owner.
Only time will tell whether Elon Musk will indeed live up to his promise of free speech or end up acting as a Chinese poodle. But it is certain that Twitter's sell out vindicates the fact that wokeism will force enterprises to shut shop after unbearable humiliations.
Support TFI:
Support us to strengthen the 'Right' ideology of cultural nationalism by purchasing the best quality garments from TFI-STORE.COM
Also Watch: