Many times, what we get as perceived wisdom is a complete contrast to truth. For example, rubber is wrongfully dubbed as one of the most elastic materials. But the fact is that rubber is an inelastic substance. Apparently, this elastic misnomer analogy aptly fits with the perceived wisdom about Mughal rulers. The desperation to link anything and everything right from food, architecture and even certain Hindu practices to Mughals is nothing but mental bankruptcy. Once a 'distorian' made an ugly attempt to claim that it was Mughals who started the Hindu ritual of Raksha Bandhan. Hilarious, right? Yes, the obnoxious claim quickly backfired and the claims were retraced. The fact is that notorious Mughal tyrants made as much contribution to Indian civilisation as Hitler safeguarded the basic Human rights of Jews.
Scapegoating of bigoted Aurangzeb doesn't dissolve Mughals from their atrocities
The Islamo-leftist lobby often claims that the Mughal empire ruled India for more than 800 years. They claim that it was very progressive dynasty barring a few exceptions of bigoted barbarians like Aurangzeb. But the reality is that the seeds of intolerance, hatred and bigotry were planted during the reign of Akbar itself. Not just psychotic despot – Aurangzeb, the entire Mughal descendants were Jihadi invaders who ravaged Indian civilisation to the maximum extent they could during their reigns.
Also Read: Muslims never ruled India for 800 years. They NEVER ruled entire India. And they never ruled continuously
The sheer scale of communal bigotry, violence and genocidal acts against Hindus during Aurangzeb's tyrannical rule traces its roots back to Mughal predecessor Jalaluddin Mohammad Akbar. The article will highlight why the barbarism of Aurangzeb was just an extension and amplification of Jalaluddin Akbar's script against Indian civilisation and Sanatan Dharma.
Busting the Myth of Greatness
In sycophancy of the Mughals, the Islamo-leftist cabal gave the epithet "The Great" to illiterate and pervert Mughal tyrant Akbar. They claim that although Akbar was a Muslim ruler but he gave a secular, tolerant and progressive governance model. His marriages with Hindu princesses and relaxation of few administrative rules are presented as a proof of his secular and tolerant credentials towards Hinduism.
These sycophant distorians also claim that unlike others, Akbar assimilated himself in the Indian culture and was Indianised. HISTORIAN Jawaharlal Nehru claimed that Akbar developed a sense of unity among diverse North and South. This fictional aura around Akbar was propagated by leftist distorians. It was further peddled through NCERT books and Bollywood movies.
The glorification of outside invaders, who used ruthless force to conquer India in the name of religion, suited the colonial power and its narrative. The British did the same atrocities just that the scale and ruthlessness may differ. They carried forward Mughal hagiography as it justified their colonial ambitions and cruelties committed against Hindustan.
To put it simply, historians give these three reasons to claim his greatness. These are
Accomplishments of his empire
His secular and liberal credentials
His personal traits
On all these three accounts, he is no less a cruel Mughal tyrant than other rulers of the Mughal dynasty. For example, the territory under Akbar's tyranny was much lesser as compared to others. The Mauryan empire, Maratha Empire and Gupta empire had much more territorial control than Akbar ever did. Even the Mughal despot Aurangzeb and Imperial Britain had greater territory under their command as compared to Akbar. The below included table roughly highlights the territorial control of Mughal tyrants and other mighty Indian empires. So, the claim that he commanded a grand empire would be a concoction of history and distortion of real historical facts.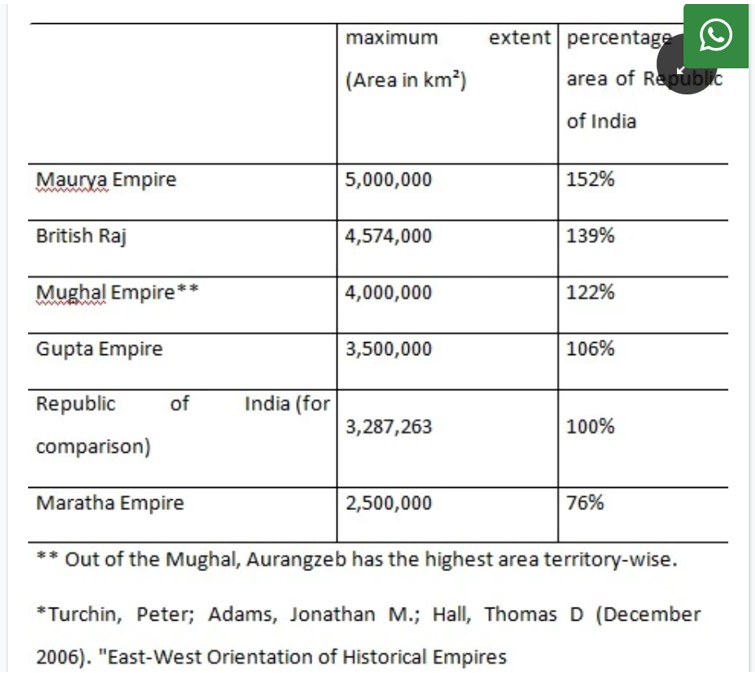 Also Read: Busting the myth of India's high GDP share during the Mughal era
The Nehruvian-Leftist historians argue that Akbar was an Indian as he was born, brought up and died in India. They claim that unlike Brits, he made India his home and didn't take away the loot from India.
But nothing can be farther from the truth. The grandson of Islamic invader Babur followed the religious Islamist duty. He led a spree of killings of "infidels", destroyed Hindu Mandirs and tried forceful mass conversion of kafirs to Islam. His father could not establish rule in India and made India a homeland. He used to send abundant money to Mecca on various occasions which was sourced from the booty of war.
According to historical facts, Akbar along with his guardian, Bairam Khan was on their way back to Kabul. They were at Kalanaur ( Batala, Punjab) when they came across the news of Humayun's death. These historical circumstances forced him to stay in India.
The events that unfolded later made him fight the Second Battle of Panipat (1526). The Mughal side won without the 13-year-old Akbar having to fight. Even this war was fought on religious lines. It had given a clarion call of converting India into an Islamic state. Evidently, Akbar adopted the title of 'Ghazi' after defeating and beheading Hemachandra Vikramaditya (Hemu) in the battle. The sick boy, Akbar sent Hemu's severed head to Kabul to boast about the victory. Furthermore, he kept the decapitated body of Hemu at the gates of Delhi.
After winning the Islamic war, the so-called secular and tolerant Mughal dynast, Akbar, built a tower of severed heads of slain soldiers. The insane historians claim Akbar as great even when the foriegn invader brutally hacked the Indian emperor, Hemu, for a religious war and didn't spare dead bodies. His father and grandfather too did the same and ravaged Indian civilisation which was at its zenith.
Not just that, Akbar massacred unarmed civilians after conquering Chittor. Ira Mukhoty in her book "The Great Mughal" describes the massacre as an aberrant scorched earth policy. The book states that after capturing Chittorgarh fort in 1568, Akbar ordered a cold-blooded massacre of 40,000 unarmed Hindus. It adds that the defeat of Chittor was proclaimed as victory of Islam over infidels. Akbar had called himself busy in Jihad. Countless Hindu mandirs were destroyed and hundreds of ordinary women were captured who could not commit Jauhar. At those times, women used to commit Jauhar to escape the unspeakable horrors of the demonic Mughals savages.
As per acclaimed historian James Todd, Akbar used to measure the kill by weighing their janeu (sacred thread). He claimed that after winning Chittor, the weight of the janeus was around 74.5 mann (1 Mann = 40 kg). These atrocities on Hindus are only at the hands of Akbar that too in one event and one place.
Also Read: What is common between Aurangzeb's Fatawa-e-Alamgiri and Muslim personal law?
The farce of his secular credentials on account of his marriages with Hindu princesses was nothing more than a tactic of forging military alliance to further his territorial control nothing else. All his marriages were for political expediency rather than on account of secularism. The perverted emperor Akbar had once forcibly married his guardian Bairam Khan's wife, Salima Sultana Begum. Historian Vincent Smith in Akbar-The Great Mogul describes Akbar as a man possessed with an inordinate lust for women.
One of the major reasons for waging wars and aggressions against other rulers was to appropriate their women, daughters and sisters. The so-called Great Akbar started Meena Bazar to trap concubines for his Harem. There is not even a trace of evidence that he had similar barbarism towards the rulers of his faith.
At a time when there is a wide spread demand to rewrite history in order to do Justice with legendary Indic rulers and warriors, it becomes pertinent to bust the narrative and aura conveniently built around Akbar. He was not THE GREAT AKBAR as distorians claim him to be. In fact, he is the epitome of everything that is wrong with humanity.
Support TFI:
Support us to strengthen the 'Right' ideology of cultural nationalism by purchasing the best quality garments from TFI-STORE.COM
Also Watch: