Freeing the world of viral diseases has been a long standing goal of every global institution, after the world wars. But it is next to impossible since one or another kind of virus will always remain in the environment. Until a grand strategy with proper cross-check mechanism is not followed, diseases like polio can't be eradicated forever. India has done it and it's time for USA to follow its footsteps.
Health Emergency in New York
New York governor, Kathy Hochal, has declared a state of emergency. According to health officials, Polio, which was declared to be eliminated from America in 1979, is spreading in housing societies. The sensational spread came to limelight when a person caught polio in Rockland County in July of this year.
Health officials got alarmed and started testing sewage samples in the state. Though they did not explicitly name every area in which tests were found positive, they did name 4 counties which are at higher risk.
Rockland, Orange, Sullivan, and Nassau are the main areas where authorities have decided to increase the vaccination rate. "On polio, we simply cannot roll the dice. I urge New Yorkers to not accept any risk at all. Polio immunization is safe and effective — protecting nearly all people against disease who receive the recommended doses." said New York Health Commissioner Dr. Mary Bassett.
Carelessness – The culprit
The principal reason behind the sudden increase in the spread of virus is low vaccination rates. On an average, only 79 per cent of people living in New York (state) have taken polio vaccination. The aforementioned counties fall in the lower end of average 79 per cent.
In Rockland, only 60 per cent people are vaccinated while in Orange County, this number went down to 58 per cent. In Sullivan, 62 per cent people inoculated themselves while only Nassau citizens closed in on state-wide average with exact 79 per cent vaccination rate. By declaring state-wide emergency, health officials are planning to take the vaccination rate up to 90 per cent.
Apparently, low vaccination rates only indicate how complacent health officials have become in America. It is in fact one of the downsides of liberalism as people have become too comfortable to foresee an existential crisis knocking their doors.
But that's the nature of people, it's one of the reason why they choose a government and give them some level of authority to control their daily lives.
India's initial struggle with Polio
Unlike Indian governments, American governments failed to act responsibly in this regard, especially in the last few decades. However, India was slow to begin with. 9 years after American started protecting their citizens with inactivated polio vaccine (IPV) injections; India started to provide oral polio vaccine (OPV) in 1964.
The initial results of OPV were not satisfactory, on the other hand, IPV by Jonas Salk was getting more prominence in the USA and other western countries.
Understanding the gravity of the situation, Albert Sabin, the developer of OPV, decided to donate his live vaccine strains to the Pasteur Institute (Coonoor, Tamil Nadu) in 1966. He personally trained the staff to manufacture OPV. Two years later, Veeraraghavan and Balasubramanian, two budding medical researchers, released 6 batches of OPV.
For reasons still unknown, the production of OPV was shut down in India, which ended up creating trouble for India's future immunisation programme.
EPI in India
Watching the progress western countries were making, WHO kicked off its expanded Programme on Immunization (EPI) in 1974. However, emergency days delayed its implementation in and it was only in 1978 that India could actually step its foot on the polio eradication paddle.
This is where the shutting down of OPV manufacturing a decade ago started to pinch. Indians could avail OPV only when it would be imported. Since in socialist societies, the rich get more than the poor, urban population ended up availing OPV during initial years. 3 years after the first urban India got OPV; the first rural citizen was inoculated in 1982.
However, for a decade, polio did not stop. In fact in 1981, its infection level was at its peak. In 1987, the country witnessed its second highest number of polio cases.
According to a conservative estimate, the nation was losing Rs 45,000 crore on an annual basis due to this infection. Authorities tried and tinkered with the number of doses as well, but not much seemed to work.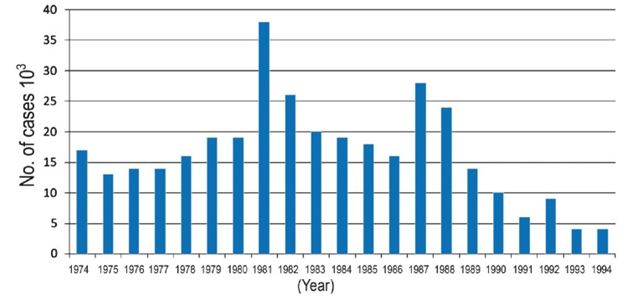 Vellore showed the way
Somehow a ray of hope emanated from Vellore, where authorities tried to adopt pulse immunisation strategy. The pulse vaccination strategy is a method in which repeatedly vaccinating a group who are at risk, over a defined age range, until the spread of the pathogen is stopped.
Vellore became the first polio-free city in India. Various other strategies including occasional re-introduction of EPV were tried. Finally, authorities felt some sigh of relief towards the end of 80s when diagnosis started to fall below the level seen in pre-EPI India.
In 1988, India along with other nations present in the World Health Assembly decided to eradicate polio from the globe by 2000. India decided to take its initiative on war-footing and achieved 80 per cent coverage of polio vaccines. It was commended in Global Child Summit of 1990 in New York.
By 1994, annual polio cases in India fell down to 50,000. However, the battle was still far from over since India accounted for 60 per cent of total polio cases in the world.
Pulse Polio Immunisation Programme
Now, a final offensive was needed. At the cusp of fourth quarter of the year 1994, India launched Pulse Polio Immunisation Programme. It was an all-round effort and governments, both at the centre and state now decided to use their full might to eliminate this menace.
The biggest problem was clearing rumours around the vaccine. Additionally, social and religious resistances were also a major issue which could not be solved without community engagement.
Authorities decided to engage local politicians, religious scholars and other influential personalities to gain trust among masses. Even film stars and cricketers were roped in. Amitabh Bacchan's polio ad is still nostalgia for the generations who grew up during those times.
The initiative gave a massive boost to the mission and brought a drastic decline in the number of polio cases. However, the intended goal of having zero polio cases in 2000 was not achieved.
Renewed effort in early 2000s
The Atal Bihari Vajpayee Government took it as an issue of national prestige and set 2005 as a new target to eradicate polio. State wise analysis revealed that Bihar and UP were the main culprits.
Apparently, their tag of two pillars of BIMARU state was now becoming the literal truth. In 2003, the Government focused on 'under-served strategy'. It was discovered that Muslim community was more hesitant to take vaccines.
GoI engaged universities, religious leaders and groups, local associations and individuals from underserved Muslim communities. For other groups, the government mainly relied on increasing the outreach of health care workers in hinterlands and transitory places.
People in charge of inoculating children were stationed at bus stands, railway stations, highways, markets and at congregation sites to ensure that not a single child is missed. A remarkable improvement was witnessed in subsequent years.
Also Read: India gets a standing ovation for its vaccine policy at Davos
The final frontier
However, health care workers did not stop there. Now Anganwadi workers, Asha workers and many other healthcare staff were involved. There used to be 'Polio Sunday'. The vaccination kicked off on sunday would continue for 5 days. It involved rigorous inoculation and cross check to ensure that any child did not go missing.
On the last day of this drive, health care workers used to survey their served areas and vaccinate those children who were not there in the first round.
The final process got delayed by nearly a decade and against the set target of year 2005 by the Vajpayee government, India received polio-free certification from WHO in March 2014. Even after that India did not lower its guards and has launched an initiative called Polio National Immunisation Day.
It is held twice every year to ensure that people do not get into a comfort zone regarding the disease which was once a global epidemic.
The cycle of life on earth is simple. "Hard times create strong men, strong men create good times, good times create weak men, and weak men create hard times." Currently, the American system is mired by the rise of weak men. If they copy India's strategy, Americans can save billion dollars' worth of human potential.
Support TFI:
Support us to strengthen the 'Right' ideology of cultural nationalism by purchasing the best quality garments from TFI-STORE.COM
Also Watch: